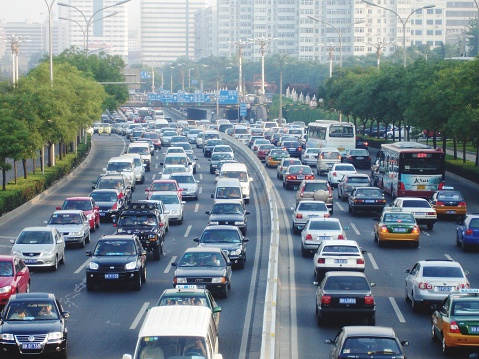 Mayor Bill de Blasio unveiled a five-point plan to fight congestion in the city as Gov. Andrew Cuomo studies congestion pricing and other ways to increase funding for mass transit.
The new plan, which would be implemented in January if de Blasio wins re-election Nov. 7, includes methods to keep traffic moving in Manhattan's central business districts; testing curb access restrictions; expanding "block the box" enforcement to mitigate gridlock; lowering congestion in commercial districts outside of Manhattan; and reducing congestion on the arterial highway system.
"No one of these items is a magic bullet but taken together, they're going to make a big difference in the lives of everyday New Yorkers," de Blasio said at a press conference in Midtown Manhattan on Sunday afternoon. "They're going to make our streets better. They're going to reduce congestion. And it's really about helping people to live here."
De Blasio told reporters that midtown Manhattan is the epicenter of congestion, pointing to a large decline in average car vehicle speeds in the area. But he noted that it is also a problem in the outer boroughs. By the end of 2018, the city hopes to increase speeds by 10 percent in midtown.
In August, Cuomo announced that he was drafting a congestion pricing proposal but did not offer specifics on the plan. Last month, he convened a "Fix NYC" panel to advise the state on proposals to establish a dedicated funding stream to mass transit and lower traffic on city streets.
De Blasio denied that his new plan to fight congestion in the city is an attempt to undermine the panel.
"We've been talking about this for months and months," de Blasio continued. "He has every right to put together a task force."
He reiterated that the millionaires tax he proposed to fund subway repairs by taxing the city's wealthiest residents is the best way forward, again shooting down Cuomo's congestion pricing plan.
"I have not seen a plan that I think is fair," he added. "There is no plan from Albany right now, let's be 100 percent clear. The governor said he was interested in congestion pricing. That was what, a month or more ago and we have not seen a plan."
The city will create continuous curb moving lanes on 11 crosstown streets in Midtown. To enforce the clear lanes, the NYPD will double the Traffic Enforcement Agents in the Midtown Manhattan Traffic Enforcement Task Force from 40 to 80 and increase uniform headcount.
To address congestion in Lower Manhattan, the city will extend its network of traffic cameras and Midtown in Motion, the city Department of Transportation's signals-based congestion management system,  to include Lower Manhattan. It will also revamp its double parking and other curb regulation rules.
In order to come up with more tools to manage congestion, the city plans to test curb access restriction on two major commercial corridors and in a zone within Manhattan. Starting in January, the city will prohibit curbside loading on both sides of the street on the pilot corridors and within the pilot corridors during peak hours for six months. The city will assign extra NYPD staff to the pilot sites.o
De Blasio said that drivers who enter intersections without enough space on the other side "block the box," which affects traffic and puts pedestrians' safety at risk. The city plans to focus its efforts against "block the box" by concentrating on 30 intersections in Manhattan and 20 intersections outside of Manhattan.
The DOT will install special block-the-box markings and update signage, and the NYPD will hire 50 more uniformed officers to enforce block-the-box rules.
The city will also take on a variety of efforts to address congestion at hotspots outside Manhattan, including in downtown Flushing, the North Shore section of Staten Island, the Hunts Point section of the South Bronx and downtown Jamaica in Queens.
The DOT is also buying citywide traffic data sets that include information such as origin-destination, vehicle type, relative volume, travel times, trip length, speeds and delay costs to assess congestion.
And the city will engage state and local elected officials to put together task forces on congestion on highways outside the city's jurisdiction.
On Friday, de Blasio unveiled a new bus plan that involves expanding Select Bus Service to 500,000 more bus riders across the city.