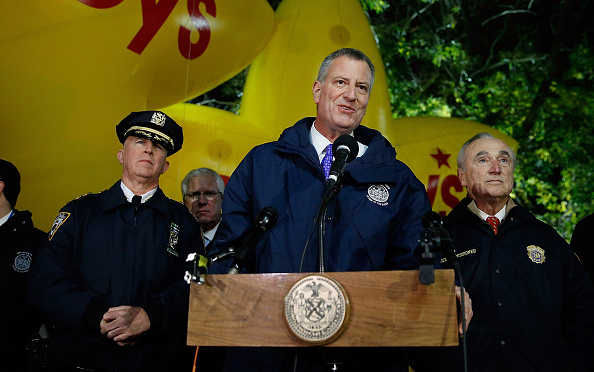 As Mayor Bill de Blasio paints a picture of a city that has turned a corner in the area of policing, some elected officials and activists expect his second term would bring more "continuity" of what they think has been insufficient progress on police reform, while others are more upbeat.
De Blasio says New York City is the safest big city in the United States and pointed to overall crime being down, a 93 percent drop in the use of stop and frisk policing, his neighborhood policing initiative and argues that marijuana possession arrests have gone down even as critics note an increase.
Elected officials and activists note his embracing of the broken windows policing method popularized by former Police Commissioner Bill Bratton that targets smaller crimes to stave off large ones. And he remains opposed to the Right to Know Act, a pair of bills that would require the city's cops to identify themselves when stopping an individual without a warrant and to let them know that they have the right to refuse a search if the officer does not have a probable cause.
"I suspect the mayor will take the same approach in his second term that he did in his first," Bronx Councilman Ritchie Torres, a speaker candidate, told Observer. "I expect no radical departures from his vision of neighborhood policing. I expect more continuity than change."
De Blasio has also caught flak over the NYPD ending its practice of routinely handing out information about disciplinary action taken against officers because they discovered that they were flouting section 50-a of the state's civil rights law. And activists want him to close the sprawling Rikers Island detention complex sooner than his 10-year timeline.
Torres —  who has criticized de Blasio but endorsed him in December — said a case could be made that he "has to tread carefully."
"I think he's treading a delicate tight rope in pursuing police reform without alienating his police force," he continued. "That is the challenge he faces and it's no simple task."
He also said that he disagrees with the administration's interpretation of 50-A, and wants to negotiate a solution for the Right to Know Act, which City Council Speaker Melissa Mark-Viverito agreed to have handled internally by the NYPD. Still, he noted that overall crime is down in the city.
"The numbers seem to suggest that there's been some improvement in police-community relations," Torres added.
At the latest crime statistics press conference, Police Commissioner James O'Neill said that major crime was down 5.3 percent from last September — the lowest recorded crime of any September on record. He also said that the city had the lowest number of shootings ever for a month of September, decreasing to 78 from 108 in the previous month. Murders were also down 40 percent this September compared with a year ago.
In 2000, the total number of seven major felony offenses — murder and non-negligent manslaughter, rape, robbery, felony assault, grand larceny, burglary and grand larceny of motor vehicle — was 184,652, according to the NYPD's historical crime statistics. Last year, it was 101,716. In 2014, the year de Blasio took office, it was 106,722.
Queens Councilman Donovan Richards, a de Blasio ally and a speaker candidate, has mixed views. He credited de Blasio with reducing stop and frisk and the rollout of neighborhood policing, calling them "hallmark things that have played a big role."
"I think he's done some good things, he's taken some important steps on stop and frisk and neighborhood policing," Richards said.
But he lamented the stalemate over the Right to Know Act, the administration's handling of officer disciplinary records and said that the neighborhood policing has not been rolled out as fast as he would have wanted. And he noted that people of color are disproportionately affected by arrests for low-level offenses.
Still, he noted that there are steps that the Council can take and that they have to codify changes so that future administrations that may have different values do not undo them.
De Blasio "has shown a sensitivity to the issues" but hasn't presented a police reform vision for the second term yet, he said.
"I anxiously await to hear his vision on policing," he said.
Police reform activist Bob Gangi blasted de Blasio over broken windows and noted that the drop in the use of stop and frisk is "a change in police tactics" but not in law enforcement approach.
"He hasn't made meaningful changes in the day-to-day abuse and discriminatory practices of the NYPD," Gangi said.
He said that it is "conceivable" that de Blasio might develop a "political backbone" without reelection pressure  and force changes such as ending broken windows, abolishing the quota system that mandates a certain number of arrests and summonses and dismissing and suspending officers who engage in abusive practices without pay. He referenced Officer Daniel Pantaleo, who put Eric Garner, a black man, in a chokehold in 2014 on Staten Island that killed him. But, "there's no indication from his first term that he will do it," he said.
Josmar Trujillo of the Coalition to End Broken Windows has more "fear than expectations." He said that the first term is misunderstood as de Blasio having "political disagreements" with police unions and the NYPD.
The mayor, he said, has given more resources to the Police Department "than any mayor we've seen, at least in my lifetime."
"His son described him as the only candidate who will end the era of stop and frisk and that was a purposeful branding of de Blasio as a reformer and then immediately, as soon as he was the mayor-elect, he announced he was bringing back perhaps the most controversial police commissioner in the city's history," Trujillo said, referring to de Blasio's early campaign ads with his son, Dante.
Among his concerns are gang policing policies and predictive policing, using computer modeling to anticipate crime and support deployment of police resources.
"The NYPD is much more powerful politically than the mayor will ever be and I think that their pull will create some space between him and them in the sense that they may want even more resources or they may come to another position that's even more terrible than his," Trujillo continued.
Dan Levitan, de Blasio's campaign spokesman, outlined accomplishments.
"Mayor de Blasio has driven crime to record lows, while dramatically reducing stop-and-frisk by 93%, getting more guns off our streets, and putting two thousand new officers on the beat. Expanded neighborhood policing, retraining every officer, and body cameras are building trust between the police and the communities they serve," Levitan said.
"At the same time, the Mayor is expanding alternatives to incarceration, simplifying the bail and summons systems, and reducing solitary confinement while working to close Rikers Island.  That is the Mayor's record of policing and criminal justice reform, and it is a vision that New Yorkers are rallying around," he continued.