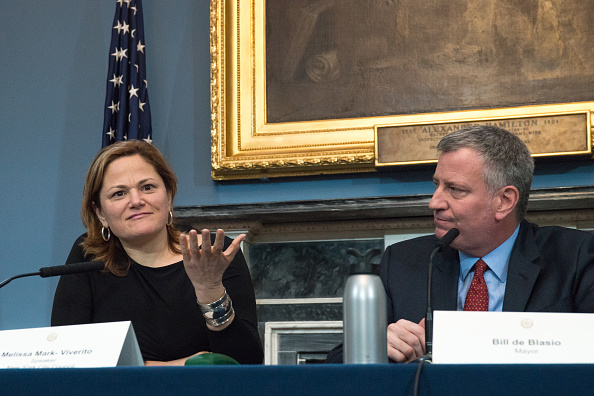 Following a decisive victory in the mayor's race in 2013, Mayor Bill de Blasio found himself with newfound political muscle as the first Democratic elected mayor in the last 20 years — and went on to play a key role in the victory of his favored speaker candidate, Melissa Mark-Viverito, in January 2014.
"Giuliani and Bloomberg were elected in part by that old coalition losing its strength and losing its cohesiveness and de Blasio was able to stitch that together better than it had been for over 20 years and he also was able to bring in new constituencies, people of color, immigrants," said Ken Sherrill, a professor emeritus of political science at Hunter College.
Fast-forward to 2017. With Mark-Viverito leaving and the next speaker's race underway, the mayor is poised to win reelection — but the honeymoon is over and many City Council members want a speaker who can stand up to him.
Sherrill said "ambitious" members may position themselves more independently "as there is a lot of things that are gonna be open four years from now."
In that scenario, he said, de Blasio's influence in the Council wanes but he'll "still have influence." He said that the mayor's best bet may be to figure out who will win and endorse them.
"If the mayor makes his choice and the person the mayor chooses fails to put together a majority, it's a loss to the mayor of considerable proportion and the mayor is going to have to court individual members of the Council more assiduously to move his legislative agenda in the second term," he continued.
Every four years after an election, the 51 members vote to select a new leader in January through an internal process typically dominated by the county Democratic organizations — Queens, the Bronx and Brooklyn. Candidates must secure 26 votes.
The Bronx and Queens Democratic organizations — led by Bronx Assemblyman Marcos Crespo and Queens Congressman Joseph Crowley — usually work together. During the last race, Frank Seddio, chairman of the Brooklyn Democratic Party, defied them and joined de Blasio and progressive members to back Mark-Viverito.
Neither Crespo nor Seddio could be reached for comment. Through a spokeswoman, Crowley declined to comment.
This year, there are eight speaker candidates: Brooklyn Councilmen Jumaane Williams and Robert Cornegy; Manhattan Councilmen Corey Johnson, Mark Levine and Ydanis Rodriguez; Bronx Councilman Ritchie Torres; and Queens Councilmen Donovan Richards and Jimmy Van Bramer. De Blasio's rumored favorite, Queens Councilwoman Julissa Ferreras-Copeland, is not seeking reelection.
The mayor has been requesting members "keep an open mind." In June, the mayor indicated that he is "ready to do whatever is necessary to end up with a good result this time."
The mayor's office did not respond to a request for comment.
Tough Road Ahead
Queens Councilman Rory Lancman, who frequently criticizes de Blasio, predicted that the mayor's role will be smaller. He noted that the Council's Progressive Caucus, which helped shape the 2013 race with outside actors, stood together before but has "more or less collapsed."
"This year, it seems like half of the people in the Progressive Caucus have aligned themselves politically with their borough political organization or with other elected officials other than their fellow Progressive Caucus members," Lancman said.
Lancman said that the Queens delegation has not reached a decision and that if the mayor identifies someone as his preferred choice, it will raise "a big red flag" — though he said it would not preclude county organizations from potentially working with the mayor.
"We're gonna be pretty well united behind someone and who that someone is we haven't arrived at yet but I can say that — well, I can't speak for the delegation — I see an inverse relationship between a candidate's proximity to the mayor and my confidence in their ability to be an independent speaker and lead an independent Council," he said.
Speaker Candidates Weigh In
Rodriguez, a de Blasio ally who endorsed the mayor in December, stressed that the Council is an independent body.
"For me, anyone can have their opinion, anyone can make any comments, anyone can have meetings with Council members but at the end of the day, the 51 Council members will be the one making the speaker," he said.
He said he is mostly meeting with members but he would not speak on the mayor's role.
"I cannot speak for any plan that the mayor can have," Rodriguez said.
Levine also reiterated that the decision will be made by the Council members, though in tandem with county organizations or labor partners in some cases. He believes the mayor's role is "yet to be determined."
"I have not spoken to the mayor ever about the speaker's race and my emphasis is on talking to my colleagues and talking to important allies in this process, whether they be labor leaders, county organizations, activists and others who have a stake in the outcome," Levine said.
He doesn't think he's picked a candidate.
"I think that he is sitting back at this point and I don't know that he will ever have a candidate," he continued.
He added that all members want an independent speaker and Council.
Van Bramer, who endorsed de Blasio in May, sees a different race but still involving the mayor.
"I think that there's a lot of desire for a grand deal if you wanna call it that and avoiding World War III but I think how it all plays out remains to be seen but I can't imagine a scenario where the mayor's not at the table here in some way," he said.
He said that he campaigned with de Blasio recently and that they had a "quick lunch" in Sunnyside. He would not reveal what was discussed, but the speaker's race came up, he said.
Van Bramer sees himself as someone who will be "strong enough" to defend the body but also "smart enough to work with the mayor" when necessary.
Williams, who has frequently criticized de Blasio on police reform issues, has had conversations with the mayor and described them as "private" when asked whether they discussed the race.
He's been meeting with his colleagues and said that he anticipates that key players will weigh in. Everybody's role has changed, he said, and they are trying to figure out "how all of this is going to play out."
"No one should be surprised that the word is that the mayor will want to weigh in and my assumption is that he will try to weigh in and I think most mayors would," Williams said. "I think it's up to the Council to try to make the decision independently as much as possible."
And he said that the members want someone who will agree when necessary but push back when the institution's priorities are not met.
A spokesman for Richards, a de Blasio ally who endorsed him in December and hosted a fundraiser for him in November, told Observer that he has not had conversations with the mayor yet.
In an emailed statement, Cornegy said that the members are key and that he aims to be a "consensus builder" who ensures a "strong, independent body moving forward."
"We have a long way to go before anything is decided, and I will continue to use that time to earn the support of all my colleagues in the Council," he said.
Neither Johnson nor Torres could be reached for comment.
Johnson, a de Blasio ally who endorsed him in May, has worked closely with his administration and chaired a fundraiser for him in January. Torres endorsed de Blasio in December but has frequently critiqued him on issues such as police reform and school desegregation.