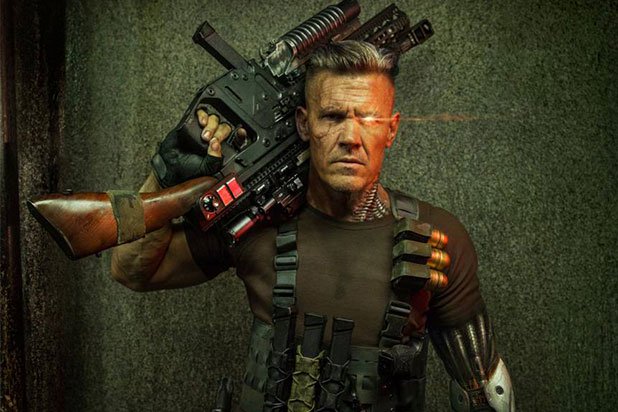 When it comes to comic book adaptations, fans of the source material always hope for the best and expect the worst. It can be hard to see characters you've come to know and love lose their identity when translated to the big screen. Audiences want authentic and genuine renderings, not whatever the hell was going on in Suicide Squad. So it has to come as some comfort to hear that Josh Brolin was "beat to shit" while playing Cable in the upcoming Deadpool 2.
"There's ton of action in it. The tease is, a guy who's 49 years old on the cusp of 50 who got in the best shape of his life, especially exteriorly, and and I was extremely disciplined throughout that whole thing," Brolin told Collider in a recent interview. Anyone who is familiar with the Cable character knows he is a physical badass who is no stranger to both doling out and receiving violence.
"I got beat to shit on that movie," Brolin continued. "That's all I know. I had stuntment throwing me all over the place. I've got a shoulder issue, I've got a knee issue that I've got to deal with now, but we got through it. We got through it. I pushed hard and I suffered because of it."
Cable represents not only the first live action version of a beloved comics character, but a new direction for 20th Century FOX (FOXA). As the traditional X-Men franchise sputters here and there, Fox has smartly begun branching out its superhero content into different genres and formats. Deadpool was a hard-R action comedy, Logan was a neo-Western and the upcoming New Mutants is a straight up horror film. Cable will help open a new series of films.
"When you're sensitive about how you reveal this character there's a sense of mystery in it, so then when we finally get into X-Force that you're going to be with this guy full blown all the time. There's a lot to be revealed," he said. "There's a lot to be revealed, but there's three more movies to reveal more."
Drew Goddard will direct the X-Men spinoff X-Force, which Brolin thinks will start production "next year or soon thereafter."
"It depends on how Deadpool does, but I don't think that's a make-or-break kind of deal."
Brolin won the coveted role of Cable back in April and signed a four-picture deal with Fox. He'll be part of the connective tissue that tethers upcoming spinoffs.
Deadpool 2 will arrive on June 1, 2018.