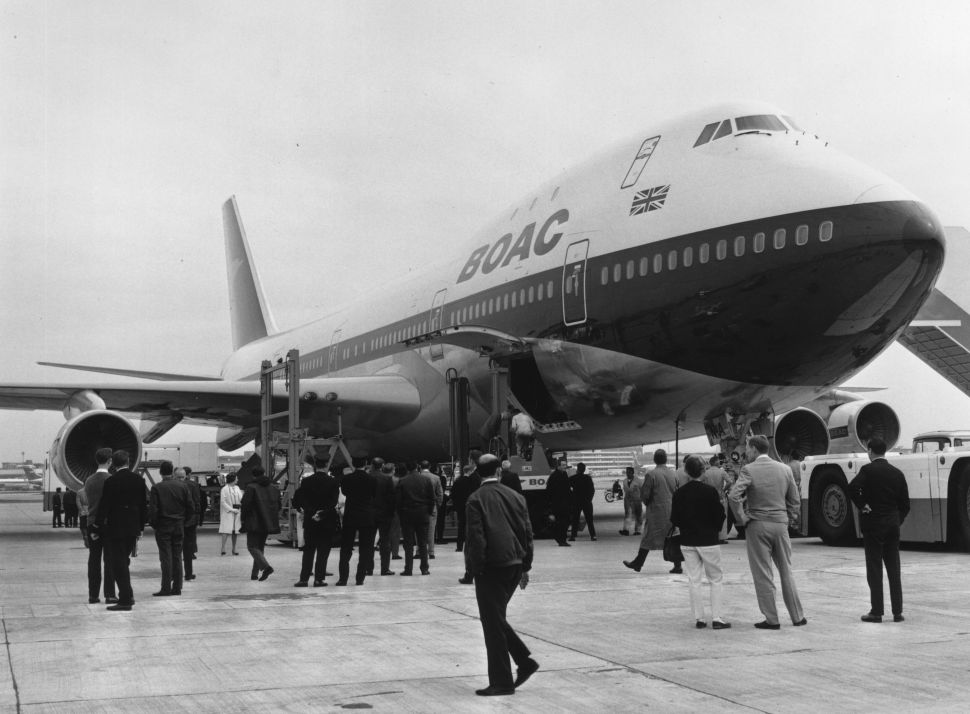 As a child of the 1970s, I can still vividly remember all of the excitement before taking a passenger flight. Back then, flying meant dressing up in a sport jacket with tie, and when heading coast to coast, it was expected to be on a wide-body jumbo jet. If you happened to be boarding the airplane with the big hump on its top, it was surely a Boeing 747—a real treat.
The Boeing 747's first flight was in 1969. It was and still is one of the greatest engineering marvels of our time. With a handful of variants of the Boeing 747 that evolved over the years, the latter could move over 600 passengers 8,900 miles without refueling. How many other passenger jets have carried five presidents, the space shuttle, and have a spiral staircase? (Not to mention a luxurious upstairs lounge with couches and a bar.) No wonder the Boeing 747 has been dubbed "The Queen of the Sky."
Well over 1,500 Boeing 747s have been produced. But today for passenger airlines, the bottom line is king and fuel costs can make or break an airline. Four engines means more than double the fuel, as well as increased downtime for maintenance. While Boeing is still manufacturing the latest 747-8 series, it is only producing about six planes per year, and the company has halted production of spare parts for earlier variants of the airplane. With demand for passenger carriers diminished, it has been speculated that Boeing may very well be discounting the latest Boeing 747-8 up to 50 percent off its original $378 million USD manufacturer list price.
In today's operational environment, U.S.-flagged passenger carriers are opting for the more fuel-efficient and environmentally friendly twin engine aircraft, like the Boeing 777-300ER and 787 Dreamliner. Both have a 9,000+ mile nonstop range without the financial burden of two additional engines.
Delta and United were the only two mainline U.S. passenger carriers flying the 747. Delta's last revenue flight was on September 7 of this year. United's farewell to "The Queen" will be on November 7.
In a recent Q&A, United CEO Oscar Munoz told Bloomberg, "They [The Boeing747s] have been a grand aircraft for us for a long time, but we have issues with maintenance parts in particular. If I need a part today, I can't get it. We stripped every airplane in the world of its parts to feed the need, and no one is making new parts for this particular aircraft because there are just not as many out there."
United is planning pomp and circumstance for its last Boeing 747 revenue flight. The San Francisco to Honolulu flight will mimic the airline's very first scheduled flight of this aircraft type. Passengers will party at the gate prior to the flight. The flight crew will done vintage United uniforms and passengers will be treated to the same lounge type atmosphere in that upper deck during the flight. After its final passenger flight, the aircraft will most likely be headed to the infamous "airplane graveyard" in Mojave, California until it is stripped of its valuable used parts.
The Boeing 747 will still be in service with U.S. cargo airlines such as UPS and Kalitta Air, as well as with select foreign flagged passenger airlines. Cargo operators love the aircraft due to its tremendous size, cargo capacity, and unique nose cone cargo door for oversized shipments.
Thanks to a UPS Boeing 747-8 contract for 14 aircraft with options to buy 14 additional, this should keep the Boeing 747-8 assembly line running until 2019, at the very least.
The U.S. Air Force has also selected two Boeing 747-8s to replace the existing Boeing 747-200Bs as the new Air Force One in 2024. Although pricing is a proprietary secret with Boeing, it is rumored that the U.S. Air Force obtained an exceptional price cut on the two aircraft, which were originally slated to be delivered to a Russian air carrier.
The Boeing 747 is and always will be one of the most recognized icons around the world and a true celebrity among pilots and non-pilots alike.
Kyle Bailey is a television news aviation analyst, pilot, and former FAA Safety Team Representative. Follow him on Twitter @Kyleb973