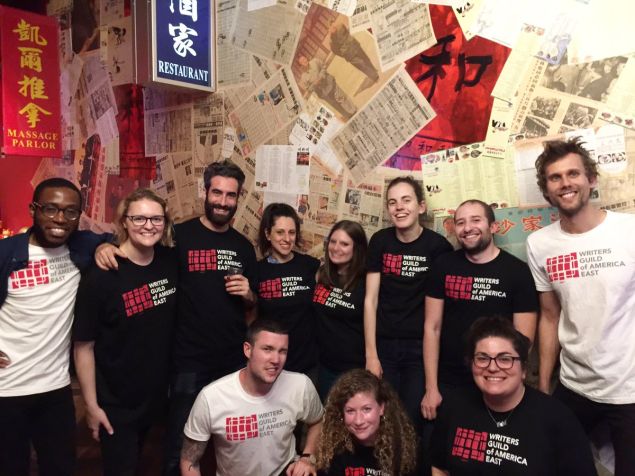 More newsrooms are getting on the union bandwagon.
Last night the editorial staffs of Gothamist and DNAinfo voted 25-2 to join the Writers Guild of America, East. The union vote was conducted by the National Labor Relations Board.
"We're happy now to be moving forward with a pretty clear, nearly unanimous wish from the workers in the bargaining unit," Noah Hurowitz, a DNAinfo reporter and one of the leaders of the union effort, told Observer.
"The people who write and produce content for digital news companies have made it crystal clear that they believe collective bargaining is essential to building sustainable careers," WGAE Executive Director Lowell Peterson added in a statement.
Indeed, there are now about 750 digital journalists in the WGAE, including the editorial teams at Slate, Vice, HuffPost, Gizmodo Media Group and ThinkProgress, among others.
The DNAinfo/Gothamist unionization effort began shortly after the two outlets merged in March—editorial staff mobilized on social media using the hashtag #DNAistUnion. But conservative billionaire Joe Ricketts, who owns both outlets, refused to recognize the union.
"DNAinfo is more likely to succeed if the company's ownership and employees face the intensely competitive media landscape together, without interference by an outside labor union," Ricketts wrote.
In response, over 25 New York City officials, including Mayor Bill de Blasio, signed a letter supporting the reporters' right to unionize.
"The work of these reporters and editors is crucial for NYC," the letter read. "We call on management to respect their democratic right to organize."
De Blasio and other Democratic officials were among the first to congratulate DNAinfo and Gothamist on the union vote. They were joined by former union captain David Simon, best known as the creator of The Wire.
Hurowitz said the reporters who voted to unionize wanted to work with Ricketts "to create the strongest news outlet possible."
"We just want to have a seat at the table and a voice in the future of the company," he said.
Ricketts has not yet publicly commented on the union vote.
The union fight isn't confined to digital media. Reporters at the Los Angeles Times are campaigning to join the NewsGuild, which represents workers at print media outlets like The New York Times and The Wall Street Journal.
"We have few job protections at a time of high uncertainty in our industry," union organizers wrote in a letter. "There are aspects of our pay, benefits and working conditions where we think we can negotiate a better deal."
But Los Angeles Times reporters are also facing resistance from newsroom leadership. The paper's interim executive editor, Jim Kirk, recently told newsroom staff that they would put all their benefits at risk if they joined the NewsGuild.
Hurowitz said Times staff (and reporters at every media outlet) should keep fighting despite editorial pushback.
"Everyone in journalism should be in a union," he said.