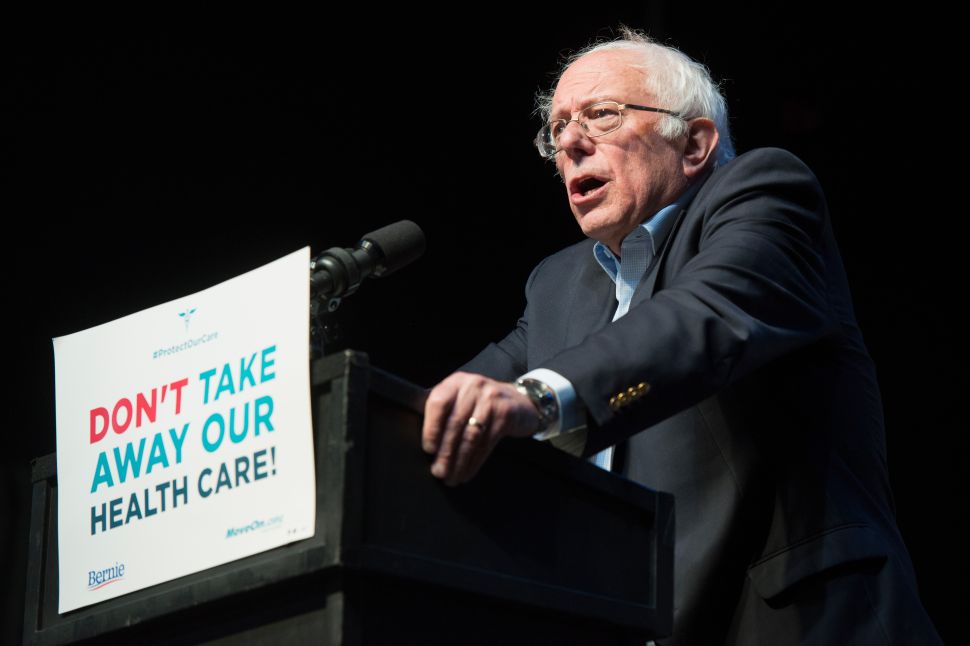 DNC member Bob Mulholland will propose a resolution to the Democratic National Committee (DNC) that will pressure Sens. Bernie Sanders (I-VT) and Angus King (I-ME) to run as Democrats in their 2018 re-elections. Sanders and King have caucused with the Democratic Party since they both entered Congress. In 1993, King officially left the Democratic Party before he ran for governor of Maine. Sanders has been an independent since he became mayor of Burlington in 1981. Democrats frequently criticize Sanders for maintaining his label as an independent, especially since he campaigned against Hillary Clinton to win the Democratic nomination for president in the primaries for the 2016 election.
Though Sanders joined Democratic leadership as outreach chair in November 2016, he still considers himself an independent. He told MSNBC's Chris Hayes in April 2017, "If the Democratic Party is going to succeed—and I want to see it succeed—it's going to have to open its door to independents." He continued, "There are probably more independents in this country than Democrats or Republicans. It has to open its doors to working people and to young people, create a grassroots party. That's what we need."
Bob Mullholand, the DNC member pushing the resolution, has clashed with Sanders and his supporters several times. In an interview with Infowars in February 2016, he predicted that party insiders would favor Clinton to win the nomination against Sanders. In April 2016, Mulholland wrote Sanders a letter complaining about his supporters calling and petitioning superdelegates to support his candidacy. Mulholland led the opposition against re-enacting the DNC ban on donations from corporate lobbyists and PACs that Obama enacted but that was later revoked by former DNC Chair Debbie Wasserman Schultz during the 2016 primaries.
In the most recent race for DNC chair, Mulholland pushed smears about Congressman Keith Ellison (D-MN) having unpaid parking tickets and campaign finance violations as a state representative. The smears incited Ellison's ex-wife to write a letter to Minnesota Star Tribune explaining that while she served as his treasurer several of her duties slipped through the cracks due to her struggle with multiple sclerosis. After this, several California DNC members denounced Mulholland's attacks on Ellison
Mulholland's latest stunt is a futile attempt to avoid making the reforms the Democratic Party needs in order to court independent voters. Recent polls show that the number of voters who identify as independent is growing, but the Democratic Party has experienced a sharp drop in support from Democrat-leaning independents. Forcing independents to fall in line with the Democratic Party is likely to backfire. The problem with the Democratic Party isn't that Sanders doesn't have a "D" next to his name; it's that Sanders stands for values that the Democratic Party doesn't uphold. Democrats need to focus on living up to those values in order to woo the votes they so desperately need.
Michael Sainato's writing has appeared in the Guardian, Miami Herald, Baltimore Sun, Huffington Post, LiveScience, Buffalo News, the Plain Dealer, The Hill, Gainesville Sun, Tallahassee Democrat, Knoxville News Sentinel, and the Troy Record. He lives in Gainesville, FL. Follow him on twitter: @msainat1
More by Michael Sainato:
2017 Is Already One of the Worst Wildfire Seasons on Record
Democrats Can't Afford Another Six Years of Dianne Feinstein
Democratic Party's Trouble in Iowa Foreshadows Dysfunction in 2020