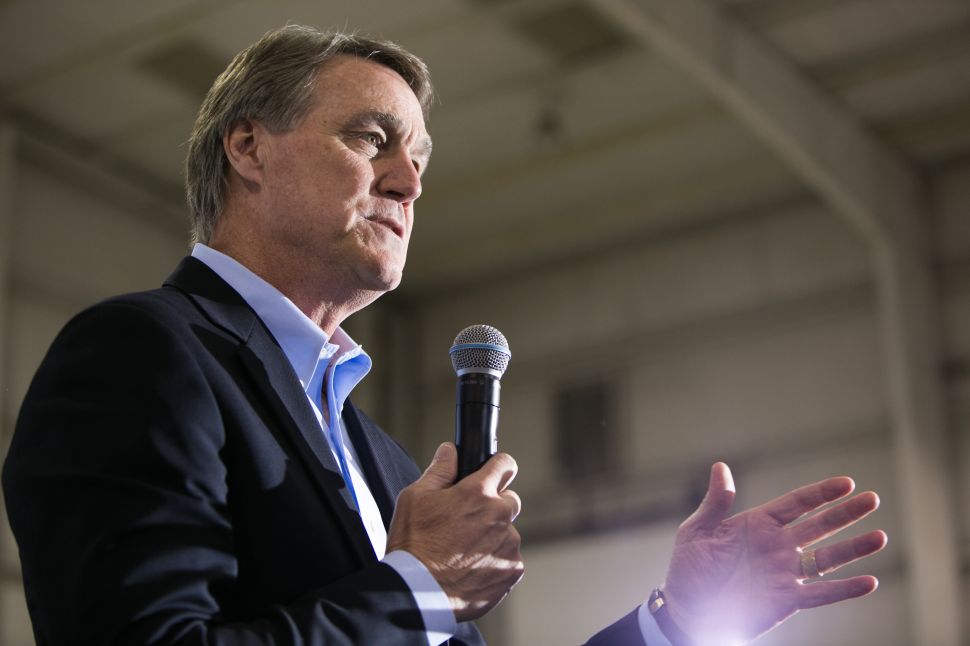 Both came to Washington, D.C. as outsiders with a business background. One was famous for his appearances on television and the tabloids and his tweets, while the other prefers a lower profile. But President Donald Trump has increasingly come to rely upon his ideological double in the U.S. Senate: former Dollar General CEO David Perdue.
In fact when Trump was pursuing the White House, Senator Perdue was one of the first to endorse him, citing his own personal experience.
"Georgians sent a strong message to the establishment in my Senate race by electing an outsider to the political process," Perdue wrote in the Washington Post. "We now see that same movement sweeping across the country, and we should welcome it."
Perdue continued in the June 1, 2016 column, "Two short years ago, I was an outsider businessman campaigning for the first time and endured some of the same criticisms being leveled against Mr. Trump today. Through my own experience, I probably understand the Trump phenomenon and the new reality of this electorate better than most."
Touting himself as the only Fortune 500 CEO in the U.S. Senate, Perdue added, "People listened when I spoke in business terms out on the campaign trail about the national debt and global security crisis—instead of reciting tired old GOP talking points." And Perdue proved himself, defeating several experienced candidates (Representatives Jack Kingston, Phil Gingrey and Paul Broun, as well as current Representative Karen Handel) and the daughter of legendary Senator Sam Nunn, Michelle Nunn.
How Trump and Perdue Met…And What They Still Meet About
Their connection goes back to the fall of 2014, when Trump called Perdue and asked to meet with him in New York City. Trump was interested in hearing more about that dramatic Senate race, "and how [that] message was being received as an outsider… and what his prospects were, having never been elected before," Perdue told the Observer.
There's more the two have in common than being outsiders and business leaders. "If we want different results in Washington, we have to send different people to Washington," Perdue noted. This messaging was very effective, both against establishment Republicans and establishment Democrats for both men.
Trump and Perdue evidently speak quite frequently, as the former sees the latter as someone who is both a "bridge builder" as well as someone who knows what's going on in the U.S. Senate. As White House Legislative Director Marc Short recently told the Washington Examiner, "There's been no more ardent supporter of the president in the Senate than Perdue. He is somebody who has been eager to help us on battles big and small." According to Short, Perdue knows where Republicans in the Senate stand and "who needs more attention" from the Trump administration on particular policies.
"President Trump and I are both political outsiders," Perdue told the Observer. "As the only Fortune 500 CEO in Congress, I approach things with a sense of urgency and set clear priorities so we can drive consensus. We need Washington to move at a business-pace, not a government-pace. President Trump has a similar outlook, and we're seeing him work hard to break through gridlock to get results."
If Senator Perdue could reform anything in Washington, what would it be? The answer might surprise you. It doesn't involve tax reform, overturning Obamacare, gun legislation, foreign threats, or international trade, which usually dominate the headlines. It's a big one that doesn't get much attention anymore: cutting down our budget deficit and the national debt.
"Solving the national debt is what pulled me to run for the U.S. Senate," Perdue told the Observer. "We can't afford the $20 trillion debt we have today—not to mention more than $100 trillion in future unfunded liabilities."
Perdue puts the debt in terms that the average American can understand: "That's about $1 million for every household," Perdue notes. And it's not just a money problem. "The impact of the debt is so significant that it's also undermining our ability to support our military and solve the global security crisis we face today."
Perdue and Trump Are Allies, but They Don't Finish Each Other's Sentences
When it comes to formulating an alliance, no issue has brought the two together this summer like immigration. In fact, Senator Perdue's immigration plan, the Reforming American Immigration for Strong Employment Act, or RAISE Act, co-sponsored by Arkansas Republican Senator Tom Cotton, got the strongest possible blessing from the White House. However, the bill isn't very popular with the GOP, business community, or Hispanic groups because it cuts down on the number of refugees and terminates the lottery system that allows some applicants permanent residency status, according to the Washington Times. Additionally, it provides no special advantage to extended family or adult kids of immigrants already in the U.S.
In the case of that "you scratch my back, I scratch yours," system, Senator Perdue and Senator Cotton have worked hard to back Trump's border wall too, according to the Washington Times, as a thank you for supporting the RAISE Act.
However, the Atlanta Journal-Constitution uncovered some disagreement between the ex-CEOs in Washington, D.C. on the subject of whether or not transgender people can serve in the military. "I don't think this is the time to have a social agenda conversation," Perdue offered in a separate interview. The AJC also learned that the two don't see eye-to-eye on the "border-adjustment tax proposal." Trump wants it, but Perdue sees the plan to tax imports but not exports, as anti-growth.
Despite their occasional differences, the two will continue to stick together, barring too many sources of contention. But instead of relying on shared similar experiences before their election, for Trump and Perdue it will be based loyalty and agreement on issues.
John A. Tures is a professor of political science at LaGrange College in LaGrange, Ga. He can be reached at jtures@lagrange.edu. 
More by John Tures: 
How Far-Right AfD Stoked Germans' Fears and Made History
Oh Snap! Will Japan's Surprise Election Backfire on Shinzo Abe
Set to Win Re-Election, Angela Merkel Weathers Storm of Western Turmoil