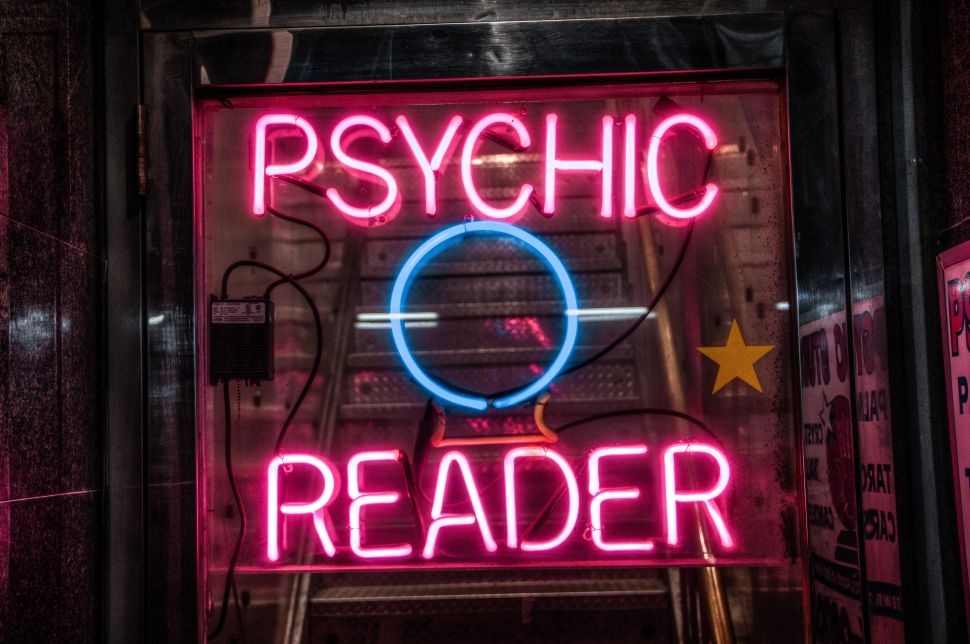 "You will bloom later in life. Things will happen for you farther down the road," a psychic in the back room of a Texas beauty salon told me in my early twenties. She was the first fortune-teller I had ever gone to, but she wouldn't be my last. She was just one of many that would offer a supposed glimpse into my future in years to come.
"But what about now?" I asked, hoping her story might change. "Will anything happen in the next few months?" She paused before answering.
"You could possibly meet the man you're going to marry within the next year," she said unconvincingly. That didn't happen. Oh "possibly," that slightly more optimistic version of "maybe."
Several years later I shelled out over $200 for a soothsayer on the Upper West Side with an amazing reputation. She was rumored to have predicted major business deals, marriages, divorces and even, occasionally, death—all with startling accuracy. She foresaw a book deal and a great romance for one friend of mine. The deal happened, but the romance didn't. That friend died at a young age and I often wondered if the psychic knew that was going to happen all along.
My late friend had suffered a lot emotionally in her life, but flourished after that psychic visit. "I know I have something to look forward to now. I'm not worried anymore," she said. And just like that, she didn't have a care in the world. Another acquaintance I knew walked in and the psychic immediately told her that her boyfriend would propose. And he did, exactly one week later.
I do believe that some people may be gifted with the ability to catch glimpses into the future. But psychics also have tricks of the trade they can pull to get you to reveal what they need for a believable reading. I know—I briefly worked as a phone psychic for the infamous Psychic Friends Network. For the older group of people reading this, you'll remember Dionne Warwick's sad commercials that would play late at night, urging people to call in. That was well before Miss Cleo became their spokesperson. Preying on innocent victims, these ladies banked on their success to lend reputability to the business. Promised a real psychic, some callers got me instead.
I have no magical powers whatsoever. None. But everyone loves to talk about themselves and will easily give a psychic the information he or she needs. So from then on, when I saw psychics, I knew not to say anything at all.
Walking up to the woman's apartment on the Upper West, I reminded myself to button my lips. If she was the real deal, she wouldn't have to ask a single question. But I wasn't skeptical, I had seen what she's done for my friends. I was sure she'd be the answer to all my problems.
As I entered the apartment I was filled with optimism. I braced myself for her reaction to my presence. But the scene that greeted me was a let-down. The room was brightly lit and painted beige and white. She was dressed just like any other person would be. I had hoped for at least some kind of show, or snacks, for the amount I was paying. She asked me what I liked to do for fun, and a few other basic questions. I tried not to give her any real information in my answers. She asked me when my birthday was and I told her. I was already impatient when she started flipping through some kind of huge encyclopedia. She was pulling the same stunts that I had as a fraudulent mystic. She gave me an in-depth reading of my astrological sign, but I already knew I was an eccentrically organized Virgo in my own way. She was killing time.
"So, let's cut the bullshit," I said when her star sign reading was over. "What's going to happen to me? Am I going to meet my future husband soon?" I asked bluntly. I was prepared for a revelation like the one she had predicted for my friend.
"Ahh…Let's talk about that," she said. "Let's talk about your relationship with you." For the next hour I felt as if I were in a Tony Robbins seminar. I left feeling deflated with a raped wallet. I feared that maybe the lack of insight was because she didn't see a future for me at all, and didn't want to let on.
So I called her the next day and complained.
"You didn't tell me anything. You were specific with my friends, I need specific timelines and events here," I said.
"I did, but you weren't ready to listen." She replied. She talked to me on the phone for 45 minutes, calming me down. It was more of a therapy session than a reading.
"Honey you can't find love outside of yourself until you find it within," she told me during that time. "You're too obsessed with something you cannot control, until you find self-acceptance and self-love you're going to make things a lot harder than they should be."
"Do you not see a future for me? Is that it?" I yelled down the line.
"As soon as you get out of your own way you'll see things clearly," she said, patiently, before suggesting several self-help books. I didn't buy a single one.
I was resentful that my friends had specific predictions and the only one I received was to go to Barnes and Noble. Eventually I stopped spending my hard-earned money on these supposed mediums, and just went about things in my own way. It made for a lot less strife.
So I was hesitant, many years later, when a friend gifted me a session for a psychic as a wedding present. But I decided to go, and to try to have an open mind. The woman encouraged me to focus on my career, and she seemed to have knowledge of some specific, small details about my life that I had not revealed to her, or really to anyone.
So I started going back. I trust her. And when I catch up with her from time to time, I don't ask about the status of my love life. No matter what she says, I won't be able to do anything about that part of my life—we simply cannot control how anyone else feels about us. So I work on what I can control: me.
And when it comes to dating, I listen to my instinct, honed over years of lessons learned, rather than advice from anyone else, even if they claim to be in possession of a sixth sense.
The best psychic advice I have to offer others, as someone who was one, and goes to one? When it comes to your love life, don't ask a psychic. Learn from your past, follow your gut, and know yourself—kind of like that psychic said.
Randi Newton's work has been featured in publications ranging from Newsweek, LA Weekly and TheFix to Good Housekeeping. Newton has appeared on The O'Reilly Factor, as a panelist on Fox's The Strategy Room, and is a contributor on Radio Andy XM. Newton is an advocate for addiction and recovery issues and a certified recovery assistant. She enjoys long walks on the beach, streaming movies, and loves iced coffee no matter what time of year it is.
More from Randi Newton: 
What Really Happens When You Date Your Botox Doctor
Should You Say Yes to a Date With Your Botox Doctor?
What Robert Downey Jr. in 'Spider-Man' Can Teach Us About Dating