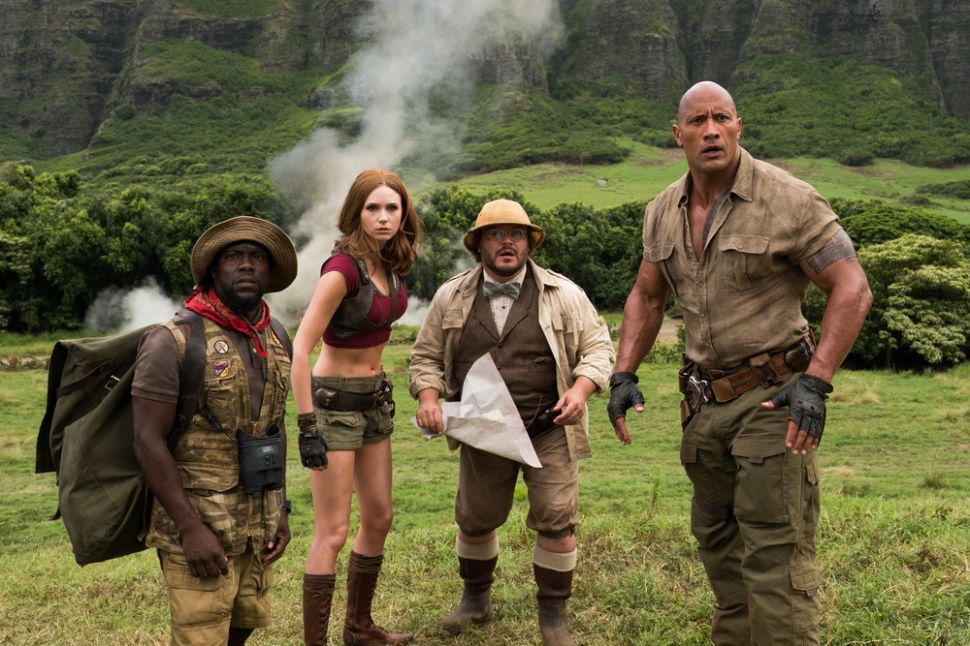 Robin Williams' 1995 Jumanji is a beloved classic, making Dwayne "The Rock" Johnson's upcoming requel, Jumanji: Welcome to the Jungle, a somewhat polarizing move. Further complicating the feelings of fans on this new Jumanji is Williams' untimely death in August 2014. It's understandable why many are reluctant to give their seal of approval. Johnson and the other creatives behind Welcome to the Jungle aren't oblivious, they always knew this would be the case, which is why they planned to reference Williams' Alan Parrish in the movie.
Welcome to the Jungle will incorporate the first film's events as a launching pad for this new tale, with the four lead characters learning that Williams' Parish discovered the existence of multiple Jumanji worlds. Kind of like how HBO's Westworld isn't just the wild west.
"Without giving too much away, for example, the journey that Alan Parrish went on [in the original film]…we sort of realize that he was the one that discovered that there are multiple Jumanji worlds," Johnson told Cinema Blend. He explained that honoring Williams and his Jumanji legacy was a point of emphasis for everyone involved in Welcome to the Jungle.
"That was the number one thing. I just wanted to have an open dialogue with [director] Jake [Kasdan] and Matt Tolmach and our producers and the studio. What is the way that we can pay homage to the original movie. Not only the original movie, but also to Robin Williams. In a way that not only feels good, and makes people feel good, but, like you said, not get the movie bogged down in it. I think we came up with some really nice ways to pay homage, and I think the family is going to be very, very happy with it."
Johnson suffered a rare miss earlier this year when May's Baywatch sank at the box office and drowned with critics. However, April's The Fate of the Furious earned $1.2 billion worldwide and the third season of Ballers fared well in the ratings, so all is still well in The Rock's world. Hopefully, this new movie continues the winning streak.
Jumanji: Welcome to the Jungle will hit theaters on December 20.