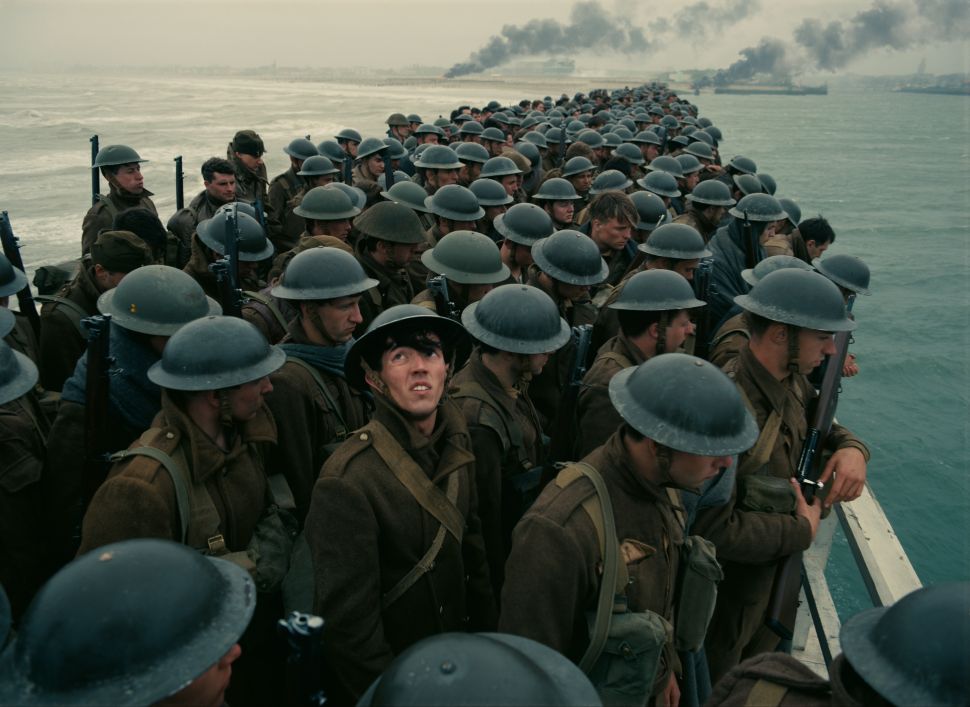 We're entering a potentially stacked fall/winter movie season, so we thought it was the perfect time to get ahead of ourselves and start talking about the 2018 Academy Awards. While there are several heavy-hitters yet to come, including Steven Spielberg's The Post and Paul Thomas Anderson's untitled upcoming Daniel Day-Lewis feature, we want to take a shot at the top six categories so we can brag to everyone on social media how smart we are when we nail our picks (or shutter this post to the deepest, darkest corners of the Internet should we miss laughably).
Note: we haven't seen every movie on this list. These predictions are based on the ones we have seen as well as industry chatter and Academy history.
Shall we?
Best Picture
Many have complained that 2017 is a down year for movies, both in box office totals and film quality. But there are still quite a few top notch features that have hit theaters with a handful en route that are generating heavy buzz. The problem is that there are no true obvious standouts like a Michael Jordan MVP season (last year, everyone knew it was coming down to Moonlight and La La Land). We'll really have to wait until December-ish to have a better handle on this race, but for now, here are the likely nominees:
Dunkirk
The Big Sick
Call Me by Your Name
Darkest Hour
Mudbound
Three Billboards Outside Ebbing, Missouri
Blade Runner 2049
Lady Bird
Get Out
In the running: The Shape of Water, Logan, Wonderstruck, Battle of the Sexes, Molly's Game, All the Money in the World, The Post

Best Director
Christopher Nolan is the favorite thanks to visual and technical wonder of the World War II drama Dunkirk and the narrative that he's never been nominated working in his favor. But as we know, the Academy loves them some WWII, so Joe Wright could sneak in here for Darkest Hour as well. Luca Guadagnino's Call Me by Your Name is being hailed as a ground-breaking love affair perfectly suited to our socially conscious times while Dee Rees Netflix drama Mudbound is drawing rave reviews. But with Spielberg and Anderson still waiting in the wings, any one of these names could be bumped.
Nominees:
Christopher Nolan, Dunkirk
Joe Wright, Darkest Hour
Dee Rees, Mudbound
Luca Guadagnino, Call Me by Your Name
Steven Spielberg, The Post
In the running: Guillermo del Toro (The Shape of Water), Jordan Peele (Get Out), Greta Gerwig (Lady Bird), Denis Villeneuve (Blade Runner 2049), Aaron Sorkin (Molly's Game), Jonathan Dayton and Valerie Faris (Battle of the Sexes)
Best Actress
The lead actress race has been particularly strong in recent years, though the age disparity between male and female acting winners still remains a concern as does the lack of leading roles for people of color. Still, we'll take any chance we can get to watch Judi Dench and Saoirse Ronan put on a show. The real question is: can Emma Stone go back-to-back in the lead category Tom Hanks-style?
Nominees:
Saoirse Ronan, Lady Bird
Judi Dench, Victoria and Abdul
Emma Stone, Battle of the Sexes
Sally Hawkins, The Shape of Water
Frances McDormand, Three Billboards Outside Ebbing, Missouri
In the running: Carey Mulligan (Mudbound), Meryl Streep (The Post), Margot Robbie (I, Tonya), Jessica Chastain (Molly's Game), Annete Bening (Film Stars Don't Die in Liverpool)
Best Actor
Man, there's just something about Winston Churchill that makes Hollywood lose their friggin' minds. John Lithgow snagged the Emmy this year for his turn as the British Prime Minister in Netflix's The Crown (he was great, no argument here) and it sounds as if Gary Oldman is the frontrunner for his dramatic transformation in Darkest Hour. However, this is a stacked category this year, so don't be surprised if Christian Bale (Hostiles) or Denzel Washington (Roman J. Israel, Esq) make a strong push.
Nominees:
Gary Oldman, Darkest Hour
Denzel Washington, Roman J. Israel, Esq.
Timothee Chalamet, Call Me by Your Name
Christian Bale, Hostiles
James Franco, The Disaster Artist
In the running: Jake Gyllenhaal (Stronger), Daniel Day Lewis (Untitled Paul Thomas Anderson Movie), Tom Hanks (The Post), Jeremy Renner (Wind River), Sam Elliott (The Hero), Matt Damon (Downsizing), Hugh Jackman (The Greatest Showman)
Best Supporting Actress
Talk about a Sophie's Choice here. There are simply too many good ones to choose from without drawing the wrath of some corner of the Internet. Allison Janney has the showy role, good story (never been nominated) and respected track record (seven Primetime Emmys!) to emerge as the favorite closer to game time, but we'll see. You really can't go wrong with any of these picks.
Nominees:
Laurie Metcalf, Lady Bird
Allison Janney, I, Tonya
Holly Hunter, The Big Sick
Octavia Spencer, The Shape of Water
Mary J. Blige, Mudbound
In the running: Rosamund Pike (Hostiles), Kirsten Dunst (The Beguiled), Michelle Williams (The Greatest Showman, All the Money in the World), Sarah Paulson (The Post)
Best Supporting Actor
This is another race that should settle out more as we draw closer to the Oscars. For now, Willem Dafoe (The Florida Project), Armie Hammer (Call Me by Your Name) and Jason Mitchell (Mudbound) seem to be making the most noise. It would be great to see Mitchell cement his case as one of the most compelling young up-and-coming actors in the game following Straight Outta Compton, but this one is competitive. Dafoe is the veteran with industry familiarity, but dark horses such as Sam Rockwell (Three Billboards Outside Ebbing) and Idris Elba (Molly's Game) are waiting in the wings.
Nominees:
Willem Dafoe, The Florida Project
Armie Hammer, Call Me by Your Name
Jason Mitchell, Mudbound
Sam Rockwell, Three Billboards Outside Ebbing, Missouri
Ben Mendelsohn, Darkest Hour
In the running: Mark Rylance (Dunkirk), Michael Stuhlbarg (Call Me by Your Name), Michael Shannon (The Shape of Water), Colin Farrell (Roman J. Israel, Esq.), Christoph Waltz (Downsizing), Idris Elba (Molly's Game)