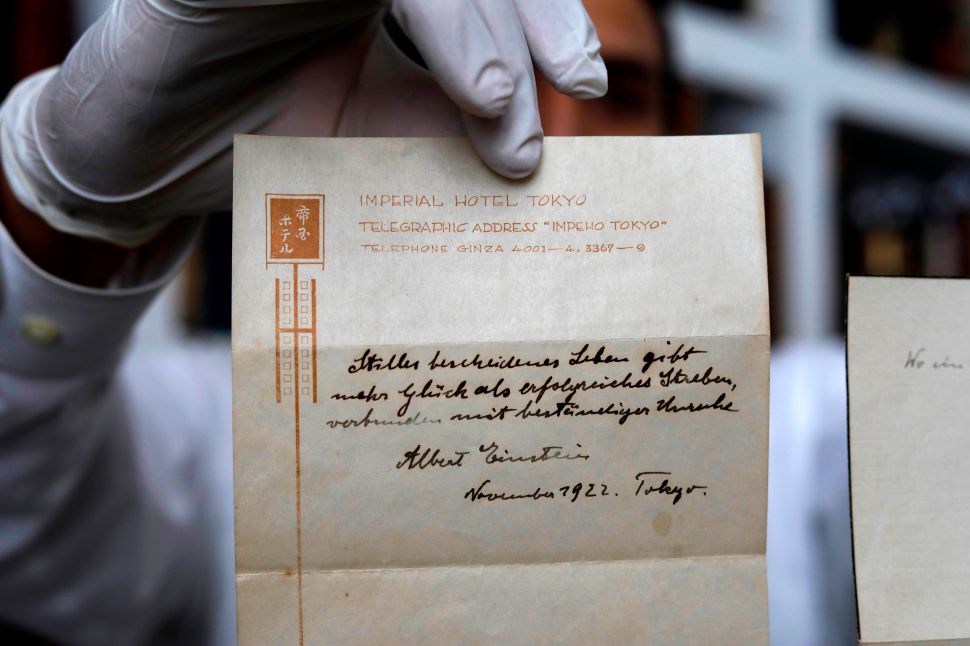 Einstein's "Theory of Happiness," written for a bellboy in lieu of a tip almost a century ago, was auctioned for $1.5 million in Jerusalem on Tuesday, The New York Times reported. In 1922 Einstein was in Tokyo delivering a series of lectures. Preoccupied with preparing for his talk, he realized he didn't have the cash to tip a bellboy when the young man came to deliver a telegraph notifying him of his Nobel prize nomination. According to the auction house, Winner's Auctions and Exhibitions, Einstein jotted down two hasty notes and presented them in lieu of a cash, telling the bellboy that the notes would probably fetch him a handsome sum someday. Turns out, the genius was right. So what is the theory of happiness?
"A calm and modest life brings more happiness than the pursuit of success combined with constant restlessness," Einstein wrote in German on a piece of hotel stationery. On a second sheet, he added, "Where there's a will, there's a way."
The identity of the note's buyer, who is European, has not been released, according to Reuters. The second note, which was auctioned in a separate lot, has also sold for a cool $250,000 to an anonymous bidder, according to the house.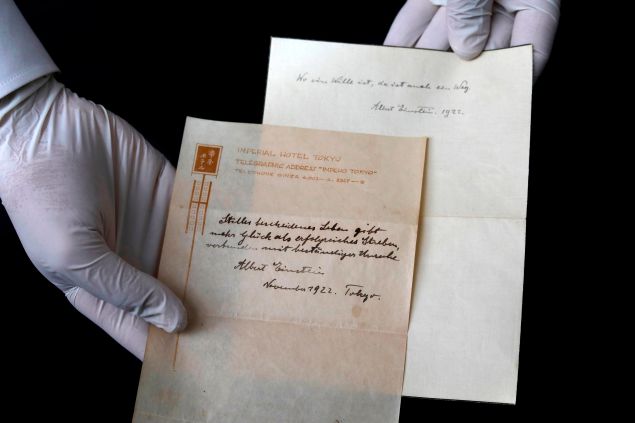 Meni Chadad, a spokesman for Winner's, told the New York Times that a grandson of the Japanese bellboy's brother approached the auction house with the documents a few months ago.
The auction house estimated the documents would fetch somewhere between $5,000 and $8,000. Bidding started at $2,000 but quickly rose to six figures.
"It was an all-time record for an auction of a document in Israel," Chadad told the Times. "I think the value can be explained by the fact that the story behind the tip is so uplifting and inspiring, and because Einstein continues to be a global rock star long after his death."
The hotel messenger's descendants were elated by the eventual payout of Einstein's tip, Chadad said.