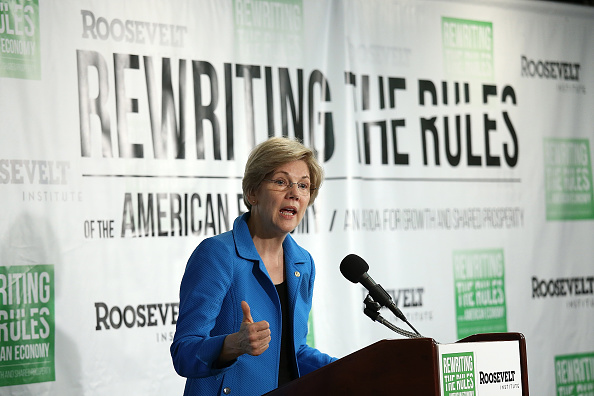 Sen. Elizabeth Warren (D-Mass.) is urging New Yorkers to donate to Mayor Bill de Blasio's reelection campaign less than a month before the general election in early November.
Both de Blasio and Warren backed former Secretary of State Hillary Clinton for the presidential election — though de Blasio, who ran Clinton's 2000 Senate bid, held off initially because he wanted to hear more about her plans to address income inequality — and are both rumored to be potential 2020 presidential candidates.
He has been positioning himself as a national leader on progressive issues, often traveling throughout the country. The mayor has said that Warren's leadership "has been extraordinary in calling out the problem and the path toward the solution," referring to issues of income inequality.
The mayor captured roughly 74 percent of the vote in the Democratic primary in September, beating former Brooklyn Councilman Sal Albanese. The general election is on Nov. 7.
"Bill de Blasio is the sort of progressive leader that New York needs," Warren wrote in the email. "He's fighting his heart out to level the playing field for working families — and that's why it's important that Bill wins reelection this November. But he's going to need our help. Please chip in now to help Bill de Blasio finish this campaign strong — and send a message across the country that we're ready to fight for progressive values and progressive leaders."
She noted the October 24 deadline set by the New York City Campaign Finance Board, which kicks off the start of the disclosure period for the general election.
Warren said that before she ran for the Senate, she looked into why middle class families "were going broke" and that it was due to rent, health insurance and college skyrocketing. She also noted that child care costs have jumped 953 percent over the past 30 years.
"Bill de Blasio recognized the problem, too — and when he ran for Mayor in 2013, he promised one of the most ambitious, progressive education programs in the nation: universal preschool throughout the city," she continued. "Bill fought hard for the program — and he won. New York City enrollment in pre-K has tripled, lifting the burden of early education costs off of hardworking parents and giving kids of all economic backgrounds a jump start in their education."
She also touted his "3K for All" initiative that aims to provide free, full-day early childhood education for all 3-year-old children. De Blasio recently announced that he is expanding the program to an additional six community school districts throughout the city over the next four years.
"Bill is already working on a plan to take the pre-K program even further," Warren added. "His '3-K for All' initiative will expand universal pre-K to 3-year-olds across the five boroughs."
De Blasio also got 61 percent of likely votes in a recent poll of likely voters from Quinnipiac University. He will face off against GOP mayoral candidate Nicole Malliotakis, a Staten Island assemblywoman, and former NYPD detective Bo Dietl, the independent mayoral candidate. Albanese is now running on the Reform Party line, and millennial tech entrepreneur Michael Tolkin is running on the "Smart Cities" ballot.