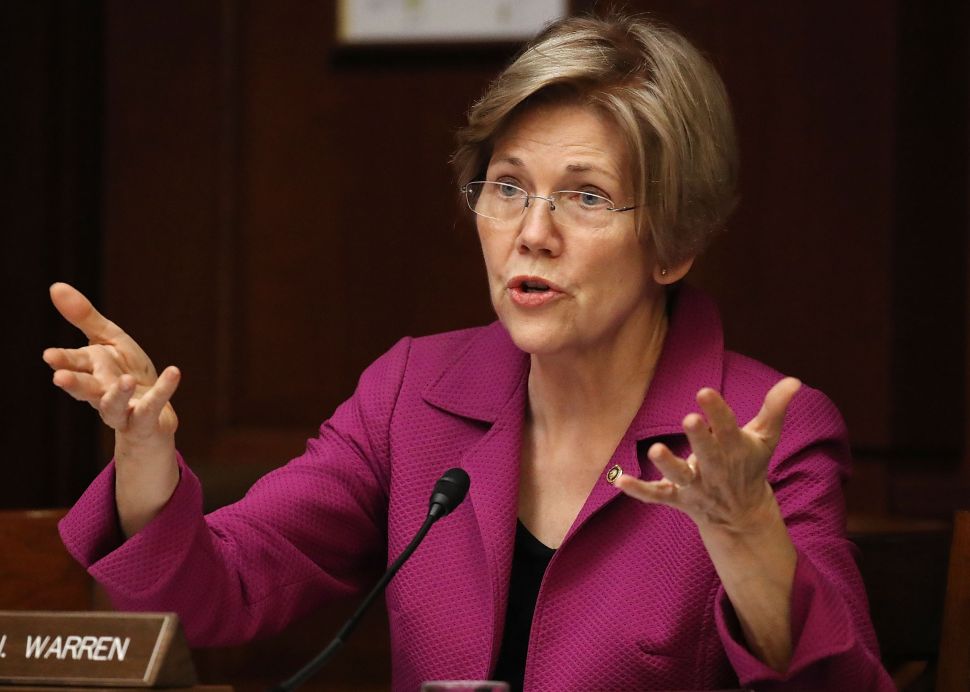 The day will come when politicians will no longer be allowed to hurl the most outrageous invective at Wall Street executives without being called to account for those remarks, and that will be a sad day indeed for the senior senator from Massachusetts. While just about any banker will do for Elizabeth Warren, she shows her teeth most enthusiastically for the executives of Wells Fargo, our fourth-largest bank. Earlier this week, Wells Fargo CEO Timothy Sloan became the latest to walk the Via Dolorosa for bankers—a trip through the Senate Finance Committee hearing room where Warren awaited.
To the surprise of no one, La Liz demanded that Sloan be fired—for misconduct he did not engage in, and did not oversee, involving the unauthorized opening of accounts and purchasing of insurance products for unsuspecting Wells Fargo customers. "At best you were incompetent, at worst you were complicit," she spat. "Either way, you should be fired."
Sloan is a very decent man who has worked for Wells Fargo for 30 years, none of them in the retail banking division where the misdeeds took place. "Wells Fargo needs to start over," Warren continued, "and that wont happen until the bank rids itself of people like you, who led it into this crisis." How deep into the organization Warren envisions this guilt-by-seniority purge going, she did not divulge—except to proclaim that the employees who earn below an unspecified amount cannot be held responsible for their actions.
Spared from all Warren's wrath are the actual perpetrators of the wrongdoing. The gravamen of their criminality involved cross-selling, what Sen. Warren repeatedly and preposterously refers to as "The Scam." Wells Fargo engaged in the perfectly legitimate practice of paying incentive compensation to employees who succeeded in getting customers to purchase products from the bank in addition to the one they initially came to buy. (When the counterperson at McDonald's asks "Would you like fries with that?", that is cross-selling.) In order to avail themselves of this additional money, many low-level Wells Fargo employees cheated—defrauding both Wells Fargo and its customers—by purchasing products on behalf of customers without their authorization.
When Wells Fargo senior management found out about the criminal acts of these employees, it appropriately fired them all, revamped the compensation system and instituted stricter controls. Of course, this wasn't enough for Warren who, in a now famous series of screeds targeting Sloan's predecessor, John Stumpf, during committee hearings in September 2016, demanded Stumpf resign. Regrettably, Warren got her scalp. "You push the blame to your low-level employees who didn't have the money for a fancy PR firm to defend themselves," Warren yelled in her head bouncing, hand chopping, sing-song delivery. "You went on television to blame thousands of $12-an-hour employees who were just trying to meet cross-selling quotas that made you rich."
Implicit in Warren's absolution of the $12-an-hour employees from all culpability for their bad acts is the assumption that those who earn below a certain amount are incapable of behaving morally, and that senior executives of banks should be fired for not reflecting this assumed moral bankruptcy in their compensation policies. However shameful Warren's treatment of Timothy Sloan, John Stumpf and dozens of other first-rate financial industry executives has been, it is dwarfed by her appalling expression of low opinion of ordinary Americans, the $12-an-hour folks. She thinks these are her people, and she theirs, but she is most mistaken in that the vast, vast majority of them play by the rules—proudly—and are disgusted by their co-workers who lied and cheated and stole. They will not easily forgive her slander of their character.
Richard E. Farley is a partner in the law firm of Kramer Levin Naftalis & Frankel LLP in New York City and is chair of its leveraged finance group. He is the author of Wall Street Wars: The Epic Battles with Washington that Created the Modern Financial System, (Regan Arts) and the soon to be published Paper Tiger: The Forgotten Wall Street Crisis. His work appears often in Town & Country, The New York Times, Wall Street Journal, The Daily Beast, Financial Times, and The Hill. Mr. Farley's opinions expressed herein are his own and do not necessarily reflect those of his firm or any of its clients (and certainly don't necessarily reflect those of his wife). Follow him on Twitter @refarley