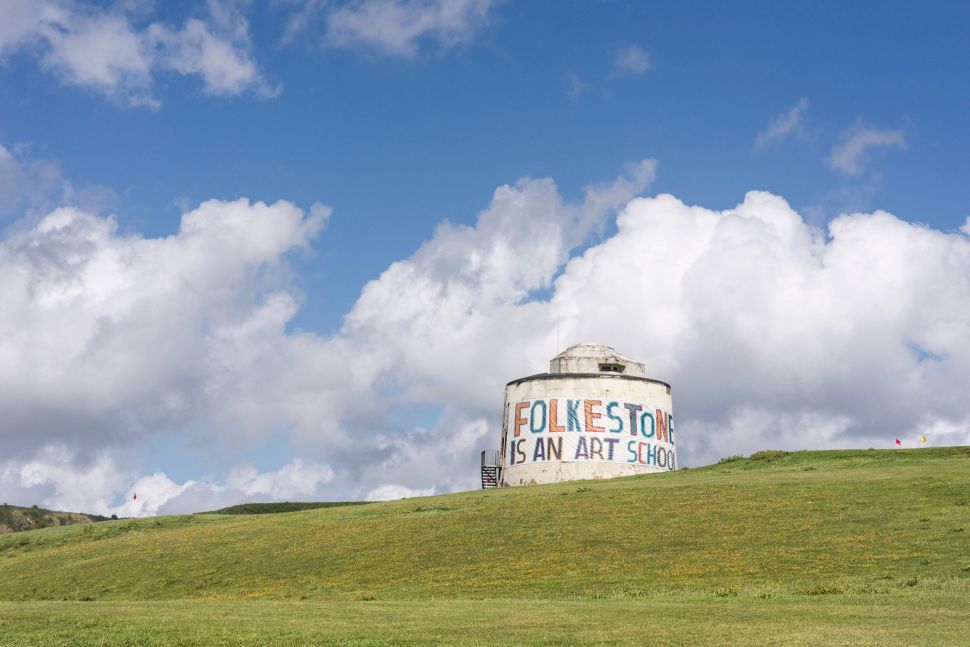 In the small village of Folkestone on England's southeast coast, among the souvenir shop fronts selling seashell-adorned magnets and the fish-and-chip stands shilling fresh fried cod and £2 beers, one also stumbles upon artwork by internationally recognized artists like David Shrigley, Antony Gormley, Michael Craig-Martin, and Lubaina Himid. Indeed, 19 new site-specific works have been installed in various locations throughout the town as part of the fourth edition of the Folkestone Triennial, running through November 5.
The triennial began as part of a restoration effort for the town, a former trade hub in the Middle Ages and resort destination for Londoners in the late 19th and early 20th centuries. Since then, the picturesque village has experienced an upswing in unemployment and a downswing in economic investment. With the infamous (and now defunct) French refugee camp known as "The Jungle" just across the English Channel in Calais, these financial issues were compounded by social tensions spurred by the European migrant crisis and a growing UK Independence Party voter base.
Redevelopment efforts in Folkestone have been met with as much criticism as praise, namely due to the problematic gentrifying effects pricey new restaurants, sleek housing and, yes, even art installations have on the surrounding community that has little need for or access to these amenities. And while there are a handful of works in this year's triennial that do little more than doll up the face of a down-and-out town, there are a number of commissions that speak plainly and clearly to the current socioeconomic position of the city, if not the general unrest of a Split Britain and populist-leaning West.
Here are five highlights from this year's triennial that highlight both the fissures and the fixes redevelopment inspires for a Folkestone in flux.
Folkestone is an Art School
Bob and Roberta Smith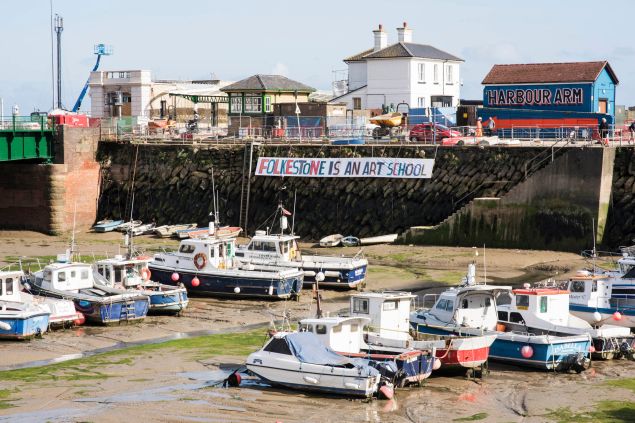 This work, a four-part social project, is the first to greet visitors arriving by train where, at the Folkestone Central station, a large banner in Bob and Roberta Smith's trademark offbeat lettering declares "Folkestone is an art school." A series of these signs can be found all over the city, including on the town's Martello tower, a 19th-century cliff-top fort built to keep watch for Napoleon's intended invasion from France. The other three aspects of the work include short videos, a directory of art teaching facilities and resources, and a teaching program organized by the artist—true to his words to make Folkestone an art school—taught by local resident artists. For Smith, the town is already a bastion of creative riches without the interference of outside urban renewal projects.
Holiday Home
Richard Woods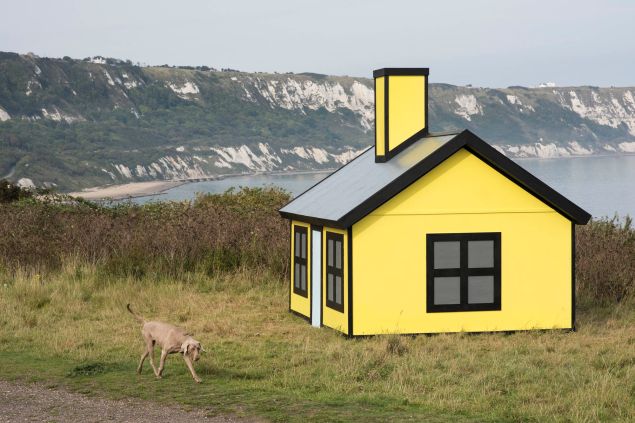 Six bright and boxy bungalows, identical except for their colors and situated in unlikely places ranging from a cliffside to a beachfront tidal zone, wryly suggest that no site is too inconvenient for a new house when economic redevelopment is the name of the game. The artist was inspired to create the series of homes after noticing an ad cajoling locals into "selling up" to make way for a holiday home market, effectively displacing themselves in the process. Woods's ostentatious, cartoon-like cookie-cutter abodes not only poke fun at affluent down-from-London visitors looking to set up a second home, but also more general anxieties about newcomers and who has a right to live where.
Minaret
HoyCheong Wong
Although the Islamic Cultural Centre has operated as a mosque in Folkestone for nearly 30 years, few residents in the town have been aware of it. To bring attention to the longtime place of worship—and to highlight the existing diversity within the recently right-leaning, pro-Brexit area constituents—Wong created an unmissable temporary teal mesh façade on the plain building, complete with traditional Islamic architectural details like minarets and arches.
Halfway to Heaven
Emily Peasgood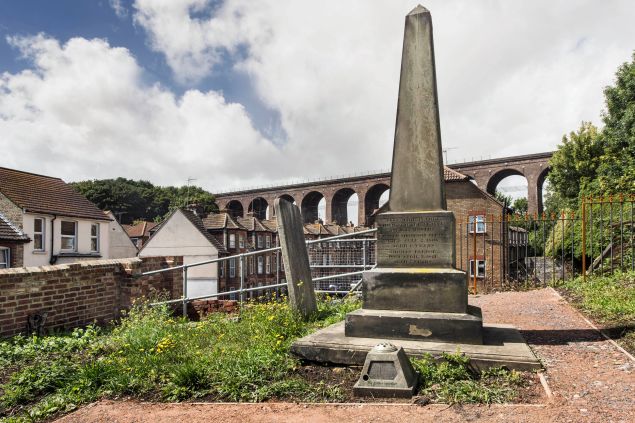 In the middle of town, an 18th-century Baptist cemetery has been stranded 20 feet above the street on top of a hillside building for the last 150 years. Apart from the occasional kids who would try to scramble up the brick wall to get peak of the overgrown spooky plots, no one had access to the graves. However, in collaboration with the Folkestone Baptist community, composer Emily Peasgood got the cemetery unlocked and cleaned up. She then researched some of the people buried there, creating a narrative audio installation scored by hymnal chants around the grave plots to commemorate the long-unattended dead. Each channel relates to a specific gravestone and is triggered only by the presence of a listener. The work is one of the most popular within the triennial, daily drawing in locals by the dozens who had long wondered who may be laid to rest atop the building and the secret past of their own community.
Souvenir
Amalia Pica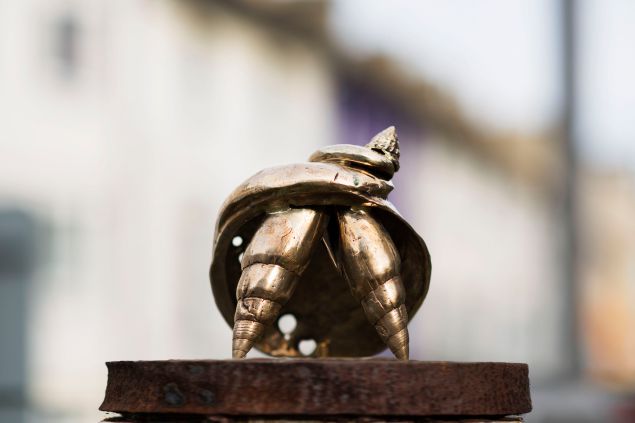 Argentinian-born, London-based artist Amalia Pica riffs on the common, kitschy shell souvenirs and decorations sold in seaside towns the world over by fashioning her own, casting some in bronze. Their placement—on public walls, under telegraph wires, in pubs, and even in windows of private homes—plays on the double-sided role of public sculpture, which is often used to "revitalize" an area but can also detract from seeing the "real" people and places in need of attention.
Margaret Carrigan is a freelance writer and editor. She planned to go to law school but she did terribly on the LSAT, so she got a master's in art history instead. She lives in Brooklyn with her cat, who is named after Alyssa Milano's character from the early aughts CW smash hit series Charmed.