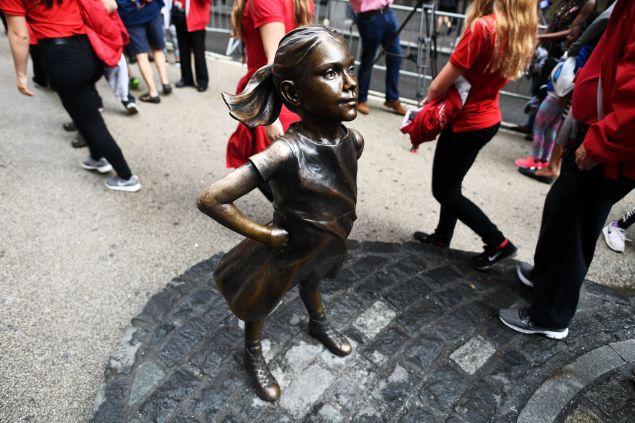 It doesn't get more ironic than this.
State Street Corporation, the financial services firm behind the Fearless Girl statue on Wall Street, has agreed to pay $5 million in an equal pay lawsuit brought by 305 female and 15 black employees. Both parties alleged they were paid less than their white male counterparts.
The U.S. Department of Labor revealed in a filing that it had been auditing State Street since 2012, based on data that showed it had been underpaying black and female employees since at least 2010. The government first informed State Street of the audit in March, soon after Fearless Girl was installed across from the iconic Charging Bull statue near the New York Stock Exchange.
Female vice presidents, senior vice presidents and managing directors at State Street were routinely paid less in salaries and bonuses, according to the audit. Black vice presidents received similar treatment.
State Street officially denies the claims but has agreed to settle the lawsuit. The $5 million total includes about $4.5 million in back pay and $500,000 in interest.
"State Street is committed to equal pay practices and evaluates on an ongoing basis our internal processes to be sure our compensation, hiring and promotions programs are nondiscriminatory," State Street said in a a statement. "While we disagreed with the…analysis and findings, we have cooperated fully with them, and made a decision to bring this six-year-old matter to resolution and move forward."
The company, which manages $2.6 trillion in assets, will also conduct compensation analysis on all employees every year for the next three years. In exchange, the Department of Labor will not institute judicial or administrative enforcement proceedings.
Fearless Girl was bankrolled by State Street Global Advisors, a subsidiary of the main corporation, and sculpted by artist Kristen Visbal. It immediately became a sensation, especially among young women. Ad agency McCann New York, which publicized the statue, won 18 awards for it at this year's Cannes Lion International Festival of Creativity.
State Street said when Fearless Girl was installed that it wanted "to celebrate the power of women in leadership and to urge greater gender diversity on corporate boards." The company also recently launched a Gender Diversity exchange-traded fund, which focuses on firms that hire women for senior leadership positions.
Large corporations lag behind in gender diversity: one in four of the 3,000 largest publicly traded U.S. companies do not a woman on their boards, and nearly 60 percent of boards are at least 85 percent male.
State Street's board, while more diverse than most, is still far from ideal. There are five women on its 28-person leadership team—that's only 18 percent of the group.