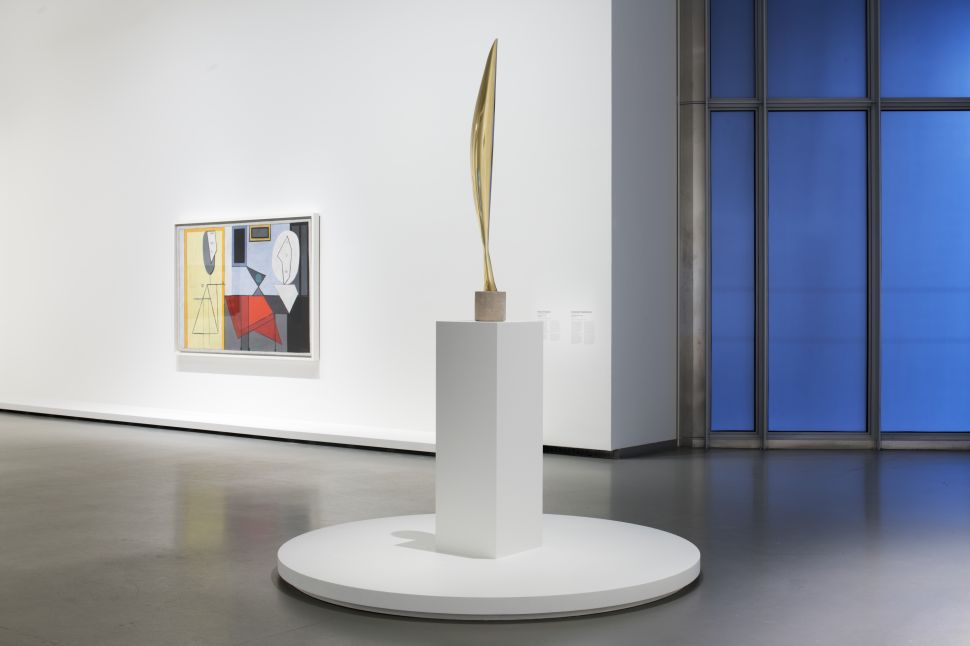 The U.S. ex-pat artists and intellectuals who fled to Paris's bohemian Left Bank in the 1920s have captured the American and French imaginations for the better part of a century. It's fitting, then, that the City of Light's Fondation Louis Vuitton is now playing host to the first comprehensive show in Paris to date of the Museum of Modern Art's famed collection. Spanning four floors of the foundation's crystalline Frank Gehry-designed building, "Being Modern: MoMA in Paris" features over 200 works by artists ranging from Pablo Picasso to Kerry James Marshall hailing from Manhattan's bastion of modern artistic mastery.
MoMA generally keeps a firm hold on its prized collection, often to the chagrin of other museums around the world, so the scope of work on view at the Vuitton foundation is not only impressive but unprecedented. "It's a unique opportunity to tell the story of how the museum's unparalleled holdings were assembled both in and outside of New York," MoMA director Glenn Lowry told Observer.
Drawn from all six of MoMA's curatorial departments, the exhibition opens with pairings like American painter Edward Hopper, known for his urban scenes, and French artist Paul Cezanne, renowned for his landscapes; MoMA acquired works by both of the artists in the early 1930s during its infancy. From there, the show explores the American-born mid-century movements of Minimalism and Pop art through works by Jasper Johns and Andy Warhol, whose Campbell's Soup Cans (1962) make their first appearance in France in this show.
On the top floor of the foundation, the final section of the exhibition delves into MoMA's most recent acquisitions made within the last two years, ranging from works like Lele Saveri's The Newsstand, which was originally installed at a Brooklyn subway stop, and the original set of 176 emoji characters designed by Shigetaka Kurita.
"We've set aside the traditional objective of the survey exhibition—comprehensive and cohesive coverage—to focus instead on the evolution of the collection over the past almost 90 years," said Lowry.
This outsourcing of MoMA's collection comes at a pivotal moment for the storied institution, as it prepares to rehang its permanent collection in 2019 after its long-time expansion is realized. The French venue not only provides a swanky new setting for works that might be relegated to storage during construction, but also a new outlook  and even a kind of openness, as Suzanne Pagé, artistic director of Fondation Louis Vuitton, noted in a press conference.
While "Being Modern" certainly opens up the collection to a wider global audience, it also reveals a divided American collective subconscious. In this institution born of and dedicated to luxury style, works like Romare Bearden's collage "Patchwork Quilt" (1970)—MoMA's first non-white nude to enter the collection—and LaToya Ruby Frazier's ongoing photo series, The Notion of Family (2001-present), depicting her black working class family, stand out. Cindy Sherman's pioneering Untitled Film Stills (1977-80), which have never left MoMA prior to this and famously probe the U.S. obsession with media-constructed identities—and the follies that ensue.
What MoMA's collection highlights outposted in this polished Parisian venue offers most, perhaps, is a startling reflection of an American cultural identity fractured, if not entirely displaced.
"Being Modern: MoMA in Paris" remains on view through March 5, 2018.
Margaret Carrigan is a freelance writer and editor. She planned to go to law school but she did terribly on the LSAT, so she got a master's in art history instead. She lives in Brooklyn with her cat, who is named after Alyssa Milano's character from the early aughts CW smash hit series Charmed.
More from Margaret Carrigan:
Museums Make Space for Sound Art This Fall
Nick Cave Pays His Dues to Artadia
5 Must-See Gallery Shows in London During Frieze Week
Studio Museum Unveils Plans for New Building to Mark 50th Anniversary
Gallerist Bill Powers Tries Out 'One Night Only' Exhibition Model