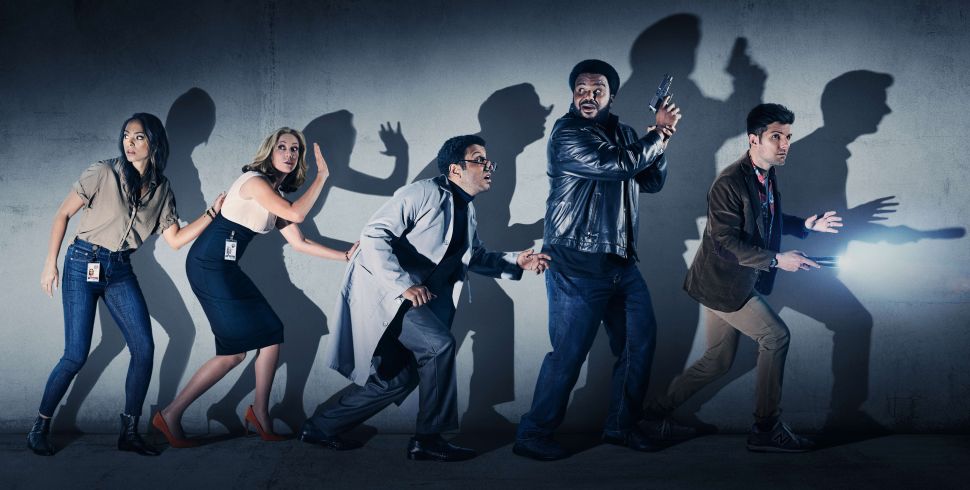 Fox's new comedy Ghosted follows polar opposites—a cynical skeptic and a genius "true believer" in the paranormal—who unintentionally cross paths with a secret government agency, The Bureau Underground, to save the human race. If that sounds a bit wacky, it's because it is; Ghosted leans heavily on the side of silliness, perhaps too far in its premiere.
But as we know, sitcoms tend to take a bit longer to find their sweet spot. 30 Rock didn't find a happy medium between pointed cleverness and zany hi-jinx until season two, Modern Family didn't nail down its mockumentary style until a handful of episodes in. These things take time and given the talent of stars Craig Robinson and Adam Scott, Ghosted deserves enough leeway to find it.
The pilot is a bit messy. Tonally, it's trying to do too much too quickly and most of the jokes don't land. But it's no surprise that the best moments come from Scott and Robinson playing off of one another. If Fox wants Ghosted to be the heir apparent to New Girl, ending after a shortened season seven, then it should give its two leads the freedom to go over the top in any given scene. Trust the talent and the rest may fall in to place.
Here's how you can live-stream the episode if you're interested.
Ghosted Series Premiere Date, Episode and Time
Date: Sunday, October 1, 2017
Time: 8:30 p.m. EST
Episode Title: "Pilot"
TV Channel: Fox
How to Live-Stream Ghosted Series Premiere Online
The best way you can watch Ghosted's series premiere online is through Fox Live. First-time users will be treated to a one-hour "Preview Pass." Otherwise, you'll need your cable log-in and password to be able to live-stream the show.
If you don't have access to cable provider information, you can always watch Ghosted online through DirecTV Now. DirecTV offers a free seven-day trial, meaning you get a full week of free watchable content before they start making you pay. If you cancel your subscription before the seven days are up, you're in the clear and will not be charged.
How to Live-Stream Ghosted Series Premiere on Mobile
Again, your best bet here is to go through Fox with their Fox Now App. The app is available for free download in the App Store, the Google Play store or the Microsoft Store. But remember, if you don't have cable log-in information, you're not going to be able to live-stream the episode.
That is, unless you download the DirecTV Now app on App Store and Google Play where you can work out the same free seven-day trial deal.
Happy viewing!