Versace's drop dead glamorous finale at Milan Fashion Week was this season's Instagram seen 'round the world. Even those who don't self-identify as fashion obsessed seemed to be enthralled by the image of the petite blonde Donatella Versace strolling down the runway, trailed by a crew of OG supermodels, Carla Bruni, Claudia Schiffer, Naomi Campbell, Cindy Crawford and Helena Christensen. Each draped in a shimmering chainmail gown, the moment was a perfect, ethereal homage to Gianni Versace, who was murdered two decades ago.
The entire Versace show, filled with vibrant vintage prints resurrected from the archive—plus one authentic skirt that was directly plucked from annals, as it could not be recreated—served to honor the memory of the late designer. Many of his greatest collections were revisited, including Vogue, Warhol, My Friend Elton, Baroque, Native Americans, Metal Mesh and Butterflies. And it's hardly the last homage to the designer we'll see this year.
"It's a very difficult moment for [Donatella], because she lost her brother in a way that should never have happened. And how do you do something to honor him and pay his creative genius the respect it should have, without trivializing what an enormous loss he was? I thought it was an elegant and joyous way of her saying hello to him publicly," said William Banks-Blaney. The British vintage guru, who runs the tony William Vintage shop from Marylebone in London, has been thinking a lot about this tribute to Gianni. Not only because of the anniversary of his death, but because he has been pulling together his own salute to the Italian icon.
Comprised of over 500 vintage pieces, spanning 20 years of Gianni's career—from his time at Genny in 1977 to his final collection at Versace in 1997—it's an exhaustive offering of the designer's biggest and boldest creations. According to Banks-Blaney, this collection has been in the works for a number of years and putting it together has taken quite a bit of work.
"We've known for about two years that we've wanted to do something for 2017. We've been working with private collectors, with stylists, with models, with scouts scouring the globe to get together a really stupendous collection…It's the largest collection of Gianni Versace to ever go on sale in the world," he told the Observer.
Ranging in price from £200 to £238,000, there's something here for everyone, from a simple scarf or silk shirt to a 1991 dress created in association with the Andy Warhol Foundation, and quite a few leather harness dresses from the Miss S&M collection.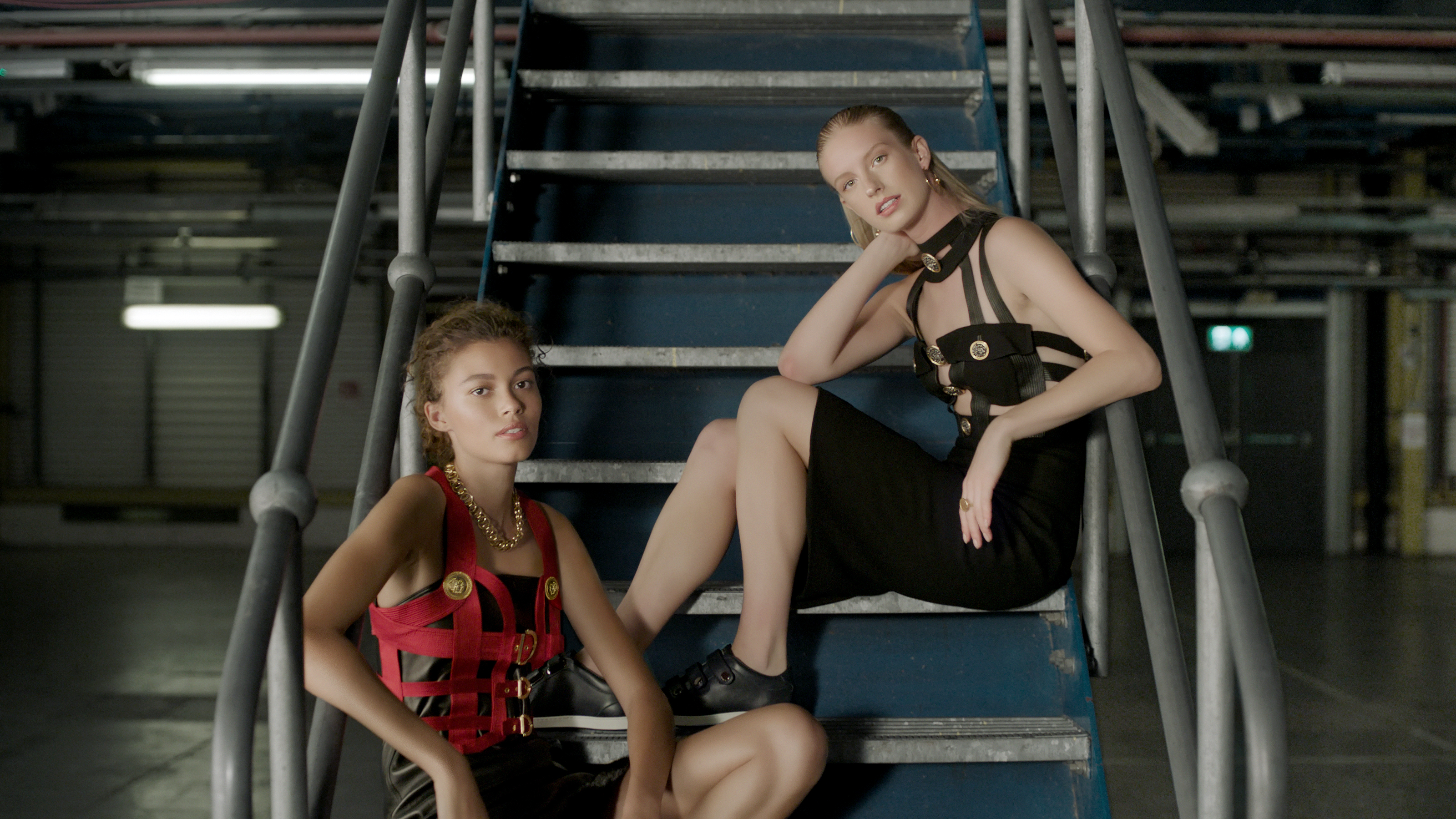 Banks-Blaney does have a darling piece or two that he's most attached to. "One of my most favorite pieces is from the Bondage collection in 1992 and it's one of the quilted leather jackets which are a runway piece and incredibly rare," he explained. "We have several of them in absolutely perfect condition and they're so exquisitely made with leather as soft as butter. They're wondrous things."
Banks-Blaney is London's go-to for high scale vintage finds, from haute couture Yves Saint Laurent frocks and Dior suits to sequined Gucci minidresses and ruffled Valentino skirts. Per the vintage maven, the shop only carries products in pristine condition, meaning you won't find anything in his shop with unsightly stains or seams that have been ripped apart. That's why William Vintage attracts a cognoscenti of fashion insiders, such as Net-a-Porter founder and current non-executive co-chairman at Farfetch Natalie Massenet and stylist Giovanna Battaglia, plus celebs of an A-list caliber, including Rihanna, Amal Clooney, Emma Watson and Bella Hadid.
"Our earliest pieces go from the 1880's right through 2010, from Charles Frederick Worth, to [Alexander] McQueen and everything in between. But Versace has always been very important to us and very popular; we've always enjoyed selling and loved his pieces," said Banks-Blaney.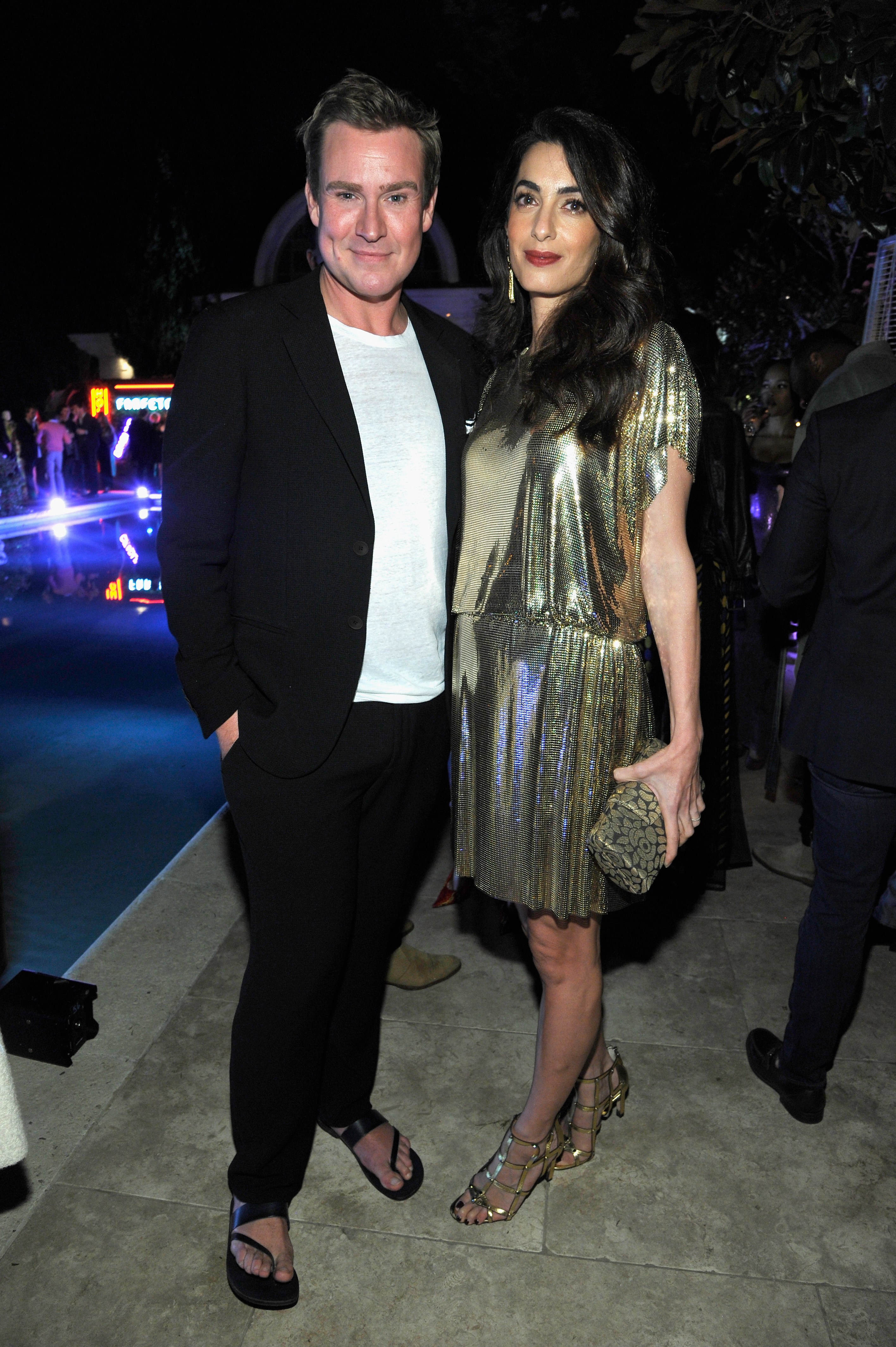 William Vintage partnered with Farfetch to sell this extended collection of Gianni Versace designed pieces online, as well as in his London store, starting on October 10. Getting a head start on celebrating the collection, last night Banks-Blaney and stylist Elizabeth Stewart hosted a party with Farfetch at a Beverly Hills mansion. Mannequins dressed in the historic designs surrounded the pool, while major celebs mingled, including Amal Clooney (dressed in one of those gold chainmail dresses), Kate Bosworth, Chris O'Dowd, Isla Fisher, Jaime King and Maye Musk.
This is hardly the last tribute to the late designer, though. The Assassination of Gianni Versace: American Crime Story will debut on FX sometime in early 2018, featuring Penelope Cruz as Donatella Versace, Edgar Ramirez as Gianni Versace, Darren Criss as murderer Andrew Cunanan and Ricky Martin as Antonio D'Amico, Gianni's longtime partner. The show, created by Ryan Murphy, will offer a detailed look into the designer's murder in Miami—and is sure to draw in a crowd beyond just the fashion obsessed.
Perhaps you could scoop up some designs by Gianni to wear while tuning in? The late designer would have probably loved that.