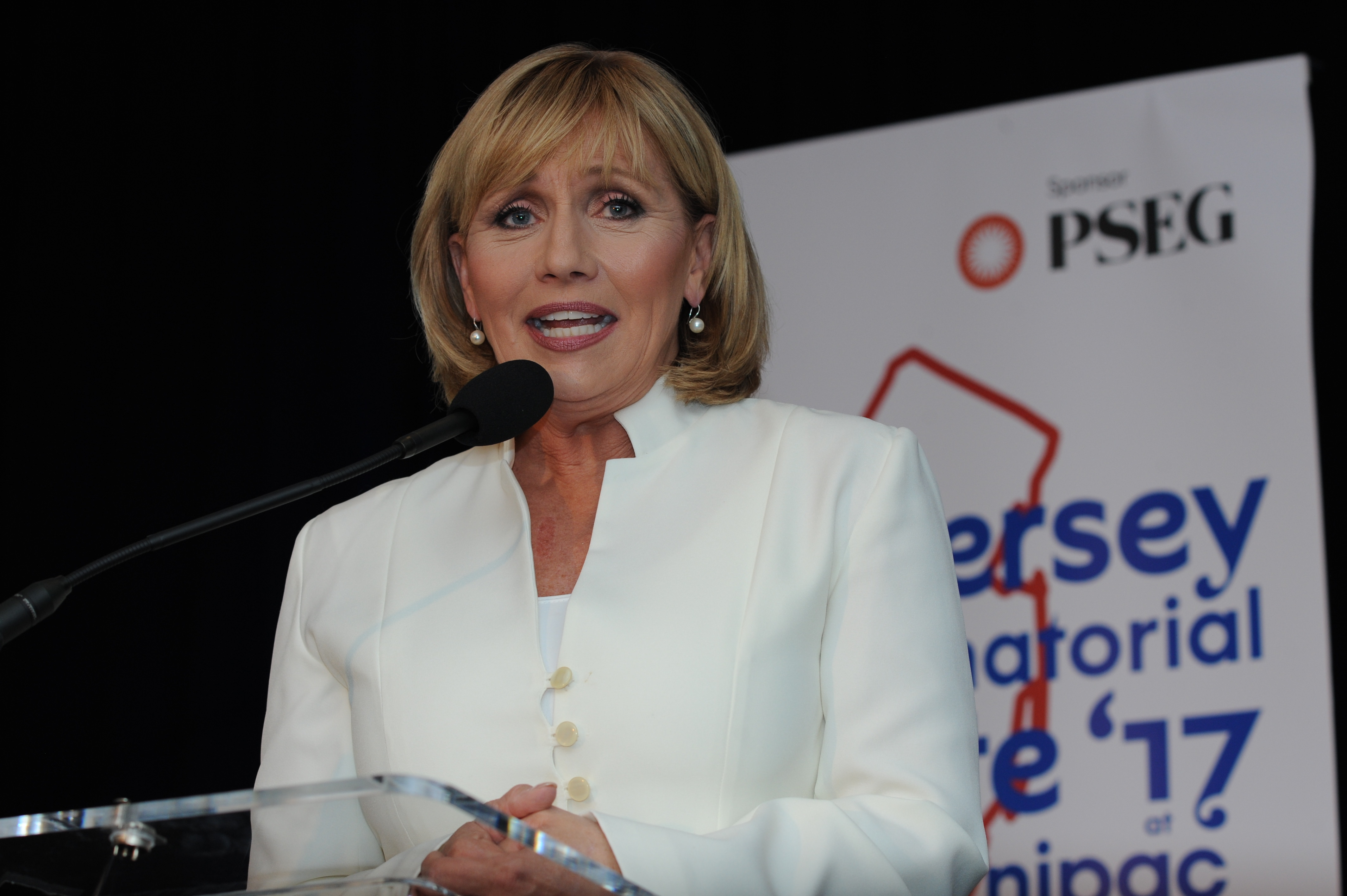 Lt. Gov. Kim Guadagno, the Republican nominee for governor, released a television ad on Wednesday that uses incendiary claims to attack Democratic nominee Phil Murphy for his plan to make New Jersey a sanctuary state — "if need be" — for undocumented immigrants.
Warning darkly that such a move would make the state a safe haven for violent criminals, the ad takes Murphy's campaign slogan — "a governor who has your back" — and turns it on its head, claiming the Democrat would be protecting "deranged murderers."
"Make no mistake, Murphy will have the backs of deranged murderers," the narrator says in Guadagno's ad. "Phil Murphy doesn't have our backs. He has theirs."
Guadagno claims in the ad — and charged at the first debate Tuesday night — that sanctuary policies would have protected Jose Carranza, an undocumented immigrant from Peru who shot four Newark teens execution-style in 2014, killing three. Prior to his murder arrest, Carranza had been arrested for raping a child and was released on bail.
There is no hard and fast definition of what makes a city or state a sanctuary for undocumented immigrants, and those policies vary across the country. Broadly speaking, sanctuary cities decline to cooperate with federal immigration authorities seeking assistance at the local level to locate or detain undocumented immigrants.
Murphy says he "will protect the Dreamers" — a term for undocumented immigrants who were brought to the United States as young children — "and oppose any efforts to use state and local police to assist in mass deportations." He said at the debate Tuesday night that he would seek to make New Jersey a sanctuary state "if need be."
In theory, if New Jersey became a sanctuary state, U.S. Immigration and Customs Enforcement (ICE), the federal agency in charge of enforcing immigration laws, could have a harder time tracking down undocumented immigrants it is seeking. State officials most likely would refuse to honor requests from ICE to detain undocumented immigrants when they are arrested for non-immigration issues.
But sanctuary cities and states usually do not extend those protections to violent criminals. Jersey City, for example, does not provide its sanctuary city protections to such immigrants. California, which became a sanctuary state last week, also does not protect those individuals.
Had immigration authorities been alerted to his undocumented status at the time of his first arrest for child rape, Carranza might have been deported and the murders might not have happened. New Jersey, however, was not then and is not now a sanctuary state, raising the possibility that repeat crimes by undocumented immigrants also could occur under a Guadagno administration.
In his public statements, Murphy is usually careful to speak in generalities and avoids boxing himself in on thorny issues. At a town hall forum recently, he said he had to "think through" at which point the state would notify federal authorities about an undocumented immigrant in its custody. But he also said, when asked about undocumented immigrants who commit felonies or are arrested for drunk driving, "My bias is going to be having their back."
Although his statement was hazy and hard to follow, Murphy never explicitly pledged to support illegal immigrants who had committed crimes, and he never said he would support Carranza specifically or those in the same circumstances. Instead, he talked about Dreamers and immigrants generally.
"My bias is going to be having their back because there is always going to be an example in any population of somebody who does something awful or whatever it is — in this case on a heinous level — and I am not denying that," Murphy said. "But then we've got to be careful to not extrapolate that and then throw a similar blanket over a whole group of folks. I feel like the field has been so tilted against these folks. I want to be the guy they feel like they can rely on."
A range of New Jersey Democrats lashed out at Guadagno on Thursday, calling her ad foul play. Former Vice President Joe Biden, who was in state Thursday stumping for Murphy, called it "a return to Willie Horton," the infamous attack ad from the 1988 presidential campaign that savaged former Massachusetts Gov. Michael Dukakis over an inmate who committed violent crimes when he was let out from prison temporarily and did not return.
Murphy's campaign called the ad "vile and deceitful" and accused Guadagno of "politicizing the deaths of three children and painting a community with the broad brush of a murderer, a tactic she must have gleaned from President Trump."
Murphy also called on Guadagno, the former Monmouth County sheriff, to apologize to members of the Latino community for the ad.
New Jersey Democratic State Committee Chairman John Currie called the ad "a load of crap."
"Ms. Guadagno's ad just makes her look desperate and trashy," Currie said in a statement. The New Jersey Working Families Alliance called the ad "race baiting and fear-mongering" in a statement on Thursday.
Despite the criticism, Guadagno has increasingly been pivoting from an all-taxes, all-the-time campaign to a law-and-order message particularly tough on illegal immigration. Polls show Guadagno trailing Murphy by double digits with less than a month left before the Nov. 7 election.
"He was asked specifically whether or not he would defend as part of his sanctuary state a child rapist who had killed four students in an Essex County parking lot by shooting them in the back of the head — I'm sorry three died, one survived," Guadagno said at Tuesday's debate, referencing the town hall. "He said he would have their backs."
Montclair State University political science professor Brigid Harrison said that by employing the ad, Guadagno may be hoping to energize the subset of voters most concerned with illegal immigration.
"This is on Kim Guadagno's part an effort to shore up her base of support, particularly conservative Republicans and I would even go so far as to say Trump supporters," Harrison said. "While this may be a popular stance among her core base constituency, in a state in which Democrats outnumber Republicans, and amongst the most populous states with first-generation and second-generation Americans, it is a really interesting tactic because it will serve to alienate some voters."
Both campaigns have made significant outreach to the Latino community and Guadagno's running mate, Woodcliff Lake Mayor Carlos Rendo, is a Cuban immigrant. "This position absolutely will hurt her with Latino voters," Harrison said.
Rendo said he supports the ad.
"The ad uses Phil Murphy's own words: he wants to make New Jersey a sanctuary state even though three African American children died at the hands of a child rapist who wasn't deported," Rendo said in a statement. "Kim and I understand we must have the backs of law-abiding New Jerseyans and law enforcement over violent criminals, and we both stand by the ad."
Watch the ad here:
https://www.youtube.com/watch?v=0vpoqH23vZk&feature=youtu.be