With a month left before the election, Democrat Phil Murphy and Republican Kim Guadagno will face off Tuesday in the first of two televised gubernatorial debates.
The 7 p.m. live broadcast by ABC's New York and Philadelphia television affiliates could provide a huge boost in exposure for both candidates in a race that so far has gotten relatively little interest from Garden State residents. A Monmouth University poll last week found that nearly half of likely voters were still unfamiliar with Murphy and Guadagno.
"I do think the debates present a really important opportunity for the candidates to make their case, and I think that's more so this year than in other gubernatorial elections simply because there is such a large segment of the voting population who have yet to make up their minds," said Brigid Harrison, a political science professor at Montclair State University.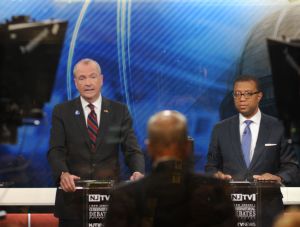 Murphy, a former Goldman Sachs executive and U.S. ambassador to Germany, will likely seize on Guadagno's work for her deeply unpopular boss, Gov. Chris Christie. Guadagno, the state's lieutenant governor, will likely focus on her vow to cut property taxes and criticize Murphy for his plan to raise taxes on the wealthy and large corporations.
The stakes are higher for Guadagno, who has consistently trailed Murphy by double digits in public polls. Despite Murphy's significant lead, Harrison said Tuesday's debate still gives Guadagno a shot to "mobilize her base and convince voters she's not Chris Christie redux." Murphy has a chance to point out what he sees as weak spots in Guadagno's policy proposals, Harrison said.
The candidates will spar for an hour inside the New Jersey Performing Arts Center in Newark. The debate will be broadcast by ABC affiliates as well as Univision; FM radio stations WBGO and WHYY and AM radio's 1280 WADO. Twitter also plans to carry the debate.
Observer NJ will be hosting a live blog on Tuesday starting at 6 p.m., and will also be fact checking the candidates' statements and analyzing their performances.
ABC local news anchors Sade Baderwina and Jim Gardner — one from New York and one from Philadelphia — will moderate along with a panel of New Jersey-based journalists.
Because the moderators are from out-of-state news organizations, they may not go "in the weeds" with their questioning, Harrison said. That could benefit candidates "who can talk in broad sweeps about their policy issues," rather than face challenges about specific details, she said.
Guadagno and Murphy will have the debate stage to themselves, since no third-party or independent candidates met the $430,000 fundraising threshold required by New Jersey election law to participate.
The second gubernatorial debate will be held on Oct. 18, at 7 p.m. at William Paterson University in Wayne. Debate partners include The Record and other Gannett newspapers, CBS New York and KYW Philadelphia. The William Paterson debate will be moderated by CBS New York's Kristine Johnson and KYW Philadelphia's Jessica Dean.
The major-party candidates for lieutenant governor — Assemblywoman Sheila Oliver (D-Essex) and Republican Woodcliff Lake Mayor Carlos Rendo — will debate at 8 p.m. on Oct. 16 at Montclair State University.