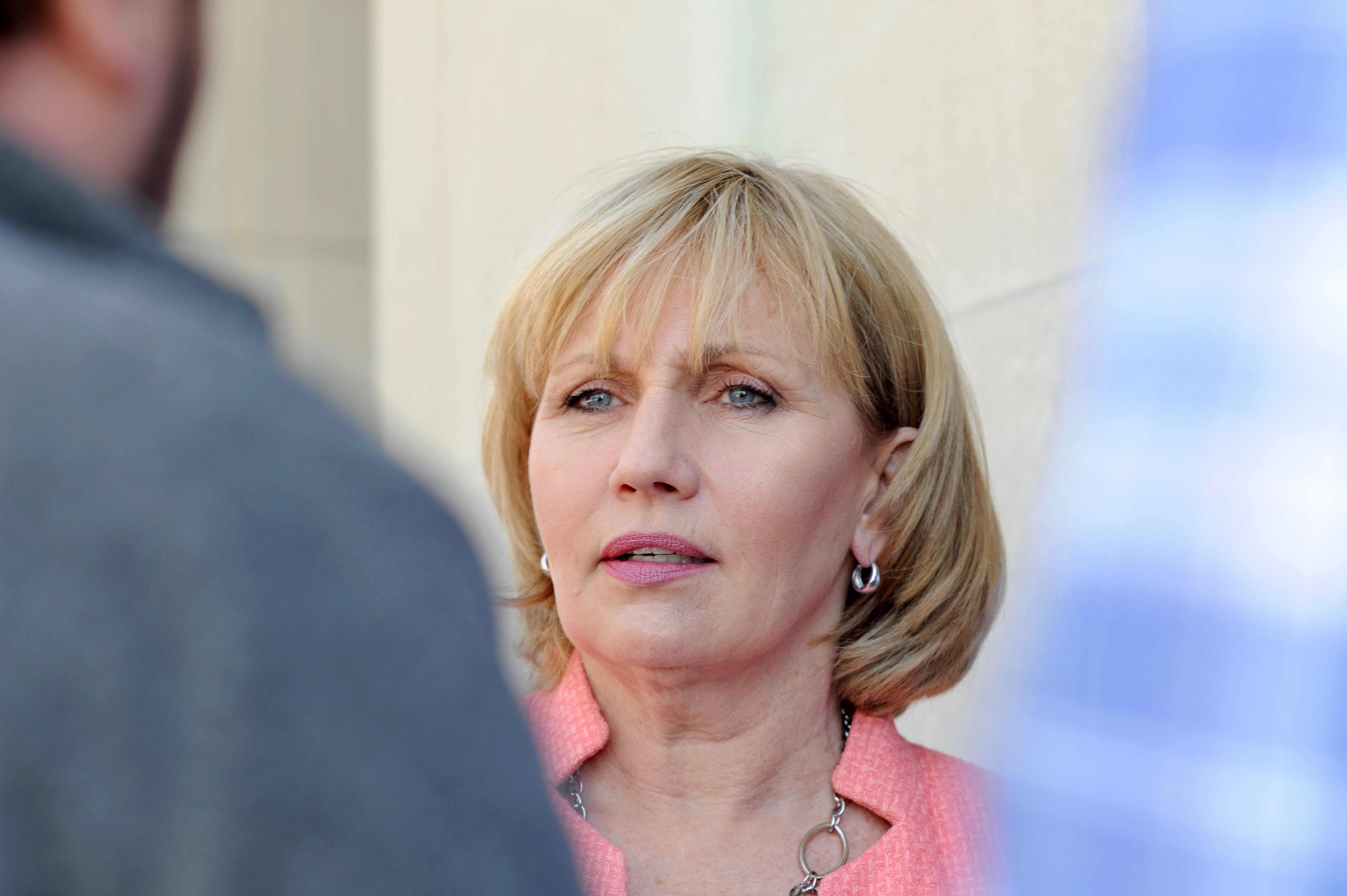 BRIDGEWATER — Phil Murphy wants to raise tolls and dot New Jersey's highways with new toll plazas, according to his Republican opponent in the governor's race, Lt. Gov. Kim Guadagno.
There's just one hitch in that plan. Murphy, the Democratic nominee, has never proposed it.
Trailing in the polls, Guadagno has zeroed in all year on Murphy's plans to raise some taxes to ramp up funding for schools, public-worker pensions and other Democratic priorities. But in describing her opponent's plans, Guadagno sometimes goes farther than Murphy himself, and she ends up putting words in his mouth that make his proposals seem costlier and scarier for New Jersey's beleaguered taxpayers.
In the latest example, Guadagno held a news conference Monday to warn that a vote for Murphy was a vote for more highway tolls. A report released last month by the Fund for New Jersey and former Gov. Jim Florio, a Democrat, recommended a series of moves, including new tolls on interstate roads to supplement funding for NJ Transit, which badly needs more money.
When the report was released, a Murphy spokesman issued a vague and anodyne statement saying the campaign would "greatly welcome these insights to help chart a future course."
The Murphy campaign never committed to implementing all of the report's recommendations. But for Guadagno, the response might as well have been a campaign promise.
"His campaign said that greatly welcomed Governor Florio's ideas," Guadagno said at her news conference Monday. "How could you read that in any other way as I am welcome and open to the idea of raising taxes?
She said Murphy has promised so much during the campaign, the cost is bound to be higher than the $1.3 billion in new taxes he has detailed. "Now we know some of the other taxes he will raise are some of the recommendations that made in Governor Florio's recommendations," Guadagno said.
She continued: "All I'm saying is that that report recommended raising MVC [Motor Vehicle Commission] fees, raising and adding tolls and privatizing the Turnpike and the response was, 'Great, we welcome the report.'"
Murphy on Monday denied that he had promised to raise tolls. If you want to point the finger at someone who raised the cost of commuting in New Jersey, that's Gov. Chris Christie, he said.
"I don't know where she gets that; we haven't talked about that once," Murphy said at his own event Monday. In Christie's first term, the state made deep cuts to its subsidy for NJ Transit, fares have gone up several times on that railway, and the bi-state Port Authority of New York and New Jersey hiked tolls for its Hudson River crossings. In Christie's second term, the gas tax rose by 23 cents a gallon, a move that Guadagno opposed.
"Where's the credibility, with all due respect?" Murphy said. "I believe in their administration, NJ Transit fares are up 36 percent. I always ask rhetorically, 'Is your commuting experience up 36 percent?' … I haven't talked about raising tolls or fares once, but I would ask, more importantly, where is their credibility?"
Guadagno on Monday also repeated her claim that Murphy plans to raise taxes in New Jersey by "at least $75 billion." Her campaign estimates that $68.5 billion of that cost would come from implementing a single-payer health care system in New Jersey. Murphy has said he supports single-payer on the federal level but his campaign has never promised such a program at the state level.
Murphy, for his part, has estimated that his plans would raise taxes by $1.3 billion in New Jersey by targeting millionaires and large businesses, and legalizing and taxing marijuana.
Guadagno likes to use that figure, too, inducing a bit of rhetorical whiplash sometimes by oscillating between $75 billion and $1.3 billion in public comments when describing Murphy's tax plan.
"The billion dollars he has admitted that he will raise doesn't come close to paying for all the entitlements he has said he will to the people of New Jersey," Guadagno said Monday after lobbing the $75 billion figure.
In a TV ad released last month, Guadagno claimed that Murphy promised to raise the sales tax, reversing a recent cut made by Christie and the Legislature in exchange for the 23 cent per gallon gas tax hike that went into effect last year. But that ad cites a news report from a Democratic primary debate that incorrectly described Murphy's comments on the sales tax. Murphy spokesman Derek Roseman told Observer that the campaign's tax proposal definitively does not include a sales tax hike.
The magic of editing also allows Guadagno to push Murphy's comments farther than they go by themselves. In another Guadagno ad, the incorrect sales tax claim is repeated. And then, using footage from a primary debate, NJTV correspondent Michael Aron asks Murphy whether he would raise taxes. Murphy says, "Yes. The answer is yes. It's a ton of money." In reality, Murphy did not say those sentences together. "It's a ton of money" came later in the debate in response to a different question.
Murphy is also misdirecting voters, Guadagno's campaign charges. Last month, Guadagno accused Murphy of lying about her in an ad that claimed corporations would get tax breaks under a Guadagno administration and public schools would receive less funding. Christie and state Democratic lawmakers have expanded tax breaks by billions of dollars in recent years, showering some politically connected firms with incentives to relocate in the state while the state budget shorts funding for public schools. But Guadagno has not said she would continue that strategy.
The first general election debate on Tuesday, Guadagno said, will allow the candidates to see who is telling it straight. "Let's find out which promises he has made, what he has said and what his campaign has said," she said.