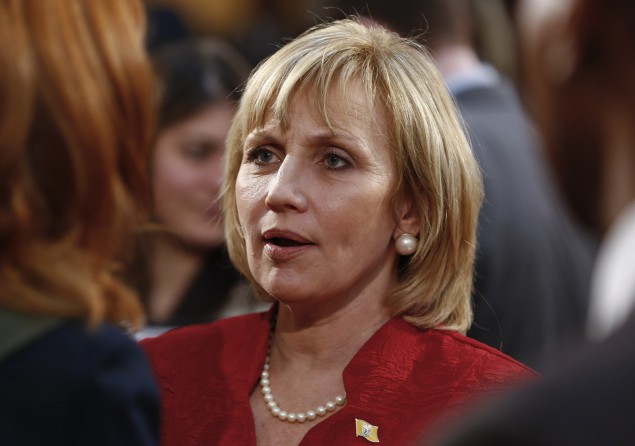 Kim Guadagno would bar New Jersey cities from adopting "sanctuary" policies, announcing Monday that she would sign a law if elected governor to fine or withhold funds from such communities.
For Guadagno, the Republican nominee for governor, enforcing immigration laws in New Jersey has become a top issue in the waning days of the race. Her new proposal would mirror at the state level what President Trump is doing at the federal level. Trump has signed an executive order that authorizes the U.S. Department of Homeland Security to withhold some federal funds from sanctuary jurisdictions.
Phil Murphy, the Democratic nominee, has attacked Guadagno for her rhetoric on sanctuary cities and undocumented immigrants and says he would make New Jersey a sanctuary state "if need be."
"If elected governor, I will pass a law to ban sanctuary cities so politicians can't prevent law enforcement from turning violent and dangerous criminals over to federal immigration officials for deportation," Guadagno, a former federal prosecutor and Monmouth County sheriff, said in a statement.
In the home stretch toward the Nov. 7 election, Guadagno has argued — in a TV ad and in the two gubernatorial debates — that the sanctuary designation turns New Jersey communities into beacons for violent criminals. Murphy says Guadagno is tarring the entire Latino community by focusing on isolated cases in which undocumented immigrants have committed violent crimes.
If Democrats retain control of both houses of the Legislature, as is likely, they are unlikely to pass the anti-sanctuary legislation Guadagno hopes to sign.
If enacted, Guadagno's plan would bar local governments from enacting sanctuary city policies, require that local law enforcement officials cooperate with federal law enforcement agencies, and require local officers to run background checks on arrested persons to determine if any U.S. Immigrations and Custom Enforcement (ICE) detainers have been issued.
Detainers are requests issued by ICE to hold undocumented immigrants arrested by local law enforcement officials over non-immigration matters, and compliance by local law enforcement is considered voluntary. Although there is no uniform definition of what makes a sanctuary city, one common thread is refusing to honor ICE detainers.
Her plan would also include provisions to fine or withhold state funds from sanctuary cities, according to a news release from her campaign.
The state's two largest cities — Newark and Jersey City — and other communities such as East Orange, Princeton, Prospect Park, Trenton and Union City have declared themselves sanctuary cities.
"Lieutenant Governor Guadagno continues to show that she is out of touch with the people of New Jersey," Prospect Park Mayor Mohamed Khairullah, a Syrian immigrant, said Monday in response to her plan. Guadagno's tough rhetoric about immigrants committing crimes, he added, "is exactly what hate groups would love to hear to feel empowered and to spew their hateful rhetoric."
For larger municipalities such as Jersey City and Newark, a withholding of federal funds would mean a loss of millions of dollars, although Jersey City Mayor Steve Fulop, for example, has said he is not too worried and would fight for any lost federal funds in court. (Under the terms of Trump's executive order, the federal government would not pull any law enforcement funds from sanctuary jurisdictions.)
But, depending on how Guadagno's plan would work in practice, a loss of state funding could have more serious impacts across New Jersey.
The $34.7 billion state budget is a crucial source of money for public schools, senior services and state employee pensions, and withholding those funds could lead to catastrophic budget shortfalls in many New Jersey municipalities — or property tax increases as local governments attempt to recoup lost funds. (Reducing property taxes has been the cornerstone of Guadagno's campaign.)
During last week's gubernatorial debate, Murphy said he would fight "tooth and nail" to secure federal funding for sanctuary cities, pledging to fight Trump in court if the president moved to withhold funds.
Guadagno's running mate is Carlos Rendo, an immigration attorney and Cuban immigrant who is mayor of Woodcliff Lake. He has stood by Guadagno's calls to eliminate sanctuary designations in the state.
"A sanctuary state doesn't protect immigrants; it protects the criminal element," Rendo said." Instead of being biased in favor of criminals, our governor must be on the side of the people and law enforcement officers who protect us every day."
Senior Staff Attorney for the ACLU of New Jersey Farrin Anello said that the group opposes policies that "make people afraid of their neighbors."
"Our state's resources should not be used to detain non-citizens without probable cause, or to otherwise implement unconstitutional federal programs," Anello said. "Effective policing does not happen through racial profiling, but by building trust between police and community members. Requiring our local law enforcement agencies to take on the job of federal immigration enforcement means that immigrant community members will not feel safe coming forward to report crimes or seek protection.  Xenophobic policies make us all less safe."