Minimalism isn't really Pei's thing.
Courtesy SCAD
That yellow dress worn by Rihanna to the 2015 Met Gala.
Courtesy SCAD
Not your average pair of heels.
Courtesy SCAD
A closeup detail of a dress in the Savannah exhibit.
Courtesy SCAD
A selection of Pei's creations.
Courtesy SCAD
Pei excels in creating over-the-top detailed clothing and accessories.
Courtesy SCAD
This dress, called Daikin, took 50,000 hours to complete.
Courtesy SCAD
A closeup of Pei's beadwork.
Courtesy SCAD
These shoes are on display at SCAD Savannah.
Courtesy SCAD
A dress covered in paillettes, with an embroidered detail.
Courtesy SCAD
It's easy to see why Chinese designer Guo Pei didn't become a one-hit wonder. In America, she's best known for designing the breathtaking yellow fur-trimmed and heavily embellished gown that Rihanna wore to the Met Gala in 2015. The frock spurred countless memes and easily placed the pop star at the top of that year's best-dressed list. But Pei has been a longtime household name on the Chinese fashion scene, ever since she founded her namesake brand in 1997. She has spent the last 20 years dressing the country's top singers, actresses, royal families and politicians.
So it seems unfair that Pei is known internationally for just one of her dresses, when she maintains a workshop of 500 artisans who have sometimes toiled over two years on a single piece. But when asked about her all-time favorite creation, she doesn't hesitate to bring up that yellow creation.
"Of course, Rihanna wearing my design had a great impact; the international fashion industry gained a new understanding of me," she told the Observer. But she also mentioned having a particular penchant for her Legends collection, which bowed at Haute Couture Week in Paris this past January. Pei is only the second born-and-raised Asian designer that has been invited to join the very selective Chambre Syndicale de la Haute Couture and she's reaping the benefits from this widespread international exposure—and learning from it, too.
"Compared to France's history with fashion, which has accumulated layers of romantic artistic foundations, America has a relatively short history with fashion. There is, however, no doubt of America's influence and perspective in the fashion world. Having participated in 'China: Through the Looking Glass' exhibition at the Met Gala made me realize that beauty is a common language that connects the world," she explained.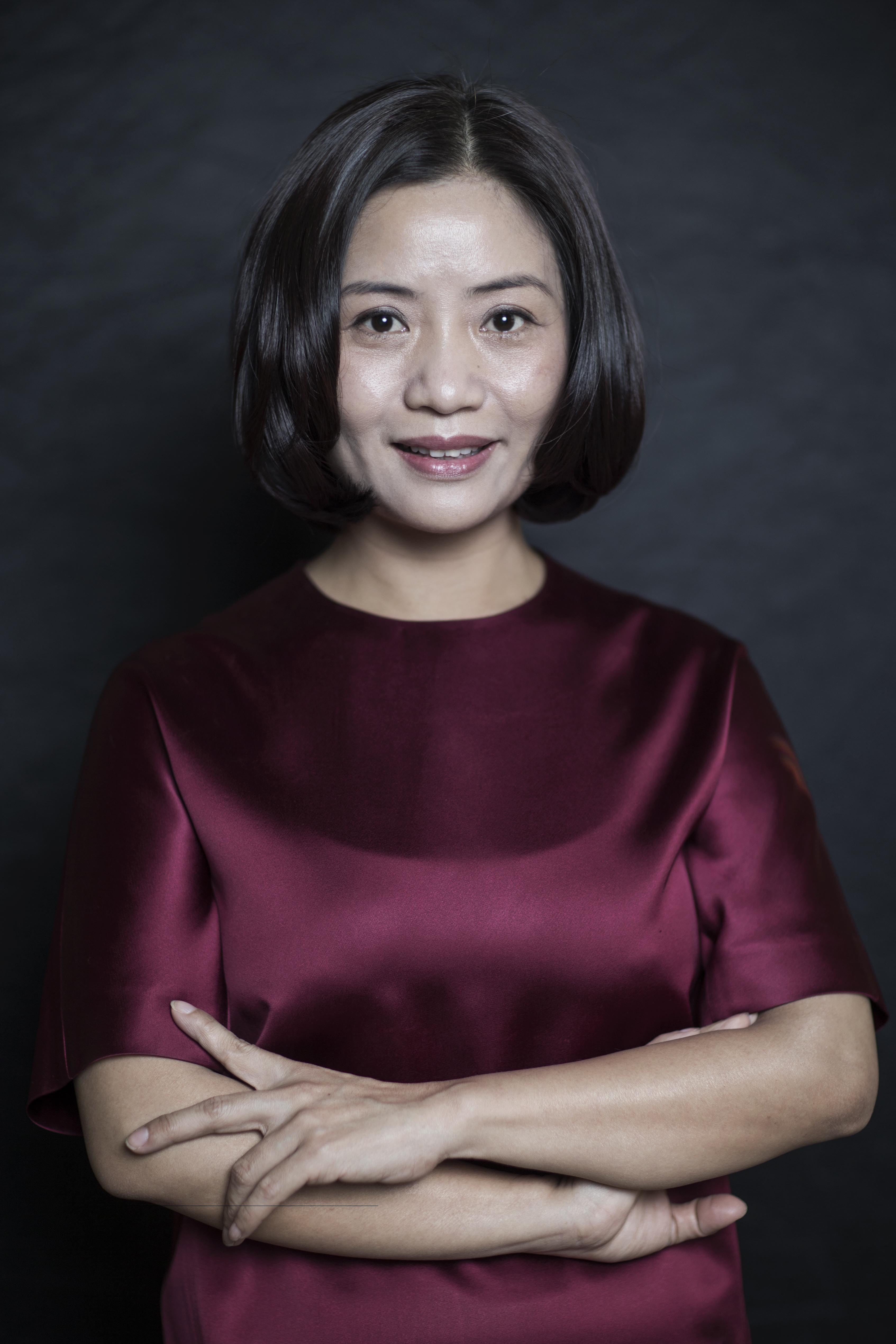 As Pei's profile grows, the Met isn't the only museum to capitalize on her mesmerizingly detailed dresses. In July 2015 her first-ever solo exhibition bowed at the Musée des Arts Décoratifs in Paris; in September 2017, Atlanta's SCAD FASH Museum of Fashion + Film held a solo oeuvre for the designer, which was her first in the states. Now, SCAD's Pei Ling Chan Gallery in Savannah, Georgia is opening yet another exhibition of Pei's creations, with a focus on a broader lens of her creations.
The highlight of "Guo Pei: Couture Beyond," the 40-piece show in Atlanta, is the Daikin dress, which took Pei and her team 50,000 hours to complete. She considers the insanely intricate strapless frock to be "one of the most representative and most important designs" of her career; it was crafted from a series of golden panels by 100 artisans and yes, it weighs a ton. That exhibition also features the abstract blue and white gown inspired by Chinese ceramics that was once on display at the Met Gala; in comparison, it took a paltry 10,000 hours to create.
On Friday, October 27, the Savannah show will open, putting ten full looks by Pei on display—including footwear and accessories. The inclusion of shoes provides a different perspective on her penchant for combining contemporary design with the history and mythology of her native China. There will be a short film to view, created by HOWL, a creative collective founded by three SCAD alumni. Jim Lind, Patrick O'Brien and Elliott Ross took Pei's creations to the Lowcountry in South Carolina, to contrast her rich designs with the simple setting of nature. Also timed to align with the two SCAD shows, which both run until March 2018, Savannah College of Art and Design put together a book of Pei's work, ranging from photographs of her latest creations to archival images, set to hit bookshelves in December of this year.
"Glorious is the word that comes to mind when you behold the gowns of Guo Pei," said SCAD president Paula Wallace. "The draping confounds the mind with its intricacy, and the hand-sewn iconography is of divine provenance. And suffusing it all, filling the eye and the heart with light, are the colors. Imperial red and gold, the blue and white of Chinese porcelain."
But mind-boggling embroidery and 3D details aside, Pei hopes that visitors of both exhibits can detect the sincerity that she infuses into each of her designs. "I hope that through exploring these fine details, the audience can understand what it means to craft something with all of one's heart," she said. At the very least, we anticipate that the general public can appreciate that Pei is one of the most talented designers of our time.