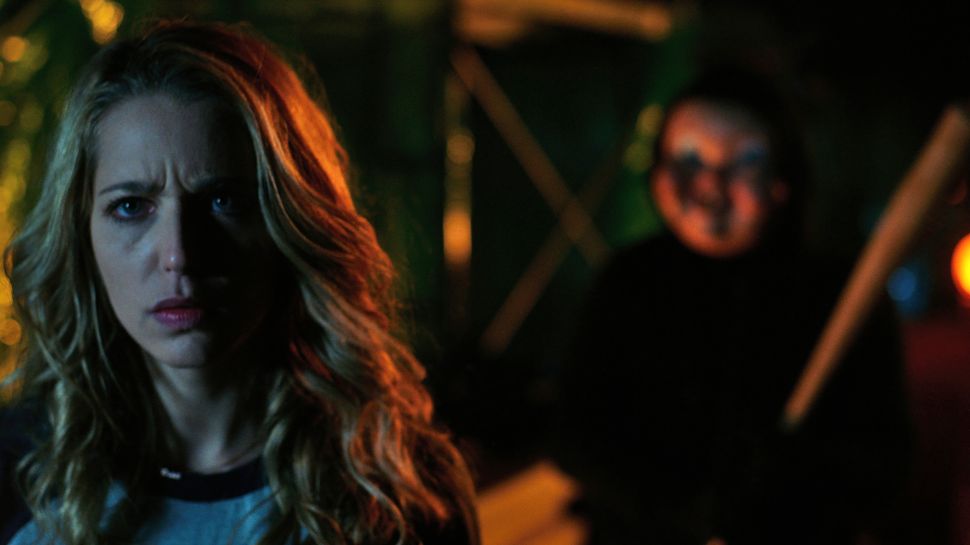 This weekend's box office war is expected to be won by Happy Death Day, a Groundhog Day-like horror film where a young woman wakes up again and again on the same day—her birthday—only to be murdered and restart the process until she finds out who killed her. THR reports that it's expected to take in between $15 million and $20 million and challenge Blade Runner 2049 for the top spot. While that sounds like an overall modest box office take, it's actually quite impressive when you remember the movie's minuscule $4.8 million budget.
Making something out of a very, very small nothing has become the calling card of producer Jason Blum and his Blumhouse Productions. Founded in 2000, Blumhouse Productions began with the model of producing movies independently and releasing them wide through the studio system (they have a first-look deal with Universal). In 2009, Blumhouse began more definitively carving out its niche by focusing on micro-budget horror films. In the vein of the Reitmans, Blum was aiming at quality and inexpensive genre films that sat well with general audiences. As we've seen, horror has now become the most financially sustainable genre in Hollywood.
While you won't see any headline-grabbing industry shakers like the Avengers series or Star Wars from Blumhouse, you will consistently see some of the year's most profitable films. No record-setters, just money makers. Here are a few of the company's standouts in recent years (all numbers courtesy of Box Office Mojo).
2009
Paranormal Activity
Budget: $15,000
Gross: $193.4 million
2010
Paranormal Activity 2
Budget: $3 million
Gross: $177.5 million
2011
Paranormal Activity 3
Budget: $5 million
Gross: $207 million
2012
Sinister
Budget: $3 million
Gross: $77.5 million
2013
The Purge
Budget: $3 million
Gross: $89.3 million
2014
Whiplash
Budget: $3.3 million
Gross: $49 million
2015
The Visit
Budget: $5 million
Gross: $98.5 million
2016
The Purge Election Year
Budget: $10 million
Gross: $118.6 million
2017
Split
Budget: $9 million
Gross: $278.3 million
Get Out
Budget: $4.5 million
Gross: $253.1 million
Looking through that list, it's clear that Blum has an eye for up-and-coming talent and a willingness to take risks on unknown concepts and filmmakers. The company's mini-franchises—Paranormal Activity, Insidious, The Purge, Sinister—all came from relatively non-traditional directors who didn't have a ton of experience. In each case, the studio has managed to squeeze out repetitive cash flow and generate huge returns on investment. They've also helped give Blumhouse some IP skin in the game without risking $250 million-plus per picture like Warner Bros. or Disney (DIS).
Split and Get Out are among the most profitable movies of the year so far and Whiplash earned a Best Picture Oscar nomination. Each case represented a low-risk, high-upside move. Split and The Visit came from talented but embattled director M. Night Shyamalan, who had become a punchline due to a succession of flops. Worst case scenario, his movies fizzled out; best case scenario, he returned to his previous crowd-pleasing form. Both of his movies ended up working well. Get Out (Jordan Peele) and Whiplash (Damian Chazelle) came from first-time directors and wound up critically acclaimed box office successes.
Blum finds value in overlooked talent and unexpected concepts. His production studio may never be a perennial Oscars contender or boast a top-10 grossing film in a given year, but it will consistently churn out profitable and well-received low-budget movies. With box office numbers slumping across the board in 2017, maybe this is the best way to go.