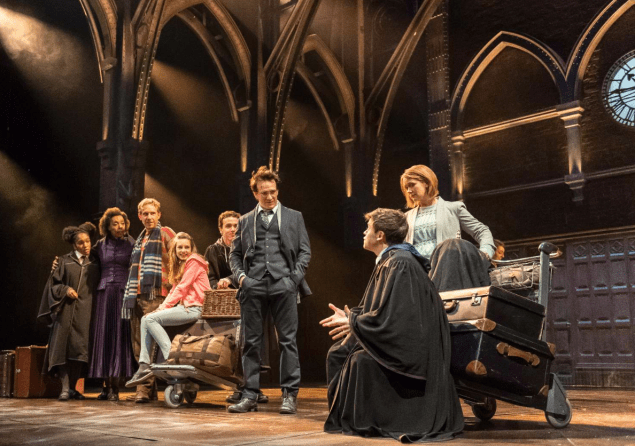 If Ticketmaster was a Hogwarts house, it would've had a lot of points deducted today.
Tickets for the highly anticipated Broadway play Harry Potter and the Cursed Child went on sale today through Ticketmaster's new Verified Fan service. Prospective buyers had to register in advance so that Ticketmaster could confirm their legitimacy.
The Verified Fan system, which restricted buyers to six tickets per person, was supposed to cut down on ticket bots, automated software that scoops up tickets and offers them on resale sites like StubHub at high markups.
Spoiler alert: that didn't actually happen.
Things did start on a positive note, at least for this reporter—I was notified on Monday that Ticketmaster's Sorting Hat had picked me to receive an access code, which I would receive this morning. Sure enough, the code was texted to me early today.
In an effort to cut down on error messages and other online hiccups, Ticketmaster put fans into specific purchase windows so they would theoretically face less competition for seats. Tickets went on sale at 11 AM today, and I was put in the 12 PM time slot.
But even before my magic hour had arrived, I saw rumblings of discontent online. Ticketmaster was apparently showing the wrong prices for certain preview performances, leading to mass confusion. This issue was eventually resolved.
At noon exactly, I put my code in on Ticketmaster and clicked on the first date that worked for me. And then I waited…and waited…and waited.
The site buffered for two minutes before letting me know there were actually no tickets available on that date. The same issue occurred for just about every date I attempted (although wait times did eventually diminish).
On the rare occasion that there were actually tickets available on a given date, I was told the seats were reserved but couldn't see how much they cost until I clicked onto another screen. And without fail, the only seats available were the most expensive ones—$199 each, or $398 for the two-part play. Add my friend (who had similar buying issues) into the mix, and the price doubled to $796.
I tried a couple of hacks that I had read about online, such as requesting the best available seats as opposed to seats at specific price points. I also had Ticketmaster open on both my desktop and phone browser to theoretically double my chances. But even after inputting dates on and off for two hours, nothing worked.
While several people on Twitter and Broadway chat boards boasted that they got tickets in under two minutes, most users seemed to share my struggles. When the Cursed Child Twitter account reported that the best availability for tickets was midweek in fall 2018, Potter fans couldn't hide their displeasure.
The Verified Fan system didn't deter scalpers, either—tickets for Cursed Child are currently available on StubHub for $2,000 to $10,000 each.
This marks the second straight Verified Fan disaster for Ticketmaster. When tickets for Springsteen on Broadway went on sale in August, many fans (including this reporter) couldn't even get out of the standby line. Those who did ended up paying exorbitant fees and competing with bots.
But while Springsteen fans were out of luck, all is not lost for the Potter faithful—more tickets for the show will go on sale before previews begin in March. And every Friday during its run Cursed Child will release 40 tickets to each performance the following week for $40 ($20 per part). More details on the so-called "Friday Forty" program will be announced soon
So while getting Potter tickets may seem as difficult as catching the Golden Snitch, it should get easier in the months to come. Provided, of course, that Ticketmaster gets its act together.