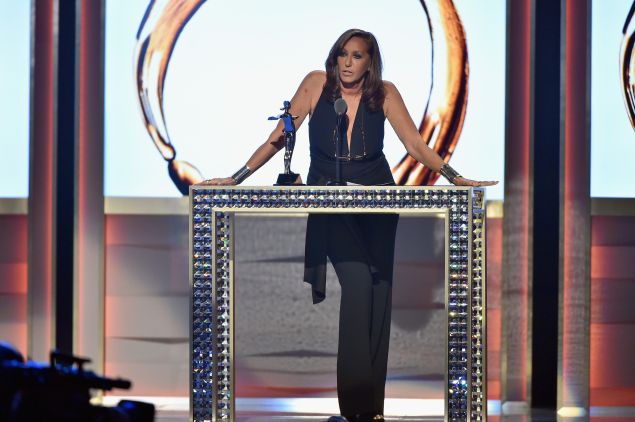 The stock market showed last week that controversy sells when shares in gun manufacturers rose in the wake of the Las Vegas shooting. And now Donna Karan is proving that theory once again.
At an awards show Sunday evening, the famed fashion designer was asked about the allegations against Hollywood producer Harvey Weinstein. Celebrities like Meryl Streep, Glenn Close, Judi Dench, Kevin Smith and Lin-Manuel Miranda all spoke out against Weinstein after a New York Times story revealed that he paid off sexual harassment accusers for decades.
But Karan took a very different approach. She responded that women were "asking for it" by dressing provocatively, adding that Weinstein has "done some amazing things."
Karan was widely condemned on social media after her comments were made public last night. She released a statement saying her remarks (which were caught on tape) had been taken out of context.
"My life has been dedicated to dressing and addressing the needs of women, empowering them and promoting equal rights," Karan said. "I believe that sexual harassment is NOT acceptable and this is an issue that MUST be addressed once and for all regardless of the individual."

Despite this apology, criticism of Karan has continued unabated. But apparently nobody told the stock market.
Shares of G-III Apparel Group (which acquired Donna Karan International for $650 million last year) were up more than one percent in early trading this morning. G-III stocks are actually up 2.5 percent for the year so far after the company reported $45 million in second quarter sales for Karan brands.
Karan founded her eponymous fashion house in 1984 and sold it to the French conglomerate LVMH Moët Hennessy Louis Vuitton in 2001. LVMH sold the brand last year because it was a money loser for them, but Karan's success at G-III tells a different story.
It's not clear how long this success will last, however. Celebrities like Megyn Kelly, Mia Farrow and Rose McGowan (who settled a sexual harassment suit with Weinstein in 1997) have already vowed never to buy Donna Karan products again. 
G-III is no stranger to weathering controversy—it also holds the licenses for Ivanka Trump brands, which were dropped by Nordstrom last year due to poor sales. It's not clear how Karan's products have sold recently at luxury retailers, but many people on social media are urging stores to stop selling her products in light of her remarks.
The Observer contacted several department stores, including Nordstrom, Bloomingdale's, Neiman Marcus and Macy's, to find out whether they will continue selling Karan's items. We will update this post if they respond.