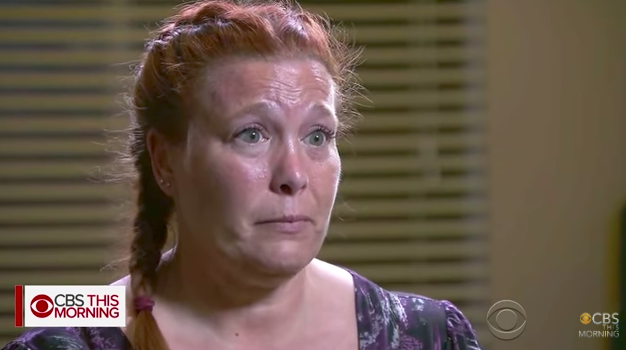 After gun massacres, live television can be vivid, visceral, riveting and raw.
CNN proved it again Tuesday morning in an extraordinary interview with a woman who helped at least one dying man in Las Vegas when a sniper killed at least 58 people and wounded more than 500 by firing from a high hotel window Sunday night into an outdoor concert crowd. The shooter also died.
"I had blood all over my hands and on my shirt," said Heather Gooze, a bartender working nearby. The blood was from the first victim she helped load into a car. Did he die? She doesn't know. He had a bullet hole in the back of his head, she said. A second man, however, died as she tried to save him.
"I had my hand over his hand and I could kind of feel his fingers like wrapped around my hand, wrapped around my fingers," she said. "I felt like a squeeze on my fingers. Then I just felt the fingers go loose."
A man nearby tried to help her revive him.
"We were trying to feel for a pulse," she said. "We were, you know, yelling 'Wake up!'"
Gooze spoke with John Berman and Poppy Harlow but they let her talk without interruption for about 10 minutes, an unorthodox and wise decision given what she had to say. Her story got more horrific—and poignant—as it poured from her in a stream of consciousness and emotion.
Berman and Harlow were in a studio. Gooze was in Las Vegas on a Skype connection through a computer. Sun from a window lit the left side of her face and her red hair. The audio made her voice sound slightly hollow and the picture wasn't the best.
That didn't matter. Her words, thoughts and feelings had clarity and a kind of brilliance. In the movies, she said, it takes a long time for a corpse's skin to turn pale and for its lips to go blue. In real life, she said, "Within 10 minutes, we knew he was gone."
Gooze began to wipe her eyes, at first just a finger to one lid. Her voice stayed strong. She said she and the stranger helping her soon could hear the ringing of the victim's cell phone. His friend, checking on his safety.
"'I'm with him right now'," she said she told the man on the phone. "'We were in the shooting.' And his friend said 'Is he OK?' and I said 'No, he's not.' And he said 'Is he hurt?' and I said, 'Yes, he's hurt.' And he's like 'Is he—?' and he just kind of stopped. And I said 'He didn't make it. He's not breathing.'"
The friend on the phone said the victim's name was Jordan McIldoon, a 23-year-old Canadian mechanic from Maple Ridge, British Columbia. Gooze and her helper got—from the victim's friend—the name and number of the victim's mother.
They called the mother and told her they need to contact McIldoon's girlfriend, who was separated from him in the chaos. They took turns talking to her. They discovered from the mother that girlfriend of the victim was named Amber and so they got her number and called her on her cell phone.
Amber was a block away in a locked room at a nearby hotel taking cover. She answered the call from Gooze, who was tentative at first about what to say. Amber was direct.
"She said 'Be honest with me,'" Gooze recalled. "'How bad is it? What's going on?'"
But when Gooze replied, "He didn't make it, he died," the girlfriend responded with "No, no! Check his breathing. There's no way! Check again. Feel for his pulse! Talk to him."
Gooze told her she had been with him there for an hour and said, "He's gone." Then Amber "broke down" on the phone.
"And she said 'He's the love of my life,'" Gooze recalled. "'This can't be happening.'"
On screen, while she spoke, CNN producers showed still photographs of the victim, smiling in front of a hockey poster of a Vancouver Canuck. Other shots showed the carnage of the shooting scene.
But, most of the time, the screen showed Gooze's face as she spoke, sometimes with Berman and Harlow on the other side of the split screen. They let her continue speaking with urgency. She said they discovered they could contact the victim's mother again—even with his cell phone locked—by speaking the words "Call Mom" to the Siri command.
The mother answered again. Gooze explained that they just told the girlfriend that Jordan was dead.
"And she said 'Wait! Stop,'" Gooze said. "At this point I didn't realize that—when we were getting the information from her about Amber—that the other guy had never told her that her son had passed away."
So Gooze had to tell this third unseen person that, yes, Jordan was dead. As Gooze recalled the events, her trickled tears blended into soft weeping and, eventually, heavier sobs.
Gooze said she didn't want to leave the danger zone and the dead Canadian because "I didn't want him to be there alone… Something wouldn't let me run… Something wouldn't let me go."
So she stayed on the pavement in the darkness with his body for four hours until detectives came to take over and she finished communicating these final details by phone to his loved ones.
Joe Lapointe spent 20 years as a sports reporter for The New York Times and worked as a segment producer for Countdown With Keith Olbermann. Recently, he has taught journalism at New York University, Rutgers and Long Island University-Brooklyn. follow him on twitter: @joelapointe
More by Joe Lapointe: 
Trump Near-Universally on Blast for Puerto Rico Catastrophe
Propaganda Kings Limbaugh and Hannity Spew Trump-Approved Stories
Fox News Bros O'Reilly and Hannity Defend White Race Against NFL