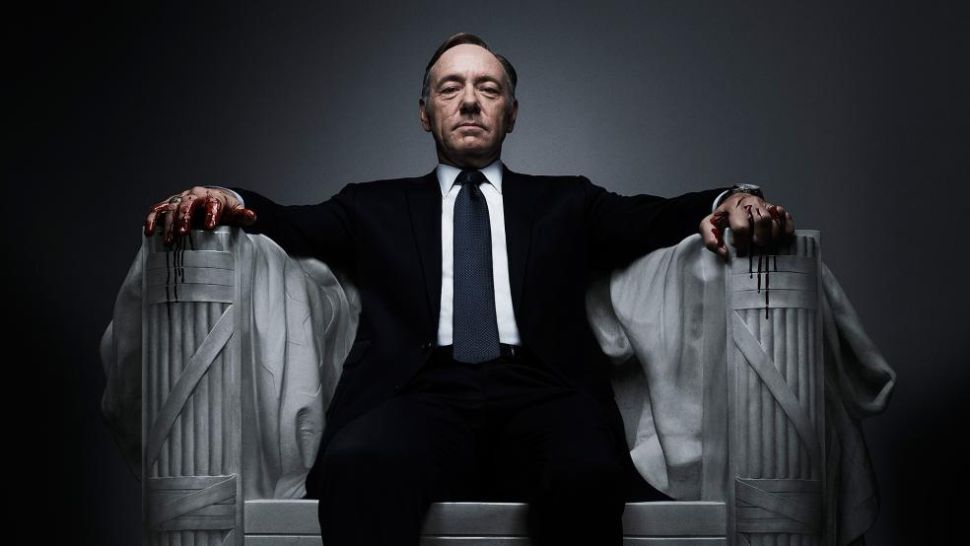 Timing is everything in Hollywood and while it doesn't appear to be connected on the surface, it is curious that Netflix has chosen today to confirm that House of Cards, starring Kevin Spacey, will end after its upcoming sixth season.
THR reports that the political drama, which also stars Robin Wright and marked Netflix's first foray into original programming back in 2013, is calling it quits after the new season coming in 2018. The outlet also reports that the decision has been on the table since earlier this summer. At the same time, Spacey has been accused by Star Trek: Discovery actor Anthony Rapp of making a sexual advance at him when was just 14-years-old. Spacey's response to the allegations have been widely criticized by groups such as Gay & Lesbian Alliance Against Defamation (GLAAD) and others in Hollywood.
UPDATE 3:47 p.m. ET: In a joint statement to TV Line, Netflix and House of Cards producer Media Rights Capital said they "are deeply troubled by last night's news concerning Kevin Spacey. In response to last night's revelations, executives from both of our companies arrived in Baltimore this afternoon to meet with our cast and crew to ensure that they continue to feel safe and supported. As previously scheduled, Kevin Spacey is not working on set at this time."
House of Cards has been crucial in Netflix's development as a marquee content creator. Not only did the series serve as the platform's first original offering, but it also sent a message to the entertainment industry that Netflix should be taken seriously. The series, produced by David Fincher, drew significant interest across the industry when it was being shopped back in 2011. Netflix eventually beat out HBO in a bidding war with a $100 million two-season straight-to-series order, per the outlet. Landing an A-list director and star for its first series built a lot of hype for the streaming service and the company has grown its subscriber base to more than 100 million total customers since House of Cards launched.
Though critical reactions to the show have ebbed and flowed over its five seasons, it remains one of the platform's most-watched original offerings and a favorite come awards season (46 Emmy nominations and six wins thus far). Will Netflix be able to replace one of its foundational originals?
The platform plans to spend up to $8 billion on original content in 2018, despite its growing mountain of debt. At the very least, the company is unafraid to invest in its product to find a winner. It has also proven more willing to cut its losses early recently, with expensive shows such as The Get Down, Sense8 and Girlboss all getting the axe after one season due to low engagement.
Is Netflix slapping House of Cards with an imminent end date due to the allegations against Spacey or is it just time for the show to hang it up as the streaming service expands and diversifies its library?