The Krakoffs refurbished Jackie Kennedy's childhood summer home in East Hampton.
Courtesy Rizzoli
According to Simon Doonan and Jonathan Adler, "Reed and Delphine's Palm Beach pad is stylish, glamorous, and fan-f*cking-tastic." Based on this image of the pool, we couldn't agree more.
Courtesy Rizzoli
Lalanne sheep can be found throughout the Krakoffs' homes. In this New York penthouse, they sit beneath an Alexander Lieberman dot painting.
Courtesy Rizzoli
This flock of Lalanne sheep, installed in Lasata, is flanked by two Jean-Michel Frank lamps.
Courtesy Rizzoli
The Mattia Bonetti Abyss console was specially created for the Krakoffs.
Courtesy Rizzoli
"Libraries in all our projects tend to be the center of each home," the Krakoffs said. This one is installed in a New York penthouse.
Courtesy Rizzoli
The 20-foot ceilings in the Parisian home are a perfect fit for this Adam McCollum installation, titled, 144 Plaster Surrogates.
Courtesy Rizzoli
There are actually two McCollum installations in the Parisian hôtel particulier.
Courtesy Rizzoli
This illuminated design by Joris Laarman spans four stories of the Krakoff's Parisian abode.
Courtesy Rizzoli
Reed and Delphine Krakoff are the kind of couple that are known for their design prowess. Those privy to that knowledge are thirsty to get a peek into their private homes, leading to countless profiles on their personal décor tastes in the pages of Architectural Digest, Vogue, Harper's Bazaar, The New Yorker and so on.
So it's about time the stylish couple compiled images of their six homes and turned out a gorgeous tome, for everyone to see. In their new Rizzoli book, titled Houses That We Dreamt Of, the Krakoffs take their readers on a tour through their abodes in New York, Florida, Connecticut, the Hamptons and Paris, each of which boasts their own unique styles and design quirks.
The Krakoffs are best-known for their reinvention of historic homes, where they maintain the character of the structure while adding modern touches. The homes are well-decorated, with world-class artwork adorning the walls of modern family-living spaces. Antique and modern furnishings are carefully combined, to make a unique and inviting atmosphere that is also pleasing to the eye.
Reed, once known for being the president and executive creative director at Coach (he left in 2014) and founding a namesake fashion brand in 2009 (which shuttered six years later), now serves as the Chief Artistic Officer for Tiffany and Co. Delphine, meanwhile, has operated her own interior design business, Pamplemousse, since she founded it in 2000. Throughout the years, the couple has worked harmoniously to curate art, fashion and furniture for the homes they design together.
But they're not just setting pretty scenes; the couple—who actually met at Coach, years ago—makes sure to take the home's original architecture and intent into consideration. They do their due diligence, researching the home's history and digging up old building plans—then they plan their homes around those aspects.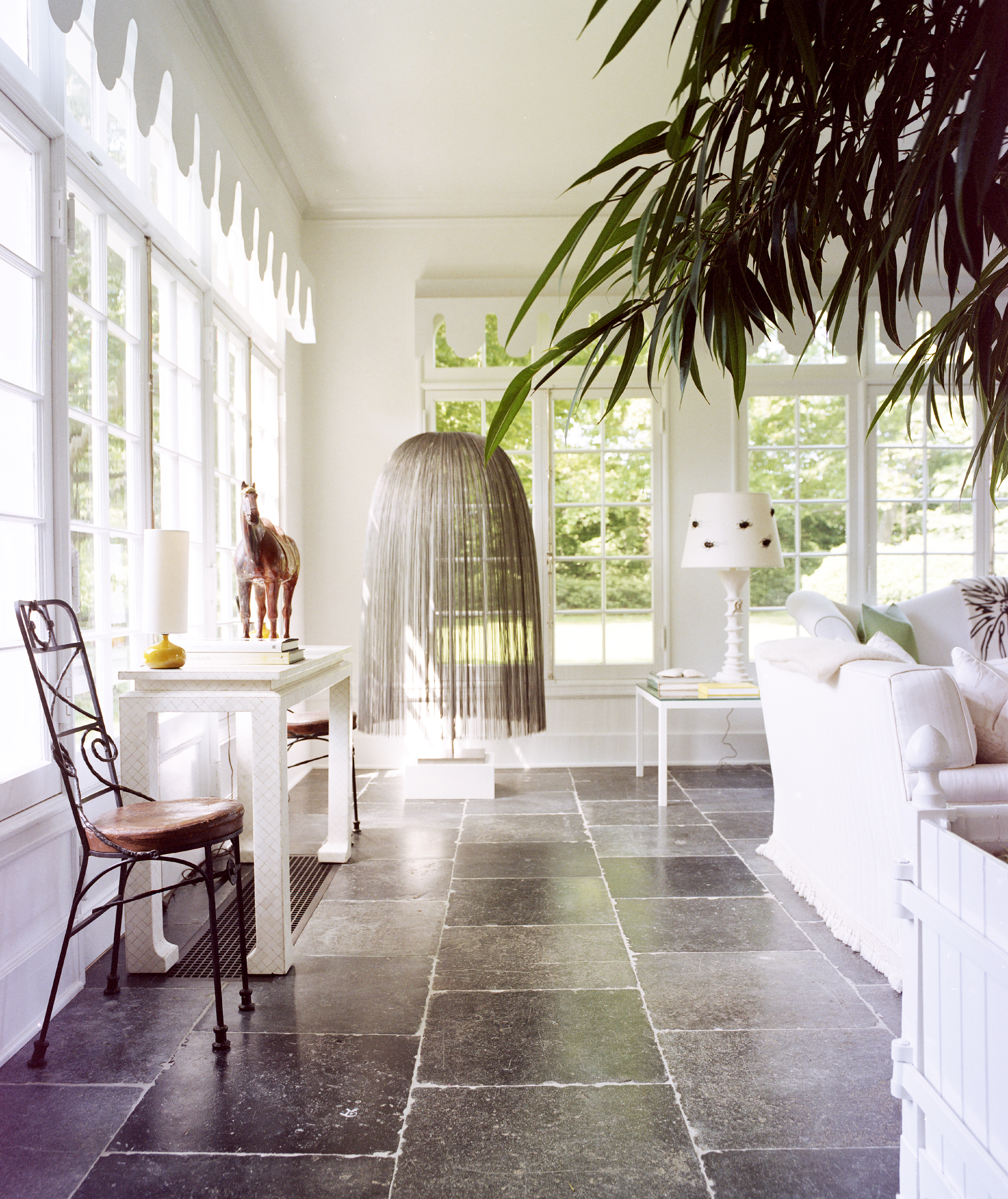 "A house tells you what it wants to be," they wrote in Houses That We Dreamt Of. "Each decision leads to the next. The challenge is truly to reimagine a place—not to be historically precise, but to blend its past with our personal view of the present. "
When the Krakoffs set out to design their first townhouse in New York City, they were looking for "something that would scare people," according to Delphine. While there were no photographs or blueprints of the original structure, the 1910 brick townhouse had maintained its original high ceilings and light interiors. The decorations in the home range from a 1900 Tiffany lamp to a Mattia Bonetti rainbow table from 1988.
The Krakoffs also revived Lasata, the childhood summer home of Jacqueline Bouvier Kennedy, decking out the home in hues of light yellows and greens. They maintained the original staircases and sunroom and decided to keep the treehouse in the back of the home.
The Krakoff's Paris home, the Louis XVI Hotel Particulier in the Left Bank neighborhood of Saint-Germain des Pres, had been renovated decades earlier, but the Krakoffs decided to make it look like there had been no work done at all. The entryway wall is decked out in an Allan McCollum installation of painted squares in a variety of colors and sizes, and the kitchen floor's geometric tile plays with the French signs on the wall. Julian Opie, a French artist, produced two paintings for the home.
As for their favorite home? Well, they simply don't have one, as that would be like picking a favorite child.
The Krakoffs explained to the Observer: "We have always strived to put the same amount of care and consideration into each of our projects– no single house is more important or special than the other. They are all unique in their own ways and hold distinctly invaluable memories, but each one represents home equally."