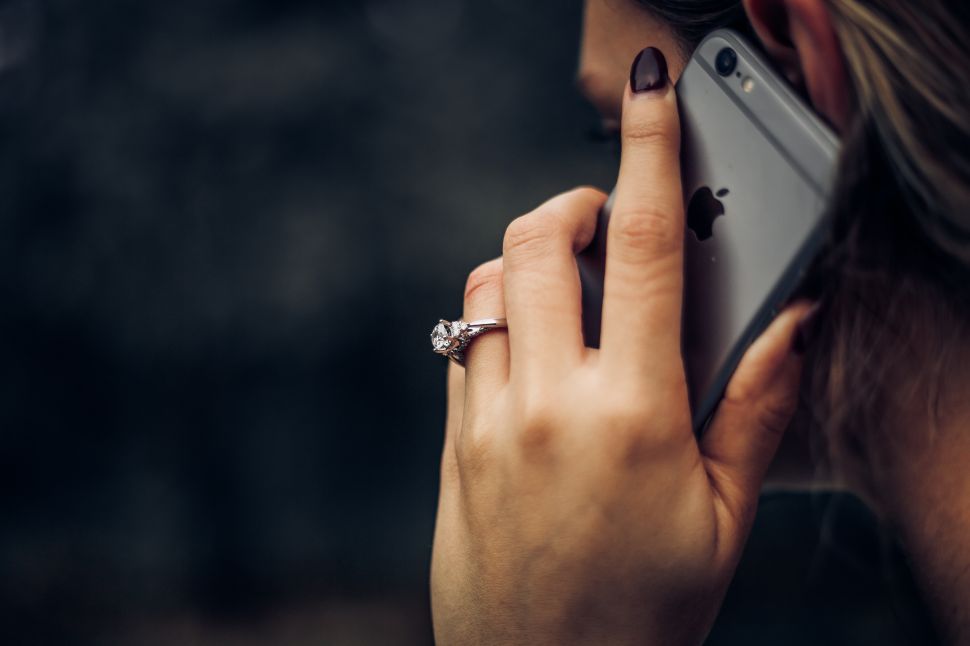 For my friend Lisa's third wedding, she spent a mere $8,000 on her dress. I didn't know her during her first or second marriages, but I'd heard from mutual friends that she had three different outfit changes at her first ceremony, which required the assistance of professional dressers. At the end of the night she ended up wearing a white sequined pantsuit while doing a choreographed dance with her newly minted husband. The second wedding was in Las Vegas, and the marriage lasted about as long as the brief ceremony. After each divorce she swore never to get married again. Husband number one cheated on her with a woman at the gym; number two cheated on her with a man.
"Third time's a charm!" She said at her bachelorette brunch at Lavo, raising her mimosa. My friend Amanda (also a divorcée) and I glanced at each other as we clinked our champagne flutes filled with Perrier. It seemed like it would be a very, very long day.
Nothing Lisa did was ever small or inexpensive. I barely knew her, but for some reason I was attending her day-long bachelorette excursion. I suppose from my end it was curiosity. Did I think it was a good idea to follow brunch with SoulCycle? No, but I certainly enjoyed watching the antics. I refused to purchase a bedazzled black baby T-shirt that read "Bride Tribe," opting for an oversized black shirt instead. I sat next to Amanda for the pedicure part of the event. It was the first bachelorette party either of us had attended as single ladies and the first time in years that we would each be heading to a wedding without dates. We promised to stick together.
"I was at both one and two," Amanda said to me as we soaked our feet in tubs next to each other. "It makes me feel a little better that those didn't work out. I don't even think she likes this guy, I think she just likes parties. Her bat mitzvah wasn't enough for her and that cost half a million."
"Do you think you'll ever get married again?" I asked.
"I used to think no, but now I'm not sure," Amanda replied. "I think the parts of my heart that were hardened are softening up a bit. Now I wonder if maybe the question is whether I'll have the opportunity to remarry." she said. "Do you?"
"I don't know," I said, staring down at my feet as they soaked in the pedicure tub. I thought about my own wedding. How my mother had advised me to put things on hold for a bit—which made me want to do it all the more. My natural inclination has always been to try to prove everyone wrong. I hoped in a very unrealistic way that my relationship would get better when my partner and I got hitched, kind of like how other couples turn to getting a puppy or, worse yet, having a baby, to fuse the broken parts of their marriage. But no outside sources makes a relationship magically improve.
"I don't need to get married again to be happy," I said. "I got married the first time because that was what everyone did in the Midwest, and I wanted to do something normal for once. It ended up being the complete opposite."
The conversation had led me down a somber path, and I was now in exactly the worst mood for a bachelorette party: sad and lonely. But I suppose it's only normal to feel this way at one's first outing as a divorcée to a wedding-related event. "You're only 32," I said to Amanda. "You have plenty of time before you have to go and get tied down again, and so do I," I said, trying to bolster our moods.
"How's the new guy?" she said, changing the subject. I blushed. I had been seeing someone new. It was the first romantic situation in a very long time I felt truly excited about, and he seemed to like me, too.
Let's face it, though, based on my prior successes with dating, I was scared shitless.
"I think everything is good."
"You think?" she asked, concerned with my hesitant tone.
"Oh, it's very good," I said, reassuring her. My cautiousness was for myself. I didn't want to jinx it.
"What makes him so different from the others?" she asked.
"We're both divorced and we've both been through our own shit," I said. "I've learned a lot from the fuck ups I made in my marriage. It feels like he has, too."
"You don't want someone who comes with baggage, though," Amanda said.
"I don't think I'd call it baggage." I pondered the right thing to say. "Anyone who is divorced—including you—has walked away having learned at least a few things on how to be in a relationship, even if it's what not to do," I said. "I'd like to think of that experience more like a complimentary accessory you bring along."
"That's actually a good comparison," Amanda said, but was interrupted mid-sentence by a scream. Lisa had slipped on the floor of the nail salon and was crying hysterically. After ascertaining she was actually fine, we had a little laugh at her expense. "I guess you could say Lisa comes with a lot of accessories," Amanda said.
"Do you think this one will last?" I asked.
"I want to, but it's doubtful. I give it six months. I'll even bet on it."
Attempting to be more optimistic, I put my money on a year. Sadly, neither of us one won—but not because Lisa's marriage is still going strong. She left him after three weeks when she discovered he had been sleeping with her maid of honor. She met her new beau on the subway and while she vows not to let this relationship turn matrimonial, but who knows if her resolve will hold firm. Maybe Lisa needed three tries to learn how to be in a stable relationship—and that includes figuring out what she needs in a partner, as well as what her mate might require of her.
Will I ever get married again? Should you? I think, like Amanda, my heart might have softened. The question now is whether I'm in it for different reasons this time, the right ones, not because anyone told me it was what I should—or shouldn't—do.
Randi Newton's work has been featured in publications ranging from Newsweek, LA Weekly and TheFix to Good Housekeeping. Newton has appeared on The O'Reilly Factor, as a panelist on Fox's The Strategy Room, and is a contributor on Radio Andy XM. Newton is an advocate for addiction and recovery issues and a certified recovery assistant. She enjoys long walks on the beach, streaming movies, and loves iced coffee no matter what time of year it is.