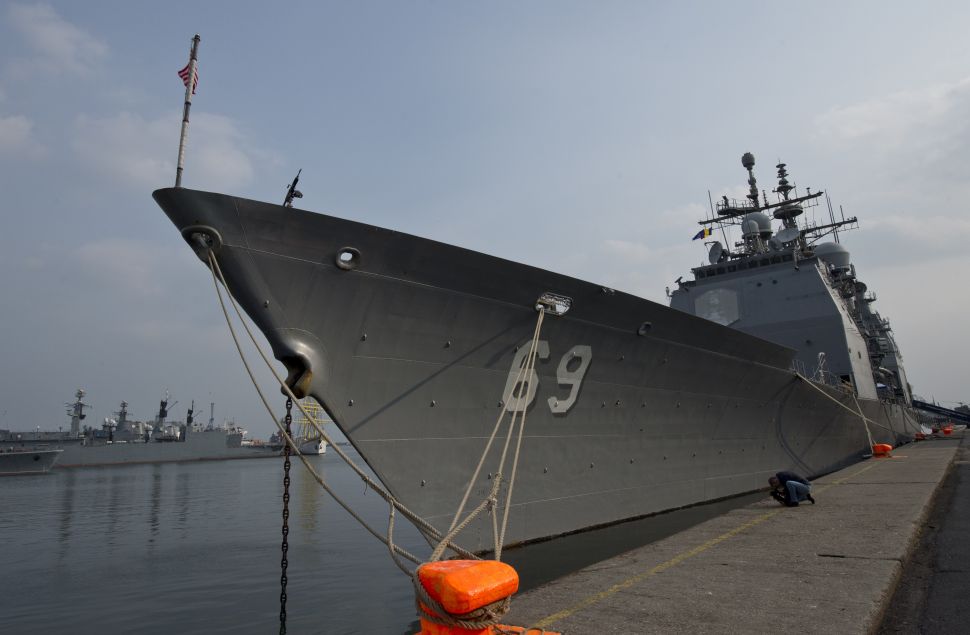 At Fulton, Missouri in early 1946, Sir Winston Churchill delivered his famous address at Westminster College declaring that "from Stettin on the Baltic to Trieste on the Adriatic, an Iron Curtain has descended on Europe." Churchill was referring to the Soviet Union's aggressive actions to move its territorial and political control as far west as possible. Seventy-one years later, nearly two decades after the implosion of the Soviet Union and the end of the Cold War, an era of "no world order" has evolved. Characterized in part by a far more resurgent Russia, Europe now has a unique opportunity to reinforce the military security offered by NATO and rejuvenate the economic ties of the European Union with a new initiative.
This initiative could be envisaged as a Marshall Plan 2.0—but not require U.S. government underwriting. Last week's column called for a strategic pivot to the Black Sea. This column amplifies on how such a pivot could catalyze a 21st century version of the old Marshall Plan to unleash the vast economic potential that exists across Europe from north to south and east to west. Such a plan would rely on capital provided by regional states, the European Union, European Bank of Reconstruction and Development, World Bank, and other such financial institutions.
Some of these ideas will be discussed at the annual Bucharest Forum co-sponsored by the Aspen Institute of Romania and the German Marshall Fund beginning today. The basic ingredients for a Marshall 2.0 are present. The first is the "three seas" initiative to link the Baltic, Adriatic and Black Seas with energy, transportation and digital communications projects. Inaugurated at the Dubrovnik Conference last year, A strong supporter of the "three seas" is former NATO European Commander and National Security Advisor to President Barack Obama, retired Marine General James L. Jones.
The other strands of what could be a powerful economic engine to link the region are the BRUHA consortium consisting of Bulgaria, Romania, Hungary and Austria to build new gas pipelines to link these states; a new initiative to dredge the Danube to greatly increase the flow of barge transportation; and building oil and gas pipelines from Trieste to Constanta on the Black Sea. To show proof of concept and serve as a pilot project, Constanta can be the starting point. The Constanta port is the largest in southeastern Europe. Because of landfill, it is ripe for expansion.
That planned expansion now includes building storage facilities for jet fuel and for oil on the reclaimed port island awaiting development.  Additional projects include building "splitters" for distilling condensate from natural gas being drilled in the Black Sea off the Romanian coast. The only other "splitter" in Europe is in Rotterdam.
Increased storage capacity for oil and jet fuel will meet and encourage growing demand. That demand in turn will produce increases in transportation capacity meaning more goods will be made and shipped throughout not only Southeastern Europe but east as well. A pipeline from Trieste would accelerate the availability of petroleum products at least cost and act as a further engine for economic growth. A side benefit will be to enhance energy security as well.
So far, barge traffic on the Danube has been restricted due to the shallowness in various sections of this great river. Clearly, political issues have thus far prevented dredging to a depth of at least 2.5 meters along the entire Danube. However, under the proper circumstances, the economic benefits of this river pipeline for transportation as a stimulant should be able to overcome local opposition even though this will not be an easy path.
For globalization to flourish, economic growth is essential. But economic growth has been sluggish and uneven for reasons that are well understood. The first Marshall Plan saved and rebuilt Europe through the vision and largesse of the United States. A Marshall Plan 2.0 does not have the same powerful rationale of reconstructing a Europe destroyed by war. Yet, today, these European countries have moved to liberal democracies and open markets. To ensure that these democracies and economies flourish, a Marshall 2.0 is not a guarantee. It is a very good start and one that must begin now and not sometime in a distant future.
Dr. Harlan Ullman has Served on the Senior Advisory Group for Supreme Allied Commander Europe (2004-2016) and is currently Senior Advisor at Washington D.C.'s Atlantic Council, chairman of two private companies, and principal author of the doctrine of shock and awe. A former naval person, he commanded a destroyer in the Persian Gulf and led over 150 missions and operations in Vietnam as a Swift Boat skipper. His next book Anatomy of Failure: Why America Has Lost Every War It Starts will be published in the fall. He can be reached on Twitter @harlankullman.
More by Harlan Ullman:
NATO Should Pivot to the Black Sea, End Russia's Free Ride
What Happened: The Strange Convergence of Hillary Clinton and Vietnam
How Would the Trump Administration Have Dealt With the Iran-Contra Affair?