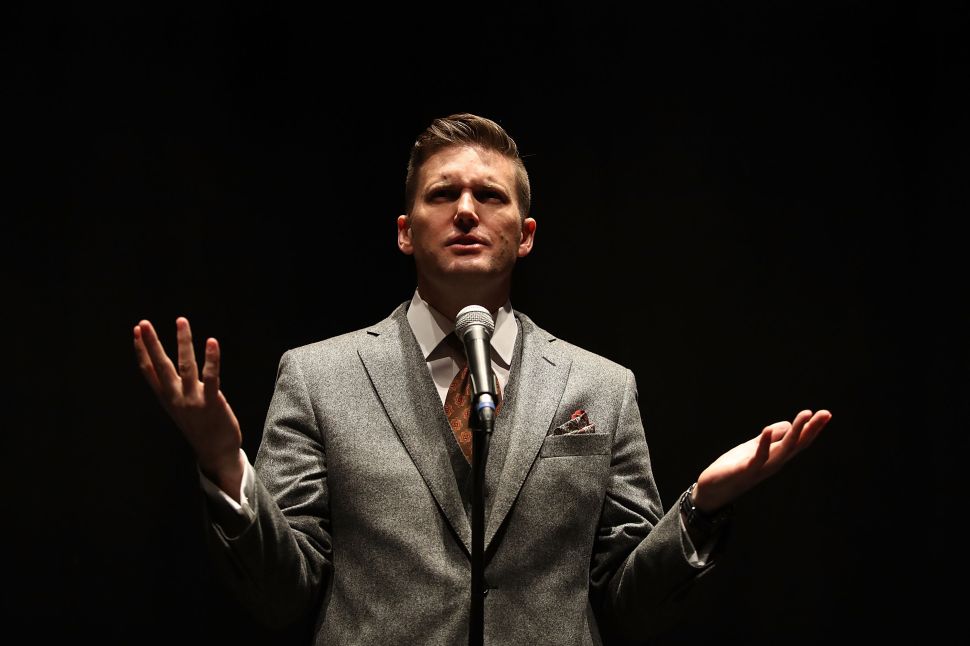 There was due to be a speech—one filled with sharp rhetoric meant to stir pride in white nationalism and disdain for those outside the narrative—promoted by Richard Spencer, the pied piper for misguided souls. Unfortunately, no one heard his speech.
Spencer and his two dozen or so followers arrived at the University of Florida campus on Thursday in Gainesville to roughly 2,500 protesters in a full-tilt fervor, half-cocked and ready to lay waste to the event. The protesters came to disrupt things and that they did.
They marched across a swath of campus to Phillips Center and Cultural Plaza, the venue Spencer was due to speak at, shouting into the air. They were met by a phalanx of law enforcement personnel donned in full riot gear and army fatigues—a perfect example of the militarization of the nation's police agencies was on full display.
As The Gainesville Sun described it on Wednesday, the town was "beginning to resemble a police state" as a "greater-than-normal police presence patrolled and a helicopters circled overhead."
This was because Florida Gov. Rick Scott had declared a state of emergency for Alachua County, in which Gainesville is located, due to the speech.
The university, which has an enrollment of 52,000, allowed Spencer to speak after initially declining his request, saying that as a public institution it must uphold the principles of free speech. Spencer, the founder of a white supremacist think tank, has advocated a white ethno-state that would exclude non-whites and Jews.
When it came time for Spencer's two-hour oratory, which began at 2:30 in the afternoon, an overwhelming number of the audience members inside the Phillips Center—where Spencer paid $10,500 to rent the place out for the speech that no one in Gainesville wanted—were anti-Spencer and anti-alternative right.
(But what Spencer spent was nothing compared to the University of Florida's expenditure on security, which rang in somewhere between $500,000-$600,000. In 1992, the Supreme Court ruled that the government cannot charge a speaker for security costs due to potential protesters.)
Spencer met a wall inside Phillips Center. From the time he began speaking the jeering, heckling, booing and sheer harassment from the audience was enough to shut him down immediately, an enjoyable experience to witness. He tried different tactics, but none worked—every time he opened his mouth, the audience protesters drowned him out.
For the entire two hours during his speech, he was harassed.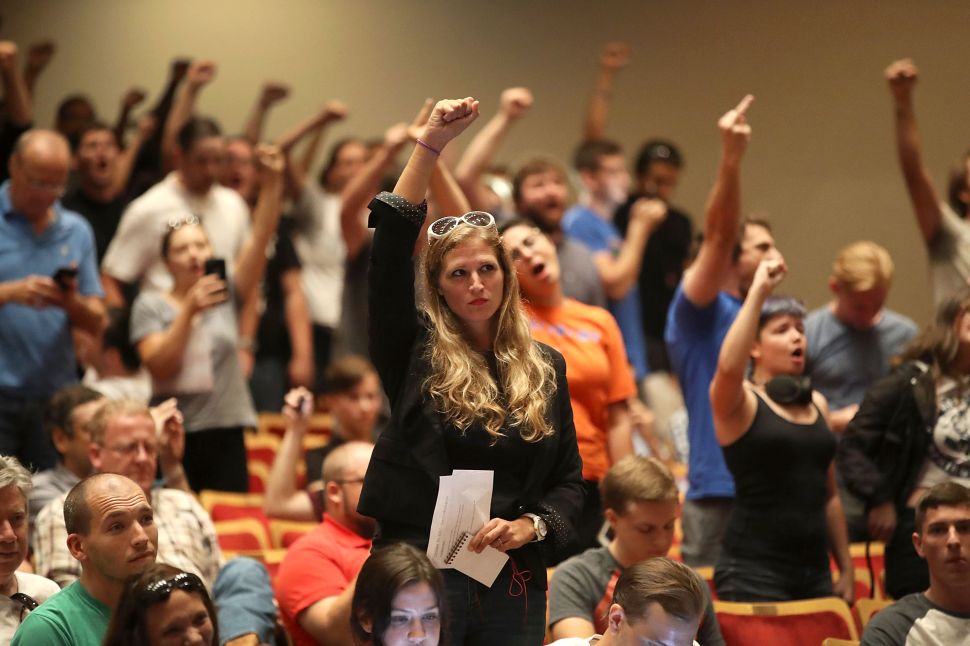 "Who are you screaming at?" he asked. "What are you trying to achieve here? The whole world is watching this. They don't hear anything you are saying. All they hear is a bunch of shrieking and grunting morons."
That just begat more shrieking and grunting.
When it was all over, Spencer had been shut down. So were his minions, a few of whom were nearly pummeled. Two tried to make an escape surrounded by at least a dozen officers of the Florida Highway Patrol, only to be descended upon by a mob of hundreds of protesters outside Phillips Center. The two columns of cops shielding these two young men was good because the protesters were foaming at the mouth, metaphorically speaking, for these two guys—one of which was trading verbal jabs with a few of the protesters berating him.
But the troopers gave up a couple of hundred yards into the exit, realizing the crowd was too great and teetering out of control. They all jumped back over the barricades surrounding Phillips Center and to safety, out of reach of the crowds.
It wasn't another Charlottesville, like everyone in the nation paying attention hoped it wouldn't be.
This time it was a dud, which is what Charlottesville should've been. Thursday could've been a turning point in shutting down the attention Spencer's been accustomed to receiving recently.
The state response—the declaration of emergency—worked. And the heavy police presence kept things in check, however overzealous it may have appeared. That appearance was by design.
Now the media just need to tune him out and ignore his clan altogether.
Les Neuhaus is a National and International Politics contributor for the Observer. Follow him on Twitter @LesNeuhaus