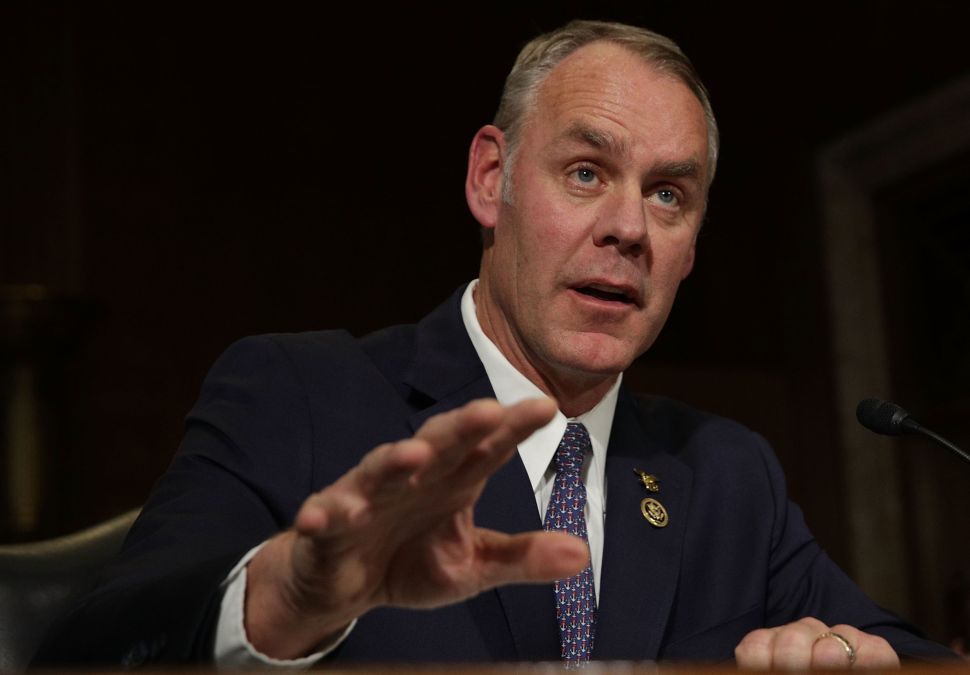 Secretary of Interior Ryan Zinke is being investigated for chartering private planes with taxpayer money, following in the footsteps of now-former Secretary of Health and Human Services Tom Price. According to documents acquired by Politico, Zinke is estimated to have met with political supporters and donors on over six occasions, the most condemning of which is a Republican fundraising event where donors paid upwards of $5,000 to take a photo with him. Reports speculate that Zinke has spent over $20,000 of taxpayer funds to pay for his charters. The Justice Department's Office of Special Counsel is currently investigating whether he violated the Hatch Act, which limits a government employee's ability to involve themselves in personal political causes. In response to critics concerned with the ethics surrounding his travels, Zinke eloquently dismissed complaints as "a little BS." This is not the first of his blatant indiscretions in which he has taken advantage of American taxpayer dollars and manipulated his power for personal gain.
On Wednesday, federal scientist Joel Clement resigned from his position after seven years of serving at the Interior Department. Previously the director of policy analysis, Zinke reassigned him after Clement issued a grave warning on the dangerous effects of global warming on Alaska's indigenous communities. In an op-ed for The Washington Post entitled "I'm a Scientist, and I'm Blowing the Whistle on the Trump Administration," he details how he was involuntarily transferred by Zinke to a job in an accounting office entirely unrelated to his expertise in environmental science. In regards to the injustice of his removal, he wrote, "Removing a civil servant from his area of expertise and putting him in a job where he's not needed and his experience is not relevant is a colossal waste of taxpayer dollars. Much more distressing, though, is what this charade means for American livelihoods. The Alaska Native villages of Kivalina, Shishmaref and Shaktoolik are perilously close to melting into the Arctic Ocean. In a region that is warming twice as fast as the rest of the planet, the land upon which citizens' homes and schools stand is newly vulnerable to storms, floods and waves."
Last week, in a speech to oil industry professionals, Zinke remarked, "I got 30 percent of the crew that's not loyal to the flag." Current and retired Interior employees reacted in shock and outrage. "The secretary has lost the respect of far more than 30 percent of the staff," Clement responded. Clement and his colleagues are victims of the Trump administration's efforts to eliminate unwanted climate change activists from the Washington, but they aren't the only ones negatively affected by the divisive department leadership. American taxpayers felt the ramifications of Zinke's negligence long before he was spending their money to fly private to tropical island fundraisers, as their dollars continue to flow through an administration that would rather undercut employees than tackle looming environmental issues.
"Secretary Zinke, your agenda profoundly undermines the [Interior Department's] mission and betrays the American people," Clement wrote in his resignation letter. Chartering taxpayer-funded planes resulted in the third investigation into Zinke's conduct, and after alienating his employees through public insult, the status of his position remains to be seen.
Francesca Friday is New York City-based National Politics contributor for Observer. Follow her on Twitter: @Friday_Tweets
More by Francesca Friday: 
On North Korea, Tillerson Takes One Step Forward While Trump Takes 10 Backward
Tom Price Tries to Remedy $500,000 Taxpayer Bill With $51,887.31
Roy Moore's Alabama GOP Win Signals Establishment Has Lost Control