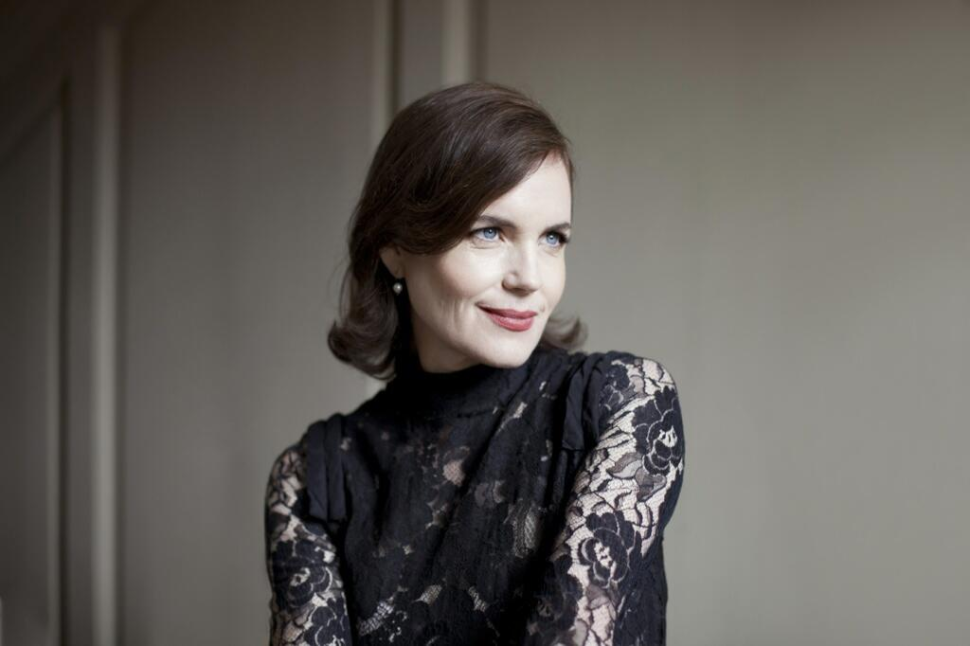 A quarter-century has quietly ticked by since Broadway last saw Elizabeth McGovern. Back then, she was a fragile and willowy Ophelia to Stephen Lang's Hamlet. Now, she's in a role that Dame Sybil Thorndike originated here—an arrogant, affluent matriarch in widow's weeds, in the first Broadway revival of J.B. Priestley's Time and the Conways, arriving October 10 at the American Airlines Theatre.
"Whew!" hoots the actress, still radiant at 56. "Talk about the passing of time!"
McGovern is the Ophelia who didn't get to a nunnery. She got to Britannia, where she married Simon Curtis, the deputy director of the Royal Court Theatre, settled in Chiswick, west of London, and raised two now-grown daughters (Matilda, 24, and Gracie, 19). Curtis later became an Emmy-winning BBC producer and recently graduated to directing features, drawing Oscar-nominated facsimiles of Marilyn Monroe and Laurence Olivier from Michelle Williams and Kenneth Branagh (My Week With Marilyn) and steering Helen Mirren's solid gold vehicle (Woman in Gold). Three days after McGovern bows in Time and the Conways, his flick on the creation of Winnie the Pooh—Goodbye Christopher Robin—bows in New York at select theaters.
From this vantage point, it looks like the happy ending that normally eludes most movie stars—and still the "what if" questions persist. By now, she's use to (and patient with) reporters who look down that road not taken. When she made her life-altering leap across the pond, she was Hollywood's Golden Girl, with ravishing good-looks that rivaled That Other Elizabeth. At 19, she stepped from Juilliard into a star-making part in Robert Redford's Oscar-winning Ordinary People and followed through on a red velvet swing with an Oscar-nominated Evelyn Nesbit in Ragtime. After Racing with the Moon, she dated the pre-Madonna Sean Penn a couple of years, co-starred with Robert De Niro in Once Upon a Time in America and finally met the man she married when he cast her in a 1992 Tales of Hollywood episode.
At present, she's sitting pretty, rating a solo curtain call in a cast that includes Steven Boyer, Cara Ricketts, Alfred Narcisco and—playing her children—Anna Camp, Anna Baryshnikov, Gabriel Ebert, Brooke Bloom, Charlotte Parry and Matthew James Thomas. All are new to her, but "I didn't need to know their credits. That was clear from the beginning, on the first day of rehearsal. I was just pinching myself, thinking, 'Oh, my God! How did I get so lucky to be surrounded by this fantastic ensemble?'"
She also lucked out with her director, Rebecca Taichman, who is months away from the Tony podium for Indecent. "She's strong but kind and supportive—unusually so—and very insightful. It has been a really special experience for me, for all of us."
But how did it happen that McGovern wound up on Broadway starring in a play she had never heard of? For that, she points to her agent at UTA, Mark Subias. It was an idea he got after he saw a production of the play at South Coast Rep. and spoke to Roundabout about doing it with McGovern in the lead role.
Unless you've lived in a cave from 2010 to 2016, it is not difficult to follow Subias' logic. Vintage-wise, Time and the Conways is identical to Time and the Crawleys. The first and third acts of Priestley's play, which are set in the same evening in 1919, parallels the post-World War I existence the denizens of Downton Abbey enjoyed.
"We'd gotten through World War I, and that's exactly where we start in the play—it is the same. I honestly can't remember where we left off on that series, but we didn't even come close" to the play's other time zone. (Act two flash-forwards to 1937.)
For 52 episodes of elegant television, McGovern reigned benignly every Sunday evening as Cora Crawley, Countess of Grantham, the American heiress who, if she didn't exactly rule the roost at Downton Abbey, certainly bankrolled it, shoring up the inherited aristocracy of her husband and his male heirs with her checkbook.
It was a role she actively campaigned for (since she was, in a sense, living it—an American who made England her home, raising English children and making the necessary cultural adjustments). After her audition, she wrote the series creator, Julian Fellowes, on bended knee, citing the evidence above as ideal qualifications. It was an argument that did the trick and left favored Gillian Armstrong in the dust.
Now that it can be told, McGovern tells it: "Lady Cora was a perfectly nice person, but the reward was being part of that great ensemble and the overall storytelling."
Similarly, she feels her current role, The Widow Conway, is part of a greater whole. "I don't think she lacks intelligence, but she does lack emotional intelligence. She lacks emotional maturity. I see her as someone who never really grew up herself and so, for that reason, fails as a mother. She's still too needy herself, but I find that to be interesting. It's not as interesting to play the perfect mother all the time, and I was really drawn to the fabric of the play—to the play in its entirety as well as the chance to explore the side of parenting when it's not working well, when you're not doing it right and you see the ramifications of a parent's actions on the children."
The fast zoom forward to 1937 in the middle of the play reveals the devastating effects on the family for their actions and interplay 18 years earlier. "In the third act, you go back to see the seeds being planted," says McGovern. "You've seen how they have manifest in the second act as a kind of weird way Priestley mixes up time.
"I appreciate the perspective he has given us in this play. He makes us step back from the present moment and shows us the family almost from a tall building later, as if we're looking down from a height. It's a reassuring way of processing change and time by saying, 'It's all one. If you're up or if you're down, it's all part of the big experience of life. One reality isn't the entirety of reality.' It's a perspective that, for me, is a good thing to hang my hat on—particularly in these black, confusing times."
The Polonius in the play is the unaspiring Conway who starts out and, though the ages, stays a nebbish clerk. "I don't think it's a coincidence," says McGovern, "that the one character in the play who wears the coat of humility is the one who's not caught up in the status quo and the materialistic grabbing that's so prevalent today."
Richard Greenberg employed a similar out-of-sequence time trick in his play, Three Days of Rain, in which one generation gets together for a reading of the will and comes to the exact wrong conclusions about their parents' motives and emotions. Not only is it a play McGovern is familiar with—"Oh, my God! I was in it!" In 1999 she co-starred with Colin Firth and David Morrissey in the London premiere at the Donmar Warehouse. "I never made that connection before, but the other day I was telling someone my other favorite theatre experience was being in that play. It was a tiny little theatre, and it was an extraordinary experience for me—just fantastic."
Since the series demise of Downton Abbey, McGovern has done a deep dive into filmmaking, making up for two decades of relative inactivity, and it's been rather refreshing for her. "It's nice because I'm now the age where it's not ingénue parts anymore, and that, in some ways, is much more interesting." She has three features ready for release this year and next: The Wife, The Commuter and The Chaperone.
Glenn Close has the title role in The Wife. "I just have a tiny cameo in it, but I think it's a really good script, and she's wonderful, so it's an honor for me to be in it." In The Commuter, she's the wife at home—a safe, lame role, it being a rough-and-tumble Liam Neeson film. "He's created his own genre that people love. It's one of those."
The film she's most excited about is The Chaperone, scripted by Fellowes from a novel by Laura Moriarty, and this time she has the title role. "I actually brought the book to Julian, and we developed it together," she beams a bit. "He seemed the perfect writer for it, and I feel that he was. We just finished shooting all around Manhattan, in Yonkers and on Staten Island. It's a very New York story, but a period New York story so it was a challenge to shoot it on the budget we managed to raise.
"It's based on one kernel of truth: that, at the age of 15, soon-to-be-movie-star Louise Brooks traveled from her hometown of Wichita, Kansas, and joined a dance school in New York in the 1920s—and then went on to become the iconic star that film buffs adore. The fictional part of the story concerned the middle-aged housewife who chaperoned her. Both women have life-changing experiences on this trip. It was a time of a discovery for women and their sexuality—an opening up of boundaries. Haley Lu Richardson is Louise Brooks, and we have a marvelous cast—Blythe Danner, Campbell Scott, Andrew Burnap and the guy from Son of Saul, Geza Rohrig. I have high hopes for it. It's a terrific story."
There haven't been many American actresses like McGovern who've swum upstream to England and tried to find work there. (Mia Farrow, Luise Rainer, Bessie Love, Constance Cummings and Mary Elizabeth Mastrantonio come to mind). It's not easy, McGovern readily allows.
"I've managed to do work that's been interesting to me, so I can't really complain, but there isn't quite the same attitude that there is in America. America is a country that was founded by immigrants in relatively recent history compared to the U.K., so Americans are much more open to people from other countries coming in and doing roles—and particularly the British. It's astounding how many British actors are playing Americans all the time. That congress, however, doesn't work in England. You don't have Americans going there playing Brits. It's just not something that they're open to doing. In half the TV shows and movies, the Americans are played by Brits. Just sit down and look at any cast list. Sixty percent of them will be Brits today. Having said that, I didn't work always, but I felt really proud to be doing roles there, and I think the life there is wonderful."
More from Harry Haun:

Deanna Dunagan on Playing Yet Another Unlovable Mother
Carrie Coon on Why the Stage Is More Empowering Than Film or TV
Driving Robert De Niro: Rising Star C.J. Wilson on Getting His Start
Playwright Sarah Ruhl's New Work Is a Birthday Present to Her Mom