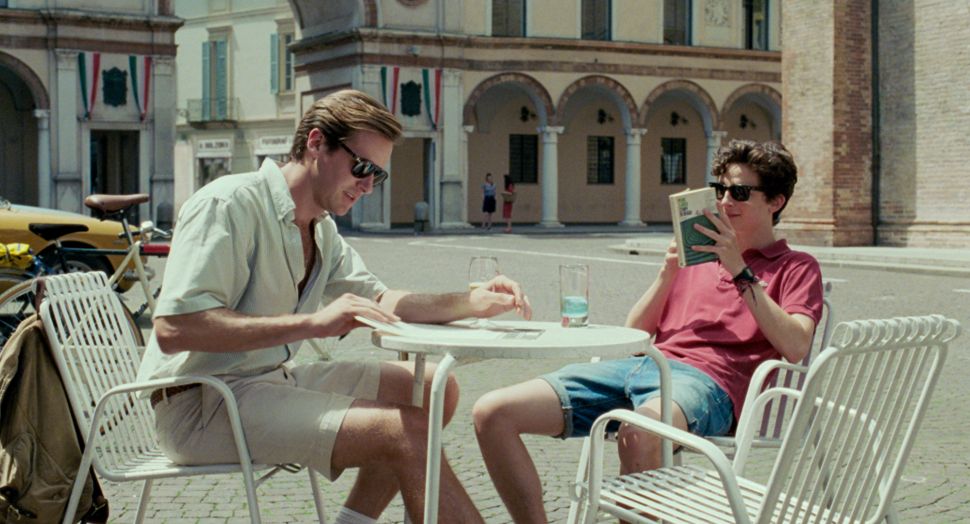 Hollywood's award-season prognosticators are busy divining the Oscar chances of prestige pictures like Christopher Nolan's summer box office hit Dunkirk against festival darlings such as Guillermo del Toro's Venice-winning aquatic interspecies love story The Shape of Water and unseen 800-pound gorillas like Steven Spielberg's Pentagon Papers exposé The Post. Yet one movie has been quietly but consistently building a steady drumbeat of support: Luca Guadagnino's Call Me By Your Name.
This swooning romance between 24-year-old grad student Oliver (Armie Hammer) and precocious 17-year-old Elio (Timothée Chalamet) during a hot Italian summer in 1983 won't open in theaters until November 24, but it first unspooled way back at the Sundance Film Festival last January. And what a debut: festival director John Cooper, who introduced the film at its world premiere, actually started to cry just trying to describe it.
People have been breaking into tears ever since. And for good reason: Guadagnino's film version of André Aciman's 2007 novel is a rapturous ode to pure passion, an unfiltered look at love that has moved audiences at film festivals from Berlin to Toronto. Last week at the New York Film Festival, the sold-out crowd at Alice Tully Hall even gave it a 10-minute ovation.
Guadagnino is grateful for the effusive reaction. "I am constantly overwhelmed," he told Observer during a late-morning chat after the film's Sundance premiere in the café of Berlin's posh Hotel Adlon Kempinski. As to where all those tears are coming from, he puts it down to resonance. "We filmmakers can create an emotional bridge in peoples' lives through the stories we tell and the elements we combine."
Octogenarian James Ivory, the acclaimed filmmaker of A Room with a View and Howards End, whose 1987 film Maurice was a landmark in gay cinema, was slated to direct Call Me, but he ended up writing the script and co-producing, handing over the reins to Guadagnino mainly as a result of financial pragmatism (Guadagnino refers to his production as "micro-budget"). But the choice of the Italian director was inspired.
The filmmaker shot in his hometown of Crema, a village in the Italian region of Lombardy that also contains the area of Sanremo where the book takes place. Aciman actually set his novel in 1987, but Guadagnino decided to push the time earlier, to 1983. "I thought that '83 is the year—in Italy at least—where the '70s are killed, when everything that was great about the '70s is definitely shut down," he said. "And I think our characters in the movie are in a way untouched by the corruption of the '80s—in the U.S., Reagan, and in the UK, Thatcher."
One of the tactile pleasures of the period setting is enjoying a defiantly analogue world: no cell phones, no computers, no electronic screens of any kind. "I was watching the movie again," said Guadagnino. "And, even though I've seen it so many times, I noticed that they read so many books, there are so many books in the film." But the director also pointed out that Elio is not the kind of person who would be fixated on social media anyway. "If we had shot the movie today," he said, "I don't think that Elio would use the cell phone to browse online and see if there were any boys around on Grindr."
Since Oliver is there to study Greco-Roman antiquities under Elio's professor father (Michael Stuhlbarg) and the focus is on education and intellectual pursuits, the story seems to revel in being immune to any outside current affairs—political, social, cultural—especially since Elio and his worldly parents seem so effortlessly tolerant and open-minded as they shift between speaking French, Italian, and English just as easily as the Lombarian sunlight flickers through the trees.
That polyglot sensibility soon becomes a polyamorous instinct for the virginal Elio, who initially seems more interested in pursuing the local girls until his mutual attraction to Oliver, initially masked, becomes increasingly apparent. In one 12-hour period, Elio finally loses his virginity: first by having sex with a girl, then later with Oliver—and, in the film's most notorious scene, he even uses a peach to masturbate. "He's burning with desire!" laughs Guadagnino. "And Timothée vibrates every muscle with desire."
The most potent characters, unexpectedly, turn out to be Elio's parents, peripheral players who watch from the sidelines with knowing glances. And by the end, they provide the emotional ballast for their son. His dad even delivers a remarkable father-son speech about true love that has had viewers thanking Guadagnino at post-screening Q&A's. (It's also more or less guaranteed Stuhlbarg an Oscar nomination for Best Supporting Actor.)
Although ostensibly a niche story about two gay men falling in love, Call Me has been garnering wider and wider interest. Does it have the traction to go mainstream? Maybe so, especially since Guadagnino's intent was never sexual politics but simply to explore the nature of desire.
Armie Hammer spoke to this point during the New York Film Festival. "This film deals with locating, isolating, figuring out that thing inside of you and what it is," he said at a panel discussion about the film. "And are you repressing it? Are you being healthy and integrating it into your life as a whole? Desire is a really powerful human emotion. And you see the fruition of how beautiful it can be in this situation. But I know that, if you take that desire and you don't handle it properly, it can eat you alive."
Guadagnino is equally interested in Elio's journey of self-discovery. "I don't know if he's going to end up having a gay life or a straight life," he said. "I think he's going to be a man who is always going to be in wonderment of the unexpected delights that life and desire will bring to him. I really believe in that."
Stephen Garrett is the former film editor of Time Out New York, whose articles on the movie industry have also appeared in Slate, Esquire, and Rolling Stone, among other outlets. He is also the owner of Jump Cut, a marketing company that specializes in making trailers and posters for independent, foreign-language, and documentary cinema.
More from Stephen Garrett:
Cannes Film Festival Dispatches Part 1: 'Netflix Sabotage' on the Riviera
Lost' and Found: Director James Gray on Adaptation of 'The Lost City of Z'
Pre-Gaming Sundance Film Festival 2017: Your Guide to the Top 10 Buzzed-About Movies