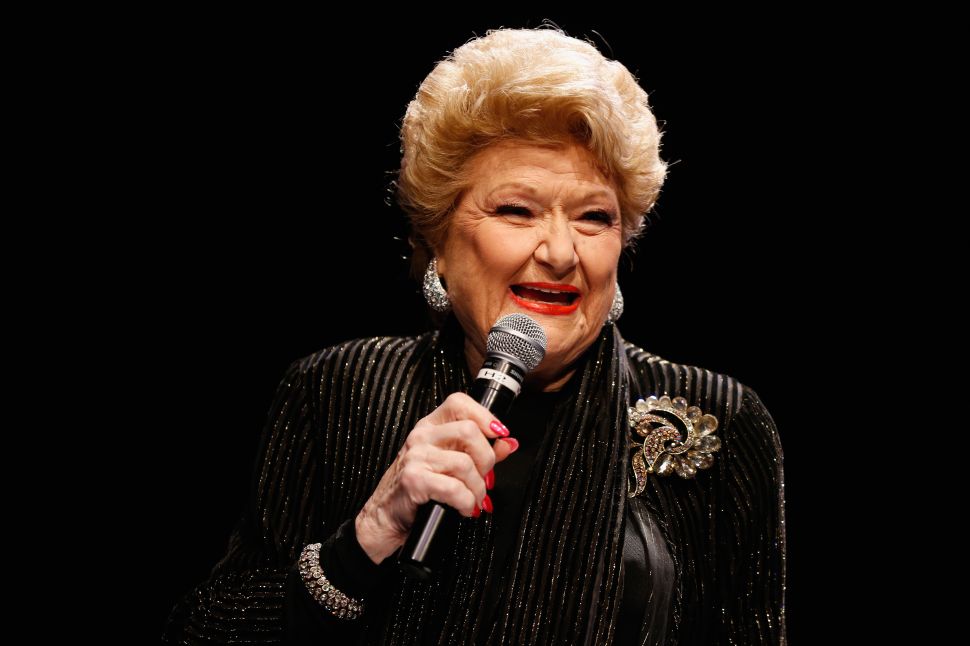 Has the title "First Lady of American Song" been taken yet? If not, the perfect candidate for that moniker would be Marilyn Maye—a pluperfect practitioner of this lost art. She'll be leafing through some classic cases-in-point this weekend—October 27 and 28—in Jazz at Lincoln Center's gorgeous Appel Room.
"I love working for Jazz at Lincoln Center because they're so on the ball," she chirped. "They promote. Both of my pre-shows are sold out. We're doing two shows a night."
New York City has never heard Marilyn Maye backed by a band of this size before. The one assembled for her Appel Room debut is 17 strong—13 or 14 more than she's usually allotted.
Maye's most beguiling spell was on Johnny Carson; moonstruck by her music, he had her on The Tonight Show a record 76 times—and Mike Douglas practically matched that with his show. She musically-guested her way through 1950s and '60s television.
But her heart and her art belong to an earlier TV host, Steve Allen, who sauntered into The Colony Club in Kansas City, Missouri, one fine night and found Maye in full sway.
He wasted no time putting her on his namesake show, and the dominos immediately started falling into place. Dot Records put in a fast bid, but RCA topped Dot with Don Costa arrangements and a full orchestration. The 1965 album Meet Marvelous Marilyn Maye was her introduction to the masses, and everybody did. That was followed by The Second of Maye, Step to the Rear and A Taste of Sherry.
When she came to New York to record for RCA, Maye made a point of snagging posh club dates. It was at The Living Room that she met Ed McMahon, and the Carson connection was struck that kept her at the forefront of her field for some time.
"But it was the early '60s when everything changed," she said. "I got tremendous airplay—then, all of a sudden, it was The Beatles and rock 'n' roll, and I didn't have a chance. Had I been recording in the '40s, my life would have been different."
The clubs in New York rolled up their welcome mats or went out of business, and for 16 years, Maye found other fish to fry—mostly on the West Coast. "The last one I did here was Michael's Pub. When the executive's expense account ended, so did clubs."
She credits her second NYC coming to her accompanist, Billy Stritch. "I found him when he was 17 in Texas, that's how far back we go, and I would fly him in to where I was working—two weeks here, three weeks there. He was doing a Jerry Herman show, and he told Donald Smith I did a great 'If He Walked into My Life,' and Don said, 'Let's bring her in for the Cabaret Convention. That was 2005. It was a triumph. I closed the first half and opened the second. That's where Don put me."
Maye's comeback was at Jazz at Lincoln Center's Rose Theatre, just down the hall from the site of her concerts this weekend. Her official return to the New York cabaret circuit occurred in 2006 when she opened in The Metropolitan Room. Rex Reed and other critics were there with palm leaves to seal her celebrity.
Like Marilyn Monroe, Marilyn Maye McLaughlin was named after Marilyn Miller, one of Ziegfeld's more glorified girls. Maye started vocal training at age nine, and she's has plenty of teachers of the last eight decades. For one in particular—a little old lady in sequined hats named Rosamond Nyman—Maye will do "Guess Who I Saw Today?" for her, but also—"for everybody really because it's my most requested song."
Introduced by June Carroll in Leonard Sillman's New Faces of 1952 and driven into your DNA by Nancy Wilson, "Guess Who I Saw Today?" is a story song of a housewife who discovers her husband philandering, and Maye chips away at the emotions till the bastard is revealed. "I think you can turn songs into roles—something personal that you can play. 'Fifty Percent' is the mistress of a married man, grateful for what she's got. 'Something Cool' is a lady who has seen better days and, I would say, a lot better nights, but she's still trying to impress and, really, only kidding herself."
Despite the emotional investment she brings to each and every number, a song hasn't been written that could make her well up while performing it. "I guess it's because there are so many different things inside," she reasons. "I cried so much outside in my early days—with three alcoholic husbands—that I don't cry very much these days." That happy state of affairs brings on a raw, raucous laugh.
"Husband number one was a professional gambler. That didn't last very long. Number two was a dancing husband, and we owned a dance studio in Kansas City for nine years." Her third husband was a pianist—"a genius pianist"—and together they headlined Kansas City's Colony Club. She has a grown, very musical daughter by the latter, keeping her boomeranging back to Kansas City between gigs.
"I also had a meaningful love affair for ten years or so. It was very stormy. Finally, one night on the Carson show, I did 'I Will Survive,' and afterward I called the object of that love affair and said, 'I did something special for you tonight.' We'd broken up by that point. I said, 'I want you to be sure to see the Carson show.'"
Maye is a firm believer in saying it with music. As did Barbara Cook, who passed in August at 89, she has the ability to emote a lyric—squeeze all the juices out of it and serve it up only to you. This tricky illusion leads to glorious third-act careers.
"You gotta live the lyric. You gotta think about what you're saying, what you're singing. There's an ego trip some singers take—I call it self-serving—when they hang on to an unimportant word and unnecessarily long note. Who cares? We're sitting there waiting for the next note. Entertain me. You gotta entertain me. I've given up my time and my energy and my money to hear you, so it's your job."
Maye may be the queen of casual, off-the-cuff singing. Nice and easy, that's her style. "I'm such an advocate of the personal relationship you develop with an audience. I connect with them. I don't sing for them. I sing to them. I don't sing over their heads or to the balcony. I look in your eyes and sing to you. We're having a conversation."
When nightclubs took a nosedive in the '60s, Maye pushed her gift for acting a lyric into acting a whole show, taking on Mame Dennis, Dolly Levi, Can-Can's Pistache and an assortment of Sondheim's Follies girls from Sally to Carlotta (the latter has what might well be Maye's own personal anthem, "I'm Still Here"). The job had one drawback for a saloon chanteuse: "I got tired of singing the same songs every night."
Lest it seem unchivalrous to discuss a lady's age, let the record show that Maye knows precisely where she will be on April 10: celebrating her 90th birthday by opening for six days at Feinstein's/54 Below. "It's the third year I've done that."
How does she do it? you might rightly ask. "Keep moving. Don't retire. I think my teaching has been good for me. Teaching seems to have added a dimension to me."
For years, Maye has been (to quote the critical cliché) "giving master classes for concerts." These days, and for most of the past decade, she is giving master classes as master classes—except in clubs like Don't Tell Mama on Saturday mornings.
In addition to sharing her textbook technique and critiquing presentations, Maye has a hand in assembling, arranging and directing cabaret acts. She and one star student are putting together a show of songs decade by decade. "I hated the 1950s," grouses Maye. "God! that was hard! The '50s are hard to find material, but this new one was a joy. The '70s are darling for that. 'Staying alive, staying alive.' So cute."
Marilyn Maye sings in the moment the way Meryl Streep and Cate Blanchett act in the moment—it's real, and it's for you alone—so it's not surprising "Here's to Life" and James Taylor's "Secret of Life" are the songs that give her the most pleasure to sing. "It's such a great philosophy—living in the moment. It's what I believe in, appreciating every single day of your life. I love closing shows with 'Secret of Life,' leaving the audience with 'The secret of life is enjoying the passage of time. Any fool  can do it, there ain't nothing to it.'" And Marilyn Maye does it better than anybody.