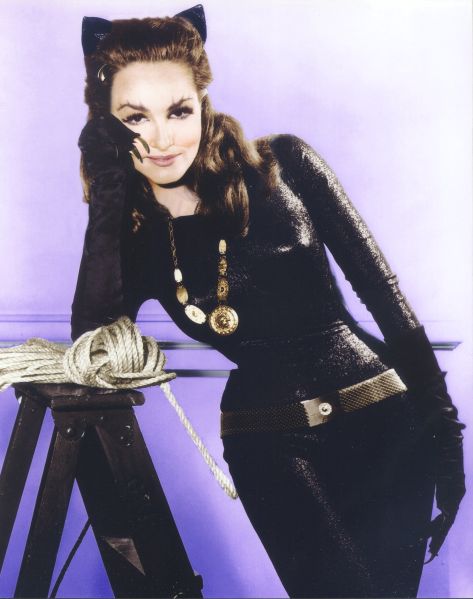 Even over the phone, Julie Newmar is glamorous. The Los Angeles native's voice is old Hollywood—breathy and, for lack of a better word, kittenish. A Tony winner (for The-Marriage Go-Round in 1959) and a multiple golden globe nominee, she's also served as a muse for Thierry Mugler, and pounced on the catwalk alongside Rossy de Palma and Linda Evangelista in the video for George Michael's "Too Funky." But at 84 years old, Julie Newmar is still best known for her work as the Catwoman alongside Adam West on Batman in the late 1960s. In an era when girls were to do as told, Catwoman luxuriated in breaking the law and chasing after Batman. Newmar has a great sense of humor about fame, and why everyone remembers her Catwoman. "Well the body fit the work, and the work fit the body" she laughed.
At nearly six feet in height, the famed catress, who started out as a dancer, was too tall for the ballet company, but eventually made the switch to acting. "I did a dance with Fred Astaire in the movie Bandwagon,"Newmar recalled. "I got to waltz just from left of camera to right of camera, and I'm taller than Fred Astaire. Fortunately, I was wearing a long skirt, so I waltzed with bended knees." It was this statuesque figure and glittery persona that earned  Julie the admiration of Vida Boheme, Patrick Swayze's drag character in the legendary 1995 film, To Wong Foo Thanks for Everything, Julie Newmar. "He was the dancer," Newmar says fondly of Swayze. "What his body had to add to the dialogue just gave him a power, unlike many others." Like a few of the leading men in her life, Swayze, along with West, has passed on. But Newmar has a rather zen attitude regarding death, remembering the time before Adam's passing cheerfully. "I saw him just three weeks before he took off from the rest of us," Newmar recounted with joy. That was in June of this year. "We miss him so much," she added.
Newmar's vocal talents appear alongside West in two new animated Batman films, which West completed before his death. Last year saw the release of Batman: Return of the Caped Crusaders, last week heralded the release of Batman vs. Two-Face, with Newmar reprising her role as Catwoman fifty years after the original show aired. But while she's grateful for the chance to be back in the part, she takes some issue with Catwoman's handling in more recent offerings. Anne Hathaway's costume and performance in the Dark Knight Rises seems most influenced by Newmar out of all the Catwomen (Eartha Kitt and Michell Pfeiffer among them), but Newmar wishes the studio had gone in a different direction. "She's the most beautiful female to ever emerge from that quality of film" the original cat burglar, says of Hathaway. "But I must say I have a couple bones to pick with their producers. Where was she? We want to see her! The film is all darkness and explosions. Just stuff boys like."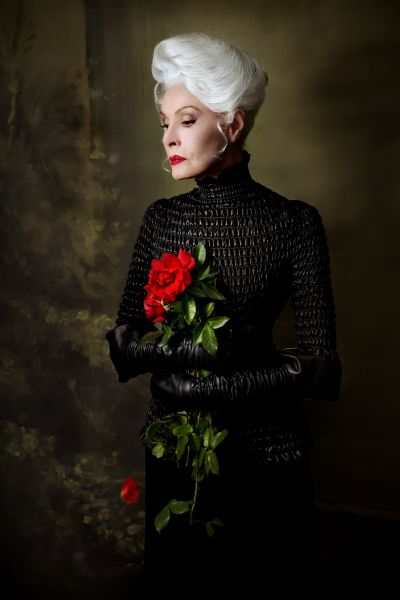 Newmar is from a gentler era of superheroes, when the visuals boasted flamboyant colors, even in cartoonish KaPOWs. The latest offerings seem to be going for battle-weary realism. But the early glamor came at a price. The first shot we see of Newmar's Catwoman in Batman is of her stunning golden claws, but according to Newmar, the nails weren't so fun to wear. "They were made of metal. They pinched my fingers." Did they bleed or not? "In those days who cared. When you're performing pain never matters." Newmar trails off a bit, and when I make the offhand suggestion that pain is beauty, her response is swift- "No it isn't." Perhaps it's the insinuation that women had to put up with pain to make it in Hollywood that prompts Newmar to discuss some of the other unpleasant aspects of being an actress. Launching into a discussion of Weinstein scandal (who she repeatedly refers to as Harvey Weinspout" or some other play on the name) Newmar recalls some similar encounters that were part and parcel of her Hollywood education. "I have experienced a few things I would have rather not" she acknowledges. And on Wednesday, she opened up about her experiences with male abuse in a #metoo post on her Facebook page, where she wonders, "Was Harvey Weinstein the hole-in-the-dike that led to our freedom?"
Yet the feline fatale tells me the Weinstein scandal has given her a certain optimism. "I'm stunned that it came to this," she said. "I never thought it would. I always thought it would be in hiding. I always thought in a sense men would be men. This is a good thing that this came up to the surface." Newmar credits her upbeat attitude to her time working in her lush garden. There's even a rose named after her at the famed Huntington gardens in Pasadena, which she describes as "melon yellow and surrounded by rubies." According to the Huntington's rose curator Tom Carruth, Newmar submitted her own name during a naming competition for the new species. What a stunt queen! 
Newmar credits her brother, John Newmeyer, for convincing her to take the part of Catwoman. John came out to Newmar back in the 1950s, but she's always accepted him for who he is and has long been a supporter of gay rights. "It's always the gay people, the outliers, who are the cutting edge, and god bless these people!" Newmar declared. "And to everyone else, wake up. See what's new!"   
Newmar will be appearing this Saturday as a guest of honor at the Los Angeles Comic Con. Even after all these years, she still enjoys meeting the public, amazed that people are still affected by the work she did fifty years ago. A lot of her admirers feel the need to divulge that she was the object of their early sexual attraction, but she says she doesn't mind. And fans always ask her to sign her pictures in that one specific way:   
"Thanks for everything, Julie Newmar."
Media guru Johnnie Martin discusses all the KaPOW that's fit to print in the weekly comics column Near Mint. You can find him on Twitter @TopNotchGaymer.