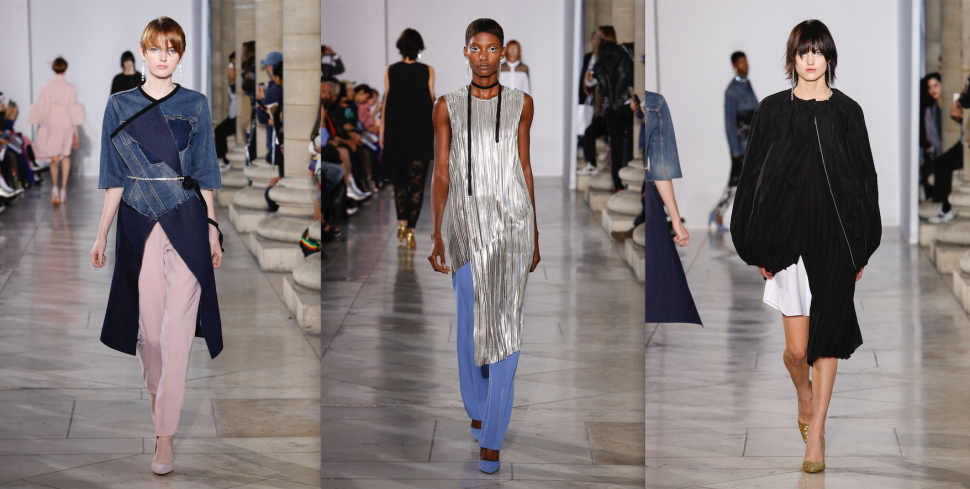 The first rule of fashion for the German, Paris-based designer Lutz Huelle is that it has to be real.
"I always feel like I can do all these things here, but as long as they're not being worn by somebody, at least one, and preferably regularly, then I've missed my job in a way," he said from his design studio in Paris's third arrondissement, two days before his Spring/Summer 2018 show. "It needs to be real, and you can only do that when you look at how people use clothing and how they wear clothes."
Spread out on the long white table, surrounded by racks of samples that are almost ready for the show, are thumbnail images of models wearing his previous collection. Right above are photos in the exact same style, the exception being the clothes which are from the new season.
"What's interesting for me for this collection is that for a long time, I was very much interested in the street and the super cool atmosphere," says Huelle of his cut-out jeans, oversized bomber jackets and intrinsically cool deconstructed, rearranged basics. "The last few seasons, it's become slightly more refined, almost couture. You can still wear it in that same way—it's not something you can only wear on the red carpet."
While seamstresses and the designer's business partner buzz around the small sunlit space, Huelle picks up a few of his favorite pieces. "You can wear it with a big men's shirt," he motions, to a silky cocoon-like taffeta jacket that's equal parts feminine and punk. Bomber jacket with lace and silver jacquard (a collaboration with cult brand Alpha Industries) look like long dresses. Jeans come with cut-outs that completely reinvent them not only as an everyday staple, but a must-have layering piece to be worn under other garments. "This is a dress, but it can be worn as a coat in the front opened up," he says of another glimmering jacquard hybrid dress-coat.
That's the beauty of the label's pieces though—you can wear them multiple ways. On the runway just a few days later, the blending of clothing was not lost—especially when it came in the form of those ball-shaped jackets layered over men's shirts, or tiered dresses topped the silhouette of a denim jacket. And while Lutz Huelle may still be slightly under the radar when it comes to Paris Fashion Week, he trained under Martin Margiela before launching his own line in 2000, and is a twice winner of the ANDAM Award in France. Observer spoke to Huelle about the state of Paris fashion and his love of people-watching.
How would you personally describe the Lutz Huelle aesthetic?
It's everyday clothes put through a different light. I've always been really interested in what people wear, easily, all the time. It's not really occasion dressing, but just something that you really want to put it on. It's basics of everyone's wardrobes, but twisted around slightly. It's always something you know: a trench coat, bomber jacket, but slightly twisted around so that it's become something else.
What I really like is that you can wear these things and you give out all these different signals and signs that you can't really read anymore. It's like denim with lace or a bomber jacket with silvery jacquard. It's things where you have different types or ways of seeing things. I've always been really obsessed with people wearing clothes. It's always been about real life. It's more important than anything.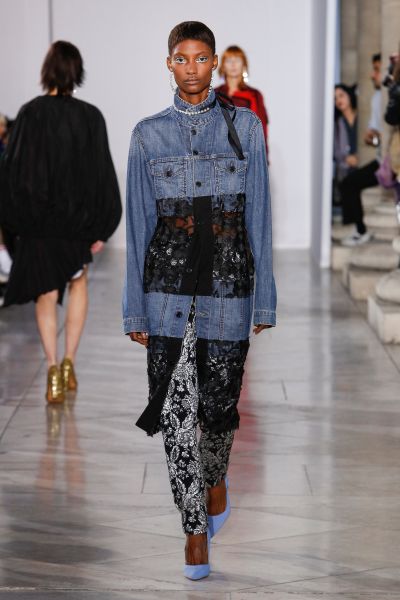 Do you do a lot of people watching?
Yeah, and it's embarrassing sometimes. People don't understand why I'm looking at them. I always look at what people wear and they way things fall on somebody; how people use clothes. I always look at people. I look at my friends as well and the women around me. I can be wrong sometimes too. I say 'yes' in my head, but she would never!
What I do also is I look at what I've done the season before and I take that further. I add things, I take things away. I look at something I've done last season and think it could be so much better than last season. It's a constant pushing forward of ideas and things. I very much work in the present. I never look at the '60s or the '70s or any of [those] things.
Besides people watching, what references are you looking to?
It's more abstract. I don't look at other times, I look at art but it has to feel real. I listen to music all the time but I can't say I go out and research Matisse or Picasso. I look at the clothes I've done and I say that might be nice like that or that might be good changed like that. I have a little book that I write in and I sketch in. Whatever comes to my mind, I just put it down.
You trained with Margiela—how was that influenced your work?
The reason why I wanted to work there was because it was so close to what I liked. It was so much about reality. He was one of the first people at the time who dressed people who I could understand, who I could identify with. I think that in way, it was a reason why I wanted to work there. I felt I could do that as well. I just became a professional designer in that company because I loved going to factories, doing technical drawers. All those things, I didn't learn at school.
It was such a small company at the time. There was Martin and there was another person, and then there was me, doing the collections. It was super small, super familiar and friendly. It was great, and it was so nice.
Here, we do everything here. Protoypes even. I have my business partner David, but we're growing. It's been a really good moment. It's a small team of people who have been here a very long time.
You collaborated with Alpha Industries, but it's very different from other designer collaborations with the brand. How did it come about?
I did these pieces with Alpha and after the first season, they called me. They said, 'I saw one of these jackets in Milan, and what is this?' I said, "Well, I'm using your jackets.' They liked it so much they said we should do it together. Now we work together which is really, really nice.
You're German and have worked in London—why did you chose to ultimately be based in Paris?
It was just by chance. I was very sad to leave London at the time. I really didn't want to come to Paris. Only because I had a job, and it was such a nice job I couldn't say no. It took me a very long time to get used to Paris. But then, I started working here, I fell in love and in the end, I decided to stay. I could have been somewhere else but it wasn't planned like that.
I'm not sure whether Paris in the beginning was the best place for me, because I wasn't very Parisian in that sense. I think also, that's the reason why we stayed under the radar for such a long time. Paris has been opening up so much lately. And maybe that's the reason why we're more visible. Because for people this all makes sense suddenly, on a much larger scale.
When do you think Paris opened up in terms of fashion?
Maybe two or three years ago. It was stuck in such a rut. There was a point where everything felt so without energy and so tired. We stopped showing for three seasons at one point. There was no fashion, no enthusiasm, no euphoria. Fashion is not an easy business. There was a time when people started to be open. New things happened and people started to be open enough to let them happen. There's always been new things in Paris, but rarely have they actually been able to blossom. That was suddenly possible two or three years ago.
So many of your pieces are interchangeable. Jackets are also dresses, jeans can be worn under dresses as a textural layer. Why is that important to you?
We have some shops that have been buying the collections for 15 years now, because we've been around for a while. And sometimes I see people in the showroom who what pieces from five, six, or 10 years ago. It's so nice. That's why I also make sure that I always have the collection from last season. I stay the same. It's the same kind of woman. It's the same kind of way of wearing clothes. It's just a way of seeing clothes.
More from Kristen Bateman:
Delpozo's Josep Font Created a Pret-a-Couture Brand in a Fast Fashion World
Australia's Best Export Just Might Be Fashion
How Former Model Lily Kwong Became the Darling of Landscape Architecture