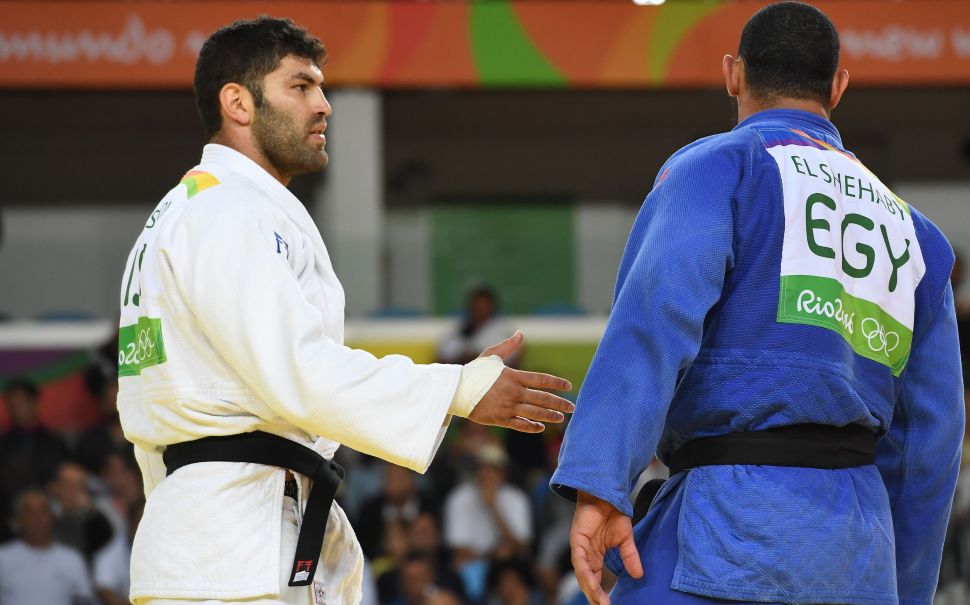 The Abu Dhabi International Grandslam Judo Championship takes place later this week in the United Arab Emirates (UAE).
Participants from around the world will compete for the gold, silver and bronze medals. Among them will be Israel, sporting a team of 12 athletes.
Israel competing in an Arab country sounds like good news, but it isn't.
The competition's organizers have, for the second time, accepted Abu Dhabi's demand that Israel not show her flag or emblem. There can be no visual symbol that Israeli athletes are present or competing—and Allah forbid if they dare to win. The word "Israel" or its abbreviation ISR does not appear on the player's uniforms, though all other players' uniforms have the name of their country on them.
If the Israeli team earns a medal, instead of its blue and white flag adorned with the star of David, the International Judo Federation flag will be flown. If an Israeli wins gold, Israel's national anthem will not be played.
Israel is protesting these discriminatory rules and regulations. Sporting events are supposed to be above politics; they are not an occasion to increase divisiveness, prejudice and hate.
Even getting to Abu Dhabi has proven tough for the Israelis. On Monday, the 12 Judukas (the proper word for one who practices the sport of Judo) were scheduled to board a Turkish Air flight from Tel Aviv to Istanbul, where they were supposed to get their visas to enter the UAE. But Turkish Air refused to allow them to board.
After a quick scramble, the team got new tickets and will pick up their visas in Amman, Jordan. The change requires a 14-hour layover in Amman, not ideal conditions for international athletes on the eve of their competition.
President of the Israeli Judo Association Moshe Ponte said, "We will not give up, even if we have to reach Abu Dhabi on foot. Now we have to fly to Amman to get visas there instead of flying to Istanbul as we planned. We are looking to change our tickets. We will arrive after 14 hours of waiting in Amman. We may arrive exhausted, but we will not give up."
Israeli Olympic bronze winner Or Sasson will compete in the Grandslam. So will Sagi Muki, Israel's gold medal-winning European competition Judo champ. The Israeli team also includes three additional world bronze medalists. The chances of Israel winning a medal at this competition, and even taking home the gold, are very high.
But should Israel win, it will not be a joyous victory. A win for Israel will be an embarrassment for the Judo Federation and Abu Dhabi. At the Summer Olympics in 2016, Judukas Ori Sasson defeated Egyptian athlete Islam el Shahaby, who refused to shake his hand—a clear break from tradition.
Some might argue that Israel should not compete if they are not given full status, but Israel has decided not to succumb to these boycotts. Israelis will compete, and they should be allowed to revel in their success, complete with uniform, flag and anthem, just like everyone else.
Micah Halpern is a political and foreign affairs commentator, author the "The Micah Report," and host of the weekly TV show "Thinking Out Loud w Micah Halpern." Follow him on twitter: @MicahHalpern