Even before Jason Alexander won the hearts, minds and funny bones of our nation in Seinfeld, the actor had nabbed the 1989 Tony award for Best Actor in Jerome Robbins' Broadway. Now 58, he's glided for years between television (Bob Patterson; the upcoming Hit the Road (debuting this month on the Audience Network), film (Pretty Women, Love! Valour! Compassion!) and the stage (Merrily We Roll Along and the L.A. production of The Producers). But bitten early by the theater bug, it remains his first and true love.
That's why his answer was easy when Pulitzer and Tony winner John Patrick Shanley sought out Alexander for the role of second tier lawyer Barry Dragonetti in The Portuguese Kid. He spoke to Observer about playing a character who is emasculated every night on stage ahead of the October 24 opening at the Manhattan Theatre Club.
At age 15 you told your parents you wanted singing lessons to train for your bar mitzvah. What sparked your interest in musical theater?
One summer my family moved from Maplewood, New Jersey to Livingston, New Jersey.  I was sitting by the community pool and this beautiful young girl who turned out to be part of a teen theater group came up and asked, "Do you sing?" I said, "I do now!"
I played a von Trapp child in a teen theater production of The Sound of Music. But when the group saw an early preview of Pippin, the magic of theater really sank in. Sure, I was 12 and chunky, but Ben Vereen was the living embodiment of all I wished I could be.
Shanley has caled you a "comic treasure." What's it like to work with a director who holds you in such high regard?
Ha! John Shanley is a singularly unique writer. You just want to live in the poetry of his language. I play a working class guy—there's nothing elegant about Barry—who rails about "the indignity of survival" and tells Atalanta (played by Sherie Rene Scott) that arguing with her "is an existential threat to my humanity."
The play is funny, but what really drew me in is that it functions on so many levels. I know John is extremely interested in looking at feminine power and gender identification. Barry and Atalanta fell in love when they were very young but because of an incident where she came to his rescue, Barry felt emasculated.
If you ask John what the play is about, he'll say "I'll let you know." It means different things to him on different days. He'll make us rehearse five hours than do a preview that night where we stumble around with changes—some trivial, some large. We're figuring it out in front of the audience. But John's earned the right to have his vision.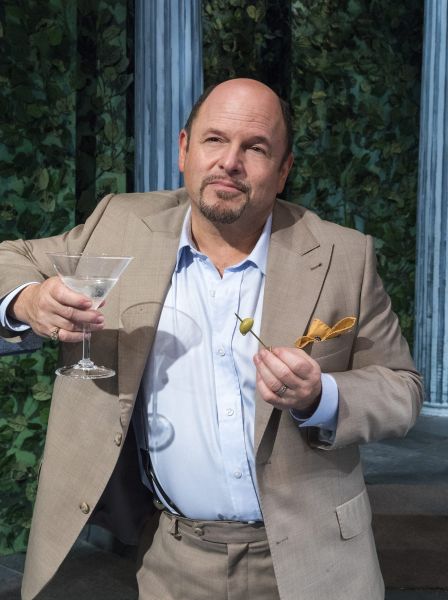 How are you bonding with your character?
I love Barry. I've lived a life surrounded by powerful women. My mother was the primary breadwinner in our family. Most of my closest friends were women who protected me when I was bullied, and were always there when the chips were down. My wife Daena is a strong personality. 
What did it feel like to win a Tony Award? And FYI, I think you were robbed, being nominated for seven Emmys for Seinfeld and never winning.
When I was a kid in my bathroom pretending to thank people for an award it was never an Oscar or Emmy—always the Tony. I made my Broadway debut at age 20 and won the award at 29. It was amazing but in some ways it happened too fast. When you invest so much in something, achieving it won't be what you think it will. As Pippin said after the big war sequence: "I thought there'd be more plumes."
As for not winning an Emmy, every year I lost to either David Hyde Pierce or Michael Richards, so how could that feel unjust? Not that losing didn't matter, but winning was never vital to my sense of accomplishment. 
Your first career ambition was to be a magician. Are there any shows you've been involved in that in retrospect you wish you could make disappear? 
I've been very lucky—I've enjoyed the experience of everything I've been involved in, even when the result wasn't what I'd hoped.
Other than being an arsonist when I was a kid—the only time my father ever hit me was for trying to set the garage on fire—my regrets have come after interviews. When I went on the Howard Stern show, of course I wanted to be humorous. So I talked about how I couldn't figure out how George could relate to the actress who played my fiancé—Heidi Swetberg, whose character Susan memorably died from licking toxic glue on the wedding invitation envelopes—and Larry David didn't care about my feelings. It sounded like I didn't like the actress and that still haunts me.
Sherry Amatenstein, LCSW is a New York-based therapist and the editor of the new 'shrink' anthology: How Does That Make You Feel? True Confessions from Both Sides of the Therapy Couch.

More from Sherry Amatenstein: 
Are Celebrity Confessionals Bad for America's Mental Health?
Lili Taylor on Acting's Healing Powers and Getting Stage Fright After 30 Years
Artist Behind 'War Paint' Dishes on Looks She Created for the Makeup Titans