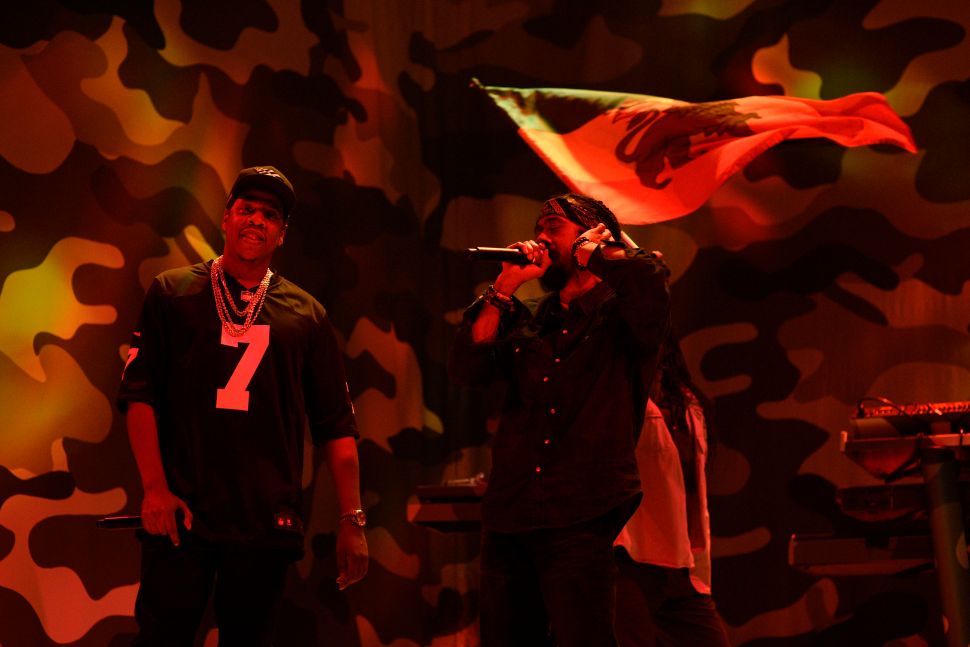 The lines between politics, sports and entertainment continue to blur. Recently, President Donald Trump sent Twitter into a frenzy when he attacked NFL players who were protesting racial inequality and police brutality by kneeling for the National Anthem. Trump went so far as to suggest that NFL team owners fire that "son of a bitch" who did not stand for the anthem. This prompted a slew of team-wide protests across the league and several comments from star athletes opposing Trump. Most notably, NBA superstar LeBron James indirectly called Trump a "bum" for his stance and for following up his NFL comments by uninviting the Golden State Warriors to the White House.
The protests began last season with former San Francisco 49ers quarterback Colin Kaepernick, who is still without a job as many around the league believe he's essentially been blackballed. Over the weekend, Jay-Z paid respects to the QB and the ongoing protests by wearing a custom made Kaepernick jersey during his performance at the season 43 premiere of Saturday Night Live.
Jay-Z performed his song "Bam" featuring Damien Marley from his 4:44 album while wearing a black jersey with "Colin K" on the back and the number 7.
Many owners and players protested together in the wake of Trump's comments last week, though the public displays lessened a bit this past Sunday.
Ryan Gosling hosted this weekend's premiere of SNL, which saw "Weekend Update" co-host draw criticism for his comments about Trump.