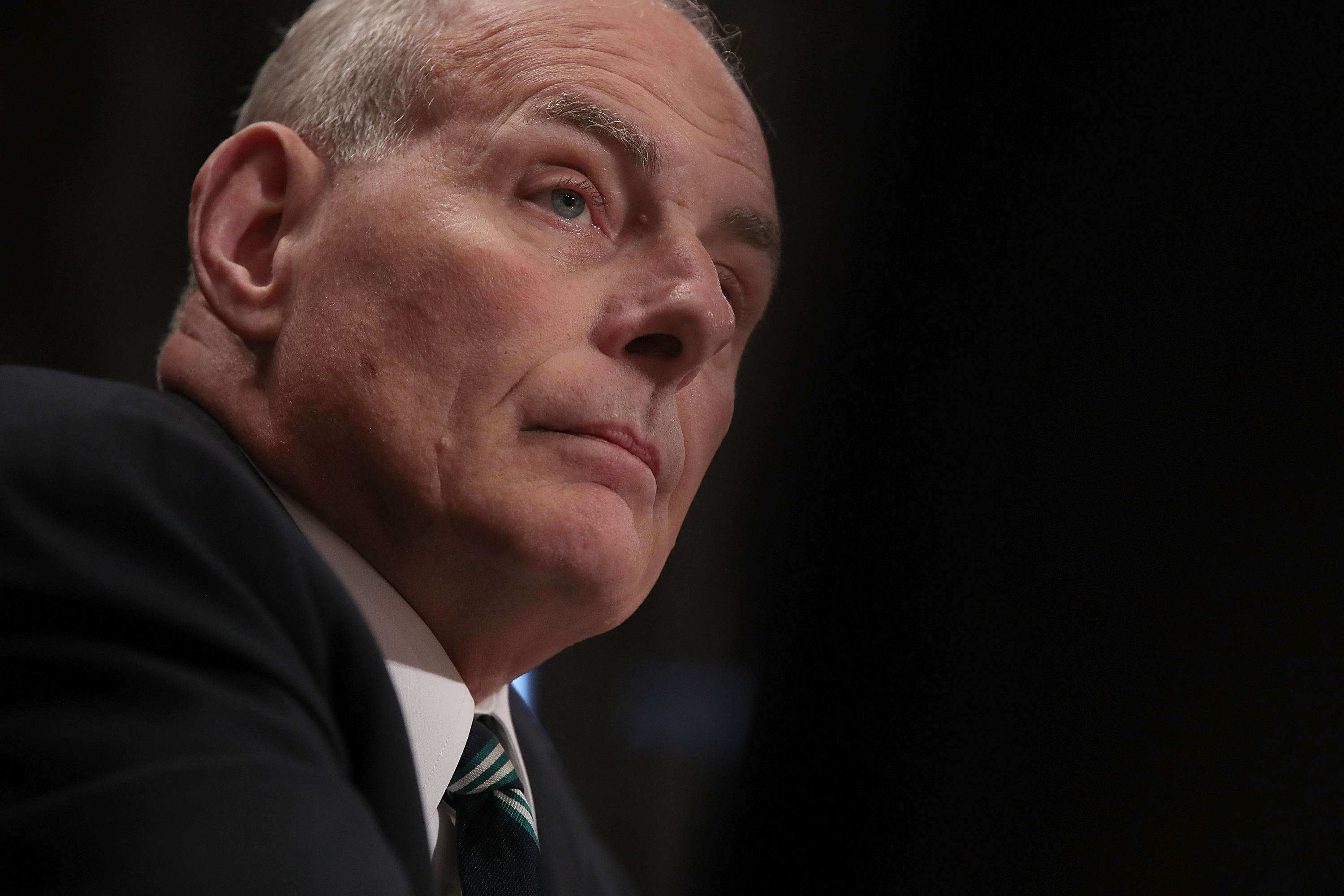 Amateur President Donald Trump will probably never respect sincere words from men like Khizr Khan. Although Khan is a "gold star" father whose son died in battle in Iraq as a soldier of the United States, Khan also is an immigrant from a foreign country.
He speaks with an accent. He is Muslim. His skin isn't quite white. He's not the Trump type. But in his channel-surfing on Sunday, the television-obsessed tweeter-in-chief should have heard what Khan said to John Dickerson on Face the Nation on CBS.
It came in the wake of Trump's deplorable blundering last week over how to treat the families of dead soldiers, like the four killed this month in Niger.
"Two words," Khan said, "dignity and restraint."
Trump avoided both last week and so did former Marine General John Kelly, Trump's civilian White House chief of staff.
Both deflected the discussion from 'why haven't you talked about this incident?' to a series of lies about previous presidents and about an African-American, female congresswoman who spoke on behalf of the family of Army Sgt. La David T. Johnson.
He was one of the four troops killed in an ambush by terrorists in the African nation.
"Citizen Kelly… should have refrained from doing exactly the same thing… he was complaining about," Khan said. By defending the president, Khan said, Kelly "made the situation even worse" by turning a private, solemn sorrow into a public, political mud fight.
It began when Trump changed the subject of a reporter's question last Monday into a stream-of-consciousness riff about how well he consoles families of dead soldiers when compared to other presidents. He named only Barack Obama. Fact-checkers quickly proved Trump's claims false.
More reporting from other gold star families shamed Trump into sending a long-promised check for $25,000 to the family of a different dead solider and into telephoning the widow of Sgt. Johnson. She is pregnant with their third child.
The call didn't go well according to Congresswoman Frederica Wilson, a Florida Democrat who is a friend of the soldier and his relatives. She said they were offended by Trump's awkward words and his failure to speak Sgt. Johnson's name. She heard the call on speaker phone in a car.
Trump said Wilson lied. But the relatives of the dead soldier supported Wilson, not Trump. To clean up Trump's mess, Kelly spoke to the White House media on Thursday to recall the death of his own son in combat and reveal what he told Trump about his notification.
But he also essentially confirmed what the congresswoman said: that Trump last week told the widow of the soldier that her husband knew what he was getting into.
Then Kelly attacked the congresswoman with a lie that she bragged two years ago at the dedication of a government building. Wilson, Khan said, was "maligned on mistaken facts" spoken by Kelly, who complained that Wilson should have kept Trump's words private.
"That was beyond the call of the moment," Khan said.
Next to pile on the congresswoman was Press Secretary Sarah Sanders. In that Wilson wears hats as part of her fashion ensemble, Sanders mocked her by saying she is "all hat and no cattle." (Kelly had compared Wilson to an empty barrel that makes the loudest noise).
How interesting for Sanders to ridicule how women look. Perhaps Sanders next will mock how folks talk, what with their funny accents and such. She may mix such humor with her more menacing warnings like the one on Friday that reporters dare not question the rough, tough civilian aides Trump calls "my generals."
Dickerson said Khan was originally scheduled for the show to promote his book, An American Family. Khan discussed it, his immigration from Pakistan, and his love for his new nation. He said he takes visitors to the Jefferson Memorial in Washington and urges them to read Thomas Jefferson's words, especially the Declaration of Independence.
Khan is a former Republican who said he admires Ronald Reagan and once heard him call the United States a "city on a hill" at a speech in Houston.
But Khan spoke against Trump at the Democratic National Convention in 2016 after Trump called for a ban on Muslim immigration. He lives in Charlottesville, Va., where a woman was killed last summer while protesting a rally of neo-Nazis, Ku Klux Klan advocates, and white supremacists.
Khan told Dickerson he cringed when watching Kelly on TV in August when he stood alongside Trump while Trump said some "very fine people" marched with the haters.
"I was shocked—I was shocked—to see Citizen Kelly standing next to the president when the president could not have the proper word to condemn the attack on the blessed city of Charlottesville by neo-Nazis," Khan said.
Khan said Kelly's face and body language betrayed "disgust" at Trump's racist words but he nevertheless "stood in support" of Trump. Although generally upbeat about his country, Khan offered a word of warning for a culture in turmoil during the Trump era of race-baiting, scapegoating and relentless propaganda.
"In these tumultuous times, we all will be well-served if we are vigilant," Khan said. "Our democracy, our way of life, our self-governing is under attack."
Joe Lapointe spent 20 years as a sports reporter for The New York Times and worked as a segment producer for Countdown With Keith Olbermann. Recently, he has taught journalism at New York University, Rutgers and Long Island University-Brooklyn. follow him on twitter: @joelapointe