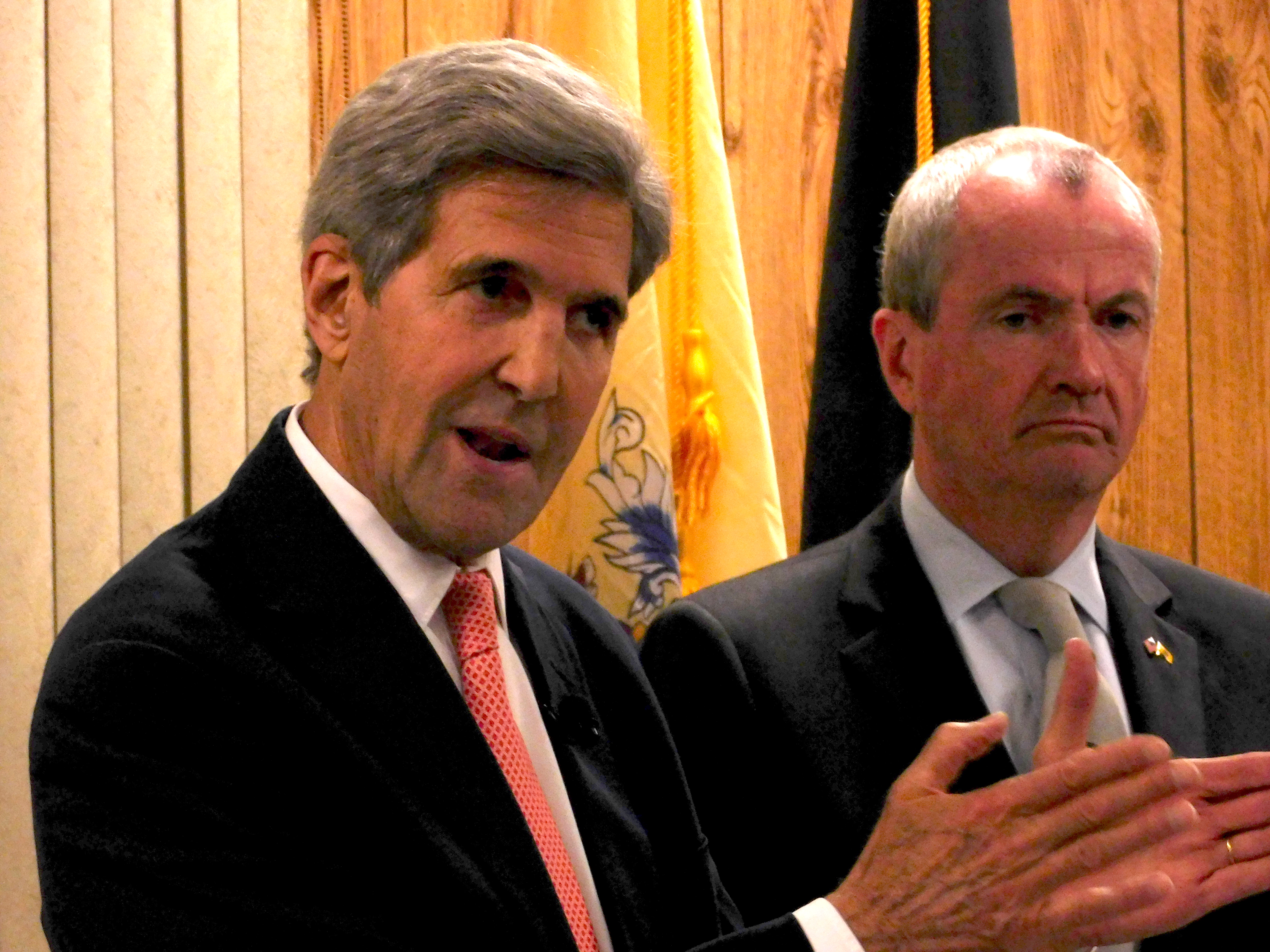 CLIFTON- Democratic gubernatorial candidate Phil Murphy was joined by former Secretary of State John Kerry on Wednesday for a town hall event with members of New Jersey's veteran community.
In addition to lauding Murphy for his patriotism and the positive future he feels electing a Democrat as New Jersey governor will bring to the state, Kerry, a Navy veteran, expounded on one of the less-discussed premises of Murphy's policy: his desire to split the state's Department of Military and Veteran's Affairs into two separate agencies.
"You deserve what state after state has in this country—which we have in the state of Massachusetts already— and that is a stand-alone department of veteran's affairs to fight for you," Kerry, a former Massachusetts senator, told the crowd of veterans. "I know that is the mindset that Phil brings to this job and is bringing to the state."
According to Murphy, dividing the two agencies is a critical structural reform that will allow the state to better deal with three issues that have an outsize impact on the veteran community: healthcare, homelessness, and unemployment.
"The fact of the matter is, when you are co-mingling active duty with veterans affairs, it becomes a muddled reality," Murphy said. "I don't know the depth of issues on the active side as well as I know them on the veteran's side but I can guarantee the muddle is profound among veterans in service, in getting healthcare, in getting attention, and shortening wait times. Just basically clarifying and putting a spotlight on the needs that we have for the 400,000 odd veterans in the state."
At a Guadagno event that began just after Murphy's town hall with Kerry ended, the Republican gubernatorial candidate disagreed with Murphy's take on the Department of Military and Veterans Affairs. Noting that she is the mother of an Air Force pilot, Guadagno said she had "some skin in this game" regarding military and veteran services. Guadagno is also the chair of the New Jersey Military Installation Growth and Development Task Force.
"To split it apart is simply a way for Phil Murphy to put one of his hand-picked people into an office and create an additional bureaucracy where it is not needed," she said. Guadagno's event focused on the lieutenant's endorsement by the National Federation of Independent Business, the largest small business association in the country.
Kerry was Secretary of State from 2013 to 2017 under the Obama administration, a period that briefly overlapped with Murphy's tenure as the U.S. Ambassador to Germany.
"Phil and I had the privilege of serving as diplomats," Kerry said. "When I made my first trip to Europe as secretary I went to Berlin, one of the first stops I made. Phil was there as our ambassador, representing our country, being our face, our voice in that part of the world. Phil lived it every single day working in Berlin. He was the leader, really, in partnership with our closest allies in the region."
Wednesday events were the first public appearances for the candidates since Tuesday night's first gubernatorial debate. The election will be held on November 7.