A little more than a year ago, London's Victoria and Albert Museum staged a 10 month-long exhibit "Undressed: A Brief History of Underwear," which explored the role of intimates in fashion from the 18th century onwards. To the surprise and amusement of everyone everywhere, the curators chose to feature-slash-immortalize a bubblegum-pink velour Juicy Couture tracksuit embroidered with lime green script—a move that swiftly picked up buzz, graced headlines and garnered coverage that was equal parts nostalgic—and facetious.
Pamela Skaist-Levy and Gela Nash-Taylor, the founders of Juicy Couture and tracksuit-wearing OGs, found it hysterical. "It was amazing to walk in that exhibition and see an iconic Juicy tracksuit in a case," Nash-Taylor laughed. "It was next to a YSL leisure suit, and it was just unbelievable."
Unbelievable, yes, but at the same time, completely apropos—because very few brands can pride themselves on delivering an item that's defined a decade or two. Even fewer have the power to transport you back to a specific moment in time. Juicy Couture did both in the '90s and early aughts, through its candy-colored terrycloth sets that offered comfort, gave moms a cool factor (cue Amy Poehler's famous one-liner in Mean Girls, "I'm not like a regular mom, I'm a cool mom"), and launched the athleisure movement, well before athleisure was even a thing.
It's why the downfall of Juicy Couture was particularly heartbreaking for Skaist-Levy and Nash-Taylor, who poured love into their brand and built it from the ground up, starting with $200 in 1997 and leaving behind a billion-dollar empire. New management in 2003 led to a more corporate environment and creative differences at Juicy, but the two held on for a while, until they departed in 2010. The brand began to fizzle, with a swift undoing of everything the duo worked so hard to achieve, complete with store closures by 2015.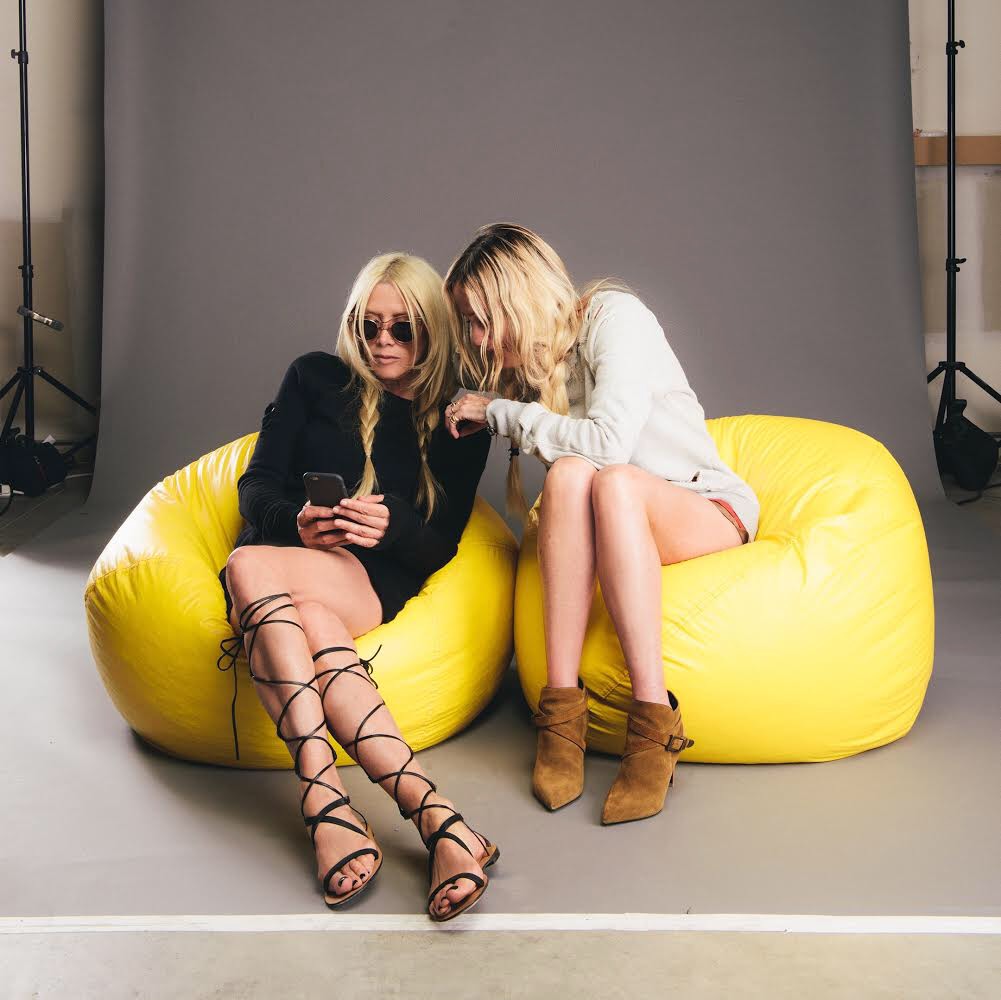 "We had so much fun; it was the most magical world, our kingdom was incredible, and it was a fantasy dream come true. And to do it with your bestie, laughing every day and having a good day—that was our culture," Skaist-Levy reminisced. "It was hard to see the stores closing, of course, because they were fantasylands of fun and wackiness. But we were there for a long time, we sold our business, and it was time for us to move on."
The duo promise they're not bitter about any of it; they consider themselves both founders and fans of the brand. Which brings us to present day, and the comeback of the new Juicy Couture—headed up by celebrity stylist-turned-creative director Jamie Mizrahi.
"We love that Jamie is the creative director. We think she's killing it. It's super fun. It's amazing," said Skaist-Levy. "We have mutual friends, but we've never met. We just looked at her work, and we think she's great. It's so great to see the resurgence [of Juicy Couture]."
Mizrahi debuted her vision for the new Juicy during the September shows at New York Fashion Week, with a rooftop garden party presentation featuring rainbow-bright looks that radiated happiness, even despite the rain. Sprinkled in between pink cutout onesies and velour sweatsuits that aptly paid homage to the old Juicy, there were bold stripes, shimmering skin-tight one-pieces, demure polka dot-printed blouse-and-skirt sets, and flowy floral-print dresses, all of which pointed to a new, modern direction. And it seems to be a revival success story, as Paris Hilton, Katy Perry, Sasha Lane, Ashley Benson, and Lorde have already worn pieces of the new Juicy.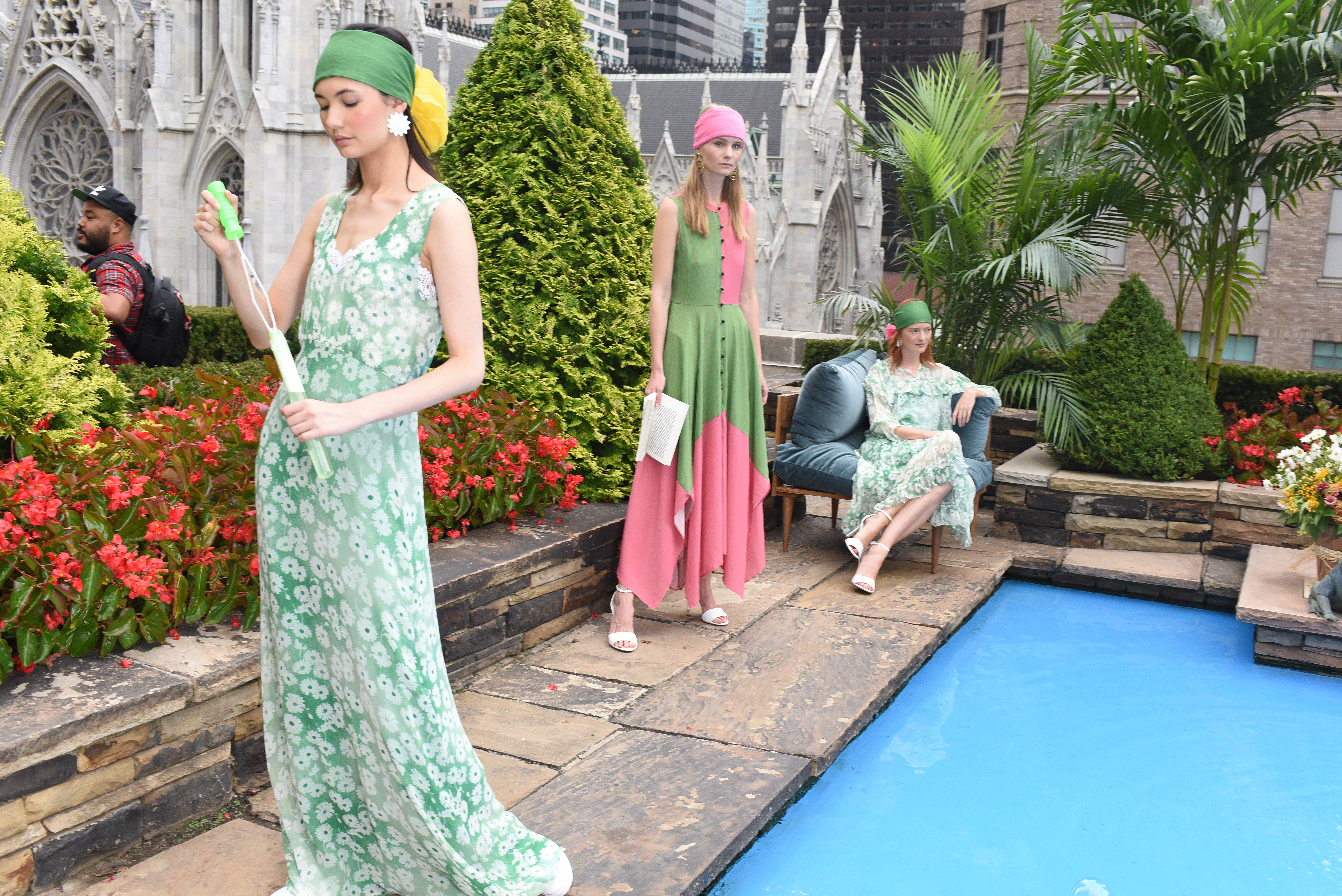 "There has to be a balance of old, nostalgic pieces and new [ideas], but that's the fun part of being at a brand like this," Mizrahi told Vogue. "When I ask my friends about their first tracksuit, they all remember it was Juicy. There are so many memories [associated with the brand], and I'm still trying to appeal to those women who first fell in love with it back then. I think Juicy was my entire wardrobe—I remember my first waffle-knit tracksuit, my rusched baby doll dresses, my graphic T-shirts. Juicy created this fantasy. It was like a fairy tale, and those are the same feelings I have for it today."
The original design duo also credit the buzzy label du jour, Vetements, for being a launch pad for Juicy Couture's successful comeback, especially when designer Demna Gvasalia showed his take the classic velour jumpsuits, with iconic "Juicy" emblazoned across the bottom.
"We were screaming up and down when we saw the Vetements collection," Nash-Taylor said, who proudly owns that exact look. "It was really Vetements that brought Juicy back and made it current and in a '90s way. It was brilliant."
For years, so many have written off the brand as a relic of the past. The thing is, everyone has a Juicy story, Nash-Taylor insisted, which puts the brand in a unique position, especially in today's '90s-centric, nostalgia-driven climate. "The '90s are having a moment and Juicy was the brand of the '90s—Juicy brought the tracksuit to the world in a way that spoke to women and girls in a crazy, crazy emotional way," she explains. "It's the optimism of the '90s and 2000s that people are drawn to. The world we're living in right now is a little bit frightening and people are looking to clothing and color to elevate their mood. In the '90s, it was fun, happy, colorful."
The initial inspiration for the tracksuit began with the idea of "casual luxury" and an obsession with color, along with a fixation on fit. The designers found a fabric that was not only washable and wearable, but absorbed every color imaginable, like tangerine, hot pink and navy. "It was a phenomenon—it was easy and everyone looked good in it," Nash-Taylor continued. "When you look back at pictures of celebrities, like Cameron Diaz, Kim Kardashian, Christina Applegate, it was like pre-Instagram Instagram, with girls in different colors in their tracksuits. It was a super fun, crazy fashion cult."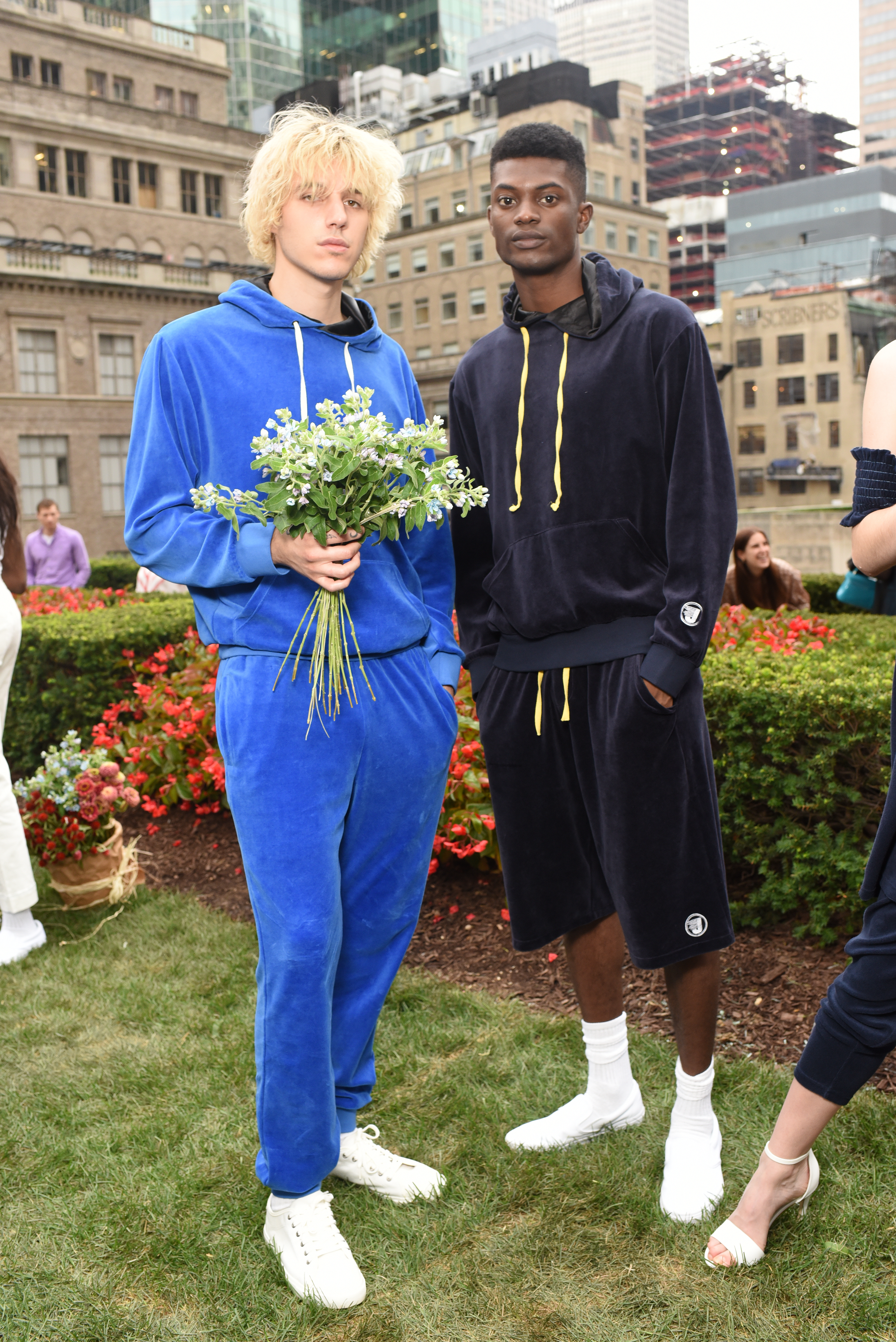 Since they left Juicy Couture, the duo launched Pam & Gela, an athleisure line brimming with easy-to-wear street-chic pieces, relaxed separates and elevated designs that balance trendy elements with classic silhouettes. It's Juicy to a certain extent, but at its core, it's completely different.
"Juicy is what we did back then," Skaist-Levy said. "And what we're doing at Pam & Gela is what we're doing now."
"The truth is, you don't see people walking down the street in head-to-toe baby blue and powder pink," Nash-Taylor added. " We've gone our way doing what we do, and Pam & Gela has become the go-to track brand right now. We love that Juicy has found a successful reincarnation—we were sad when it took a dive and it wasn't everywhere. We are so happy it is everywhere again."