Kendall Jenner is moving to Beverly Hills. Scroll through to get a peek at her new home.
Trulia
Here's what the home looked like when it was listed last year.
Trulia
She opted for a house in a gated community this time around.
Trulia
It's in the Mulholland Estates enclave.
Trulia
She paid $8.55 million for the mansion.
Trulia
It was an off-market deal.
Trulia
There are a total of three fireplaces in the home.
Trulia
There's a tennis court on the property.
Trulia
Outside, there's a fire pit and multiple entertaining areas.
Trulia
There's even a movie theater inside.
Trulia
A courtyard with a fountain welcomes visitors into the house.
Kendall Jenner Beverly Hills
Kendall Jenner hasn't had the best luck when it comes to her home endeavors. In the span of just a few months, the reality star and model was allegedly the victim of both a stalker and a break-in at her West Hollywood home, which she purchased from Emily Blunt and John Krasinski for $6.5 million last year.
Needless to say, Jenner was understandably unhappy with the house, and subsequently sold the 4,800-square-foot home for $6.85 million in August 2017.
Jenner already knew where she was headed next, even before she sold the West Hollywood house—she reportedly paid $8.55 million for a 6,625-square-foot home in the gated Mulholland Estates enclave of Beverly Hills. It seems she finally heeded her mom's advice—Kris Jenner wanted her daughter to be in a gated community and not so close to the Sunset Strip. Jenner closed on the house approximately three months ago in an off-market deal—unfortunately for interested parties, that means we'll have to rely on the previous listing, from 2016, to get a glimpse of the five-bedroom, six-bathroom split-level house.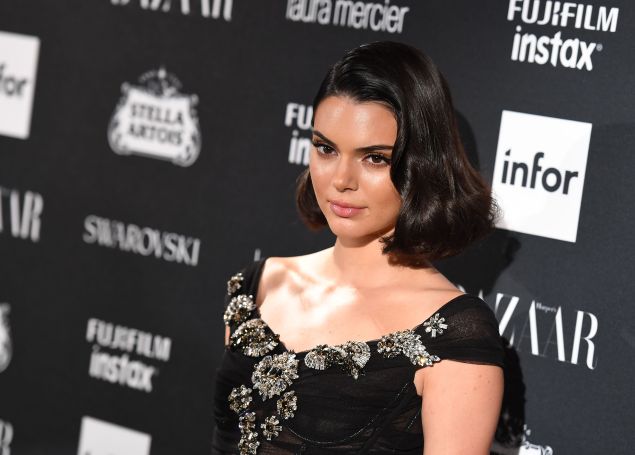 Jenner's new digs come with a celeb history, too. Charlie Sheen bought the property from billionaire Detroit Pistons co-owner Tom Gores in 2012. It appears that Sheen never resided in the abode, which he purchased for his ex-wife, Brooke Mueller—though he did at one point own two other houses in Mulholland Estates. After a few years attempting to offload this particular home, he finally sold it for $5.42 million in June 2016.
The Spanish-style estate, which was built in 1991, includes a movie theater, office, family room and a kitchen equipped with a center island and breakfast bar. There are three fireplaces, as well as arched doorways and wood beamed ceilings.
There's a courtyard complete with a fountain by the entrance, and per Trulia, the backyard is comprised of a pool, spa, fire pit, tennis court and a number of entertaining spaces.
By selling her West Hollywood perch, Jenner left behind neighbors Dakota Johnson and Jimmy Kimmel, but her new nabe definitely isn't lacking in famous faces—Jenner now lives across the street from Christina Aguilera, and other nearby residents include Paris Hilton and DJ Khaled.