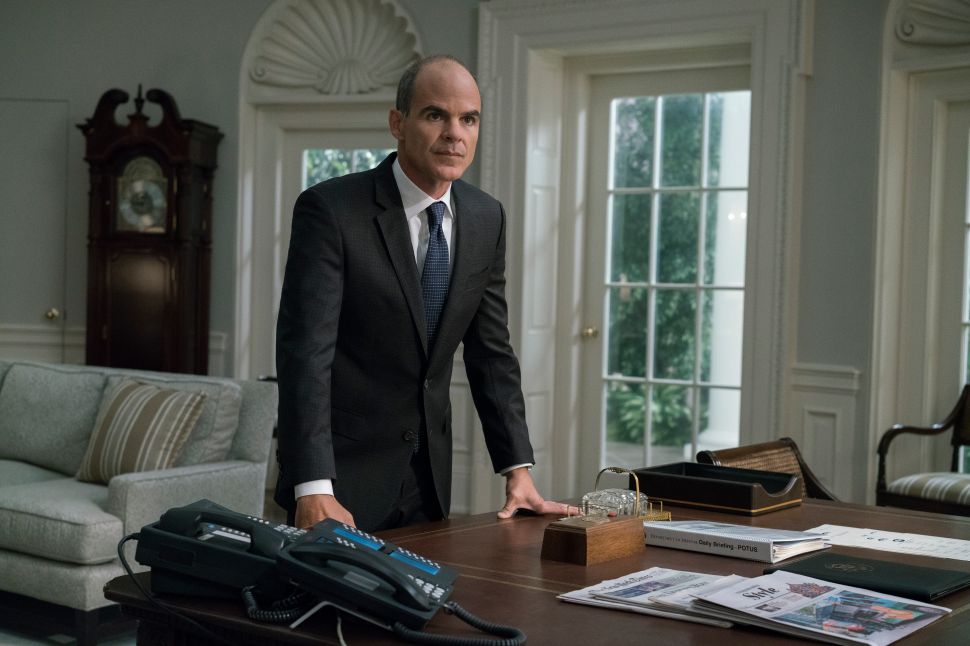 On Sunday, Star Trek: Discovery actor Anthony Rapp accused Kevin Spacey of making a sexual advance at him when he was just 14-years-old. On Monday, Netflix announced that Spacey's critically acclaimed House of Cards would end after its upcoming sixth season, though that decision may have been on the table long before Rapp's allegations went public. Now it sounds as if House of Cards could be staying on the streaming platform, just in a different form.
TheWrap is reporting that a spinoff series could be in development over at Netflix. Per the outlet, Netflix and series producer Media Rights Capital are looking at several possibilities to keep the brand alive, but take the property in a different direction. This includes a new show that follows Michael Kelly's Doug Stamper, which would be written by executive producer Eric Roth. This would be one way for Netflix to keep its flagship series alive in a way, but distance themselves from Spacey.
Rapp claims that Spacey picked him up and put him on his bed when he was 14 and then got on top of him in a sexual manner. He then said he managed to "squirm" away before leaving the apartment. Spacey's response to the allegation has drawn widespread criticism.
In a joint statement to TV Line, Netflix and Media Rights Capital said they "are deeply troubled by last night's news concerning Kevin Spacey. In response to last night's revelations, executives from both of our companies arrived in Baltimore this afternoon to meet with our cast and crew to ensure that they continue to feel safe and supported. As previously scheduled, Kevin Spacey is not working on set at this time."
Rapp's claims come after Hollywood heavyweight Harvey Weinstein was exposed as a serial sexual harasser with handfuls of women stepping forward with decades of allegations of harassment, assault and rape. This has led others to come forward with their own stories of abuse at the hands of entertainment industry figures such as writer/director James Toback, former Screen Junkies creator Andy Signore and more.