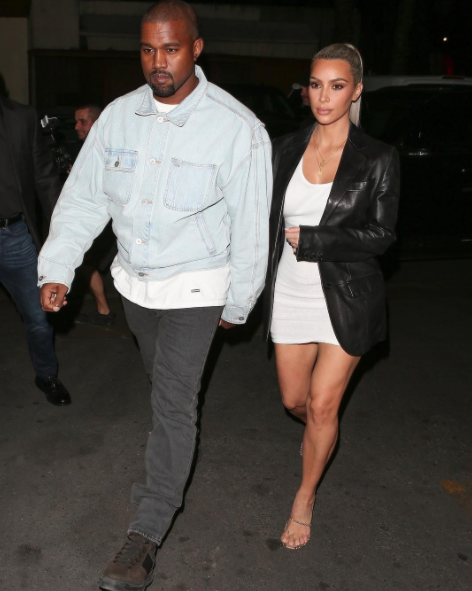 This year, Kim Kardashian didn't spend her birthday by celebrating in her usual fashion. In the past, she's ventured to almost every buzzy nightclub imaginable, including Les Deux, Marquee and Tao. This year, she had a decidedly low-key dinner with her family to celebrate turning 37 "Armenian style," with no nightclubs involved.
Most of the Kardashian family ventured to the Carousel Restaurant for Lebanese food in Los Angeles; it's unclear if the restaurant's belly dancers joined their family's table. The restaurant isn't exactly glamorous, but the Armenian fare is authentic. They serve up kebabs, hummus, falafel and seafood, and are known for being "big and brash," according to LA Weekly.
The birthday girl was joined by Kendall Jenner (hopefully she left a tip this time), Kris Jenner, Kourtney Kardashian and of course, Jonathan Cheban, because can you really visit a restaurant without input from the @foodgod?
The sisters' significant others also tagged along. Kanye West was spotted wearing a denim jacket, while escorting the birthday girl inside and Kourtney's beau, Younes Bendjima, even attended. Unfortunately, there was no sign of Kylie Jenner to confirm or deny the pregnancy rumors currently surrounding the 20-year-old. Hopefully, they brought her a doggie bag.
While Kim didn't share photos from the birthday dinner on Instagram, she did take to Snapchat, where she was overheard saying, "Armenian style! Oh yes! That's so cute" and "All my friends here!" The restaurant even shared their own photo of her custom cake, complete with a picture of the star sitting on top.
For her actual birthday, the reality star ventured to Utah's exclusive Amangiri resort. While the desert retreat sounds like the ideal spot for a digital detox, Kim was still busy snapping up a storm. It's unclear how the Armenian food was there, though.