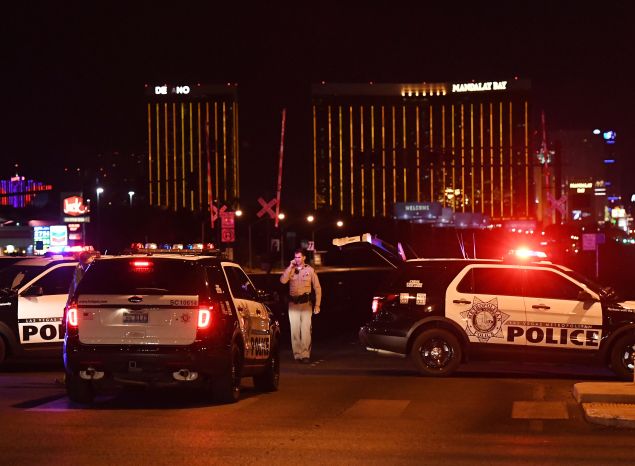 At least 58 people died and 515 more were injured after a shooting at an outdoor music festival in Las Vegas last night. The gunman, 64-year-old James Paddock, opened fire from the 32nd floor of the Mandalay Bay Resort and Casino during a Jason Aldean concert. The attack was the deadliest mass shooting in American history.
While many details of the shooting are still being assessed, one of its most immediate effects was on the New York Stock Exchange. MGM Resorts International, which owns the Mandalay Bay, was down nearly three percent in early trading. Shares dropped as much as five percent overnight but had rebounded slightly by the opening bell.
"Our hearts and prayers go out to the victims of last night's shooting, their families, and those still fighting for their lives," MGM Chairman and CEO Jim Murren said in a statement. "We are working with law enforcement and will continue to do all we can to help all of those involved."
Fellow casino owner Wynn Resorts, Ltd. was down about one percent early in the day, after falling two percent overnight.
Las Vegas Sands was down almost two percent in premarket trading, but soon after the NYSE opened for business stocks were actually slightly up.
The casino stock selling spree follows a period of growth in the market. MGM was up 13 percent for the year after Friday's close, while Wynn stock has jumped 72 percent, and Las Vegas Sands shares are up 20 percent.
Paddock, who died from a self-inflicted gunshot wound at the scene of the shooting, had an arsenal of 20 rifles in his hotel room. While it's not clear yet exactly what kinds of firearms he used, shares in most gun manufacturers were up early in the day.
Sturm, Ruger & Company stock increased nearly five percent soon after the opening bell, while shares in American Outdoor Brands, which owns Smith & Wesson, were up just over five percent.