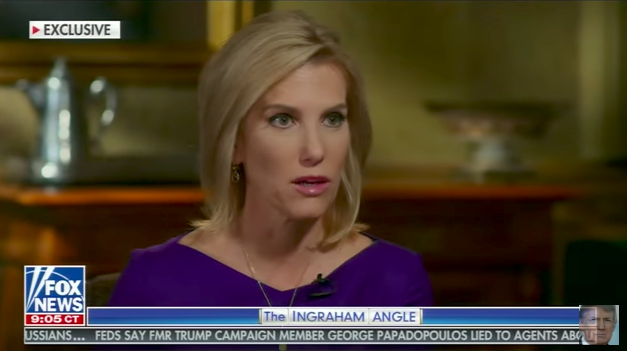 The Church Lady returned to live television Monday night at 10 p.m. on Fox News Channel. She appeared before us in purple vestments that highlighted the gleaming gold cross on her chest.
Her real name is Laura Ingraham and she hosts a new show called The Ingraham Angle. But she looked and talked a heck of a lot like Dana Carvey—on Saturday Night Live of yesteryear—in his role of Enid Strict, a pious old scold.
Introducing Ingraham at the end of his 9 p.m. hour was Sean Hannity, who bragged about the new movie he produced Let There Be Light.
"A Christian film," Hannity solemnly intoned.
In her first minute, Ingraham mentioned God along with Frank Sinatra and Ronald Reagan. She spoke in favor of "God, family and country," which is a nice way of saying "blood and soil."
Before long, Ingraham told White House Chief of Staff John Kelly that America's China policy "doesn't work for… a lot of Christians." Then Ingraham told Kelly that the immigration policies of the United States help Islamic refugees but "very few Christians."
"What do you pray for?" Ingraham asked Kelly as she concluded their long interview.
"World peace," Kelly said. "…I pray a lot."
Ingraham, a fundamentalist Catholic extremist, also addressed secular issues.
She gave a shout-out to the Confederate states—part of President Trump's base—by whining about "the removal of historic monuments" and "attempts to pull down the little markers of history." She joked that political correctness has demonized Robert E. Lee and Harper Lee.
"Robert E. Lee was an honorable man," Kelly said, suggesting that it is wrong to apply modern standards of humanity and treason to a distant era's slaveholders.
But the part of the interview that might have done the most damage to Kelly and his boss came when Ingraham delicately raised the issue of Trump's telephone conversation with Myeshia Johnson, the widow of Army Sgt. La David Johnson, who died in Niger in an ambush with three colleagues.
In a press room tirade at the White House, Kelly insulted Congresswoman Frederica Wilson of Florida, who told the truth about Trump's awkward conversation with the widow. Worse, Kelly created a false story about how he heard Wilson brag about funding an FBI building in her district.
In that Kelly's version of her speech has been proven false, Ingraham asked a question that had to be asked.
INGRAHAM: "But, do you feel like you have something to apologize?"
KELLY: "Do I? Oh, No. No. Never. I'll apologize if I need to. But, for something like this, absolutely not. I stand by my comments."
Kelly turned slippery after saying he had FBI agents willing to back him up about Wilson bragging before and after her speech. But, gosh, Kelly said, he just doesn't want to force them to speak up on his behalf in public.
"Let's not do this, that part of it," Kelly said. "I don't want to get into it… We should let go."
Perhaps Ingraham didn't want to take too many minutes away from Kelly's busy day—what will all the indictments and stuff—but she could have helped Kelly with a gracious way to let it go. Kelly could have said:
"You know, I got a little hot-headed and I told a few lies and insulted two African-American women and they were right and I was wrong. So I apologize."
But that is certainly not a conciliatory tone that would please the amateur president, Kelly's increasingly incoherent, embarrassingly gauche, compulsively-dishonest, 71-year-old, red-necktied, orange-faced, yellow-haired boss.
In building a coalition of evangelicals, "my generals," and zealots from the National Rifle Association, Trump and his staff know exactly who he wishes to offend and who will take pleasure in his crudity and cruelty.
Ingraham's show was one of two to debut on Fox on Monday. The other, immediately following, was Fox News @ Night at 11 p.m. with anchor Shannon Bream, a much-needed attempt to give Fox a "live news" presence that has been missing after the dinner hour.
The new shows mark a two-year period of transition for the right-wing network since the purges of sex creeps Roger Ailes, Bill O'Reilly and Eric Bolling.
With Martha MacCallum, Ingraham and Bream anchoring hours in the 7 p.m.-to-midnight block, Fox now has three blond women and two conservative men, Hannity and Tucker Carlson, in these key hours. For the time being, Fox has no black or Hispanic anchors in these hours when most viewers watch.
As is the case with most Fox "news" shows (as opposed to its "opinion" shows), Bream's effort strives for a faux objective tone by interviewing a lot of people. But, in Fox style, the network's bias is revealed in the choice of topics and how they are framed.
For instance: Bream asked Texas Attorney General Ken Paxton if he was concerned that Texas might become "a sanctuary state for illegal immigrants seeking abortions paid for mostly by taxpayers." A breeze of honesty filtered through when Bream interviewed Chris Stirewalt, one of few truth-tellers at the propaganda factory.
In assessing the damage Trump is inflicting on himself, Stirewalt warned that Trump's destruction of health care and tax breaks for the rich is starting to turn off "white men without college degrees" in Rust Belt states like Pennsylvania, Ohio, Wisconsin and Michigan.
"This is the Trump army," Stirewalt said.
Joe Lapointe spent 20 years as a sports reporter for The New York Times and worked as a segment producer for Countdown With Keith Olbermann. Recently, he has taught journalism at New York University, Rutgers and Long Island University-Brooklyn. follow him on twitter: @joelapointe